Outlander Season 4 Episode 10 Review: The Deep Heart's Core

Carissa Pavlica at . Updated at .
Why on earth did Roger decide to wear short pants to the past?
Honestly, it's bugged me since he first got out of the car by the stones, and watching him get tugged by the Mohawk while looking like a downtrodden kid from the depression was awful!
Of course, that has little to do with Outlander Season 4 Episode 10, but when something crawls into your ear, it crawls into your ear, you know?
There are bigger shocks to discuss, though.
The first is how I oddly attract people to my reviews only when siding with one or the other of any couple, or one couple over another while covering a particular episode.
When reviewing Outlander Season 4 Episode 9, it was irksome that so much of what occurred happened because of the desire to move the plot forward at the expense of Brianna's better judgment. 
Related: Outlander Review -- The Birds & The Bees
To get points across, using examples from the character is necessary. The same is true of this episode. Brianna wasn't being human as she reacted to situations thrust upon her by the writers. 
She has been through terrible times, but it doesn't mean she should come off as a brat as a result.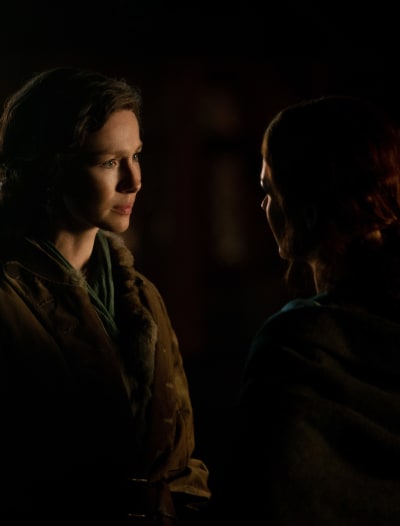 It stinks that she was forced to make a decision about her pregnancy so early because nobody knows what happens when you travel through the stones with another person, but that is a valid concern and a harrowing one.
But instead of thinking about the negative, it would have been a good time for Brianna to consider her fortunes under the circumstances, instead.
Any other girl her age in the same year with everything else being equal wouldn't have the same decisions to make. She couldn't weigh a surgical abortion at the hand of her mother or going through the stones to raise her child in a future when her child would have opportunities beyond measure.
Because Brianna has the benefit of foresight, it's possible to see all sides of her situation. She just doesn't.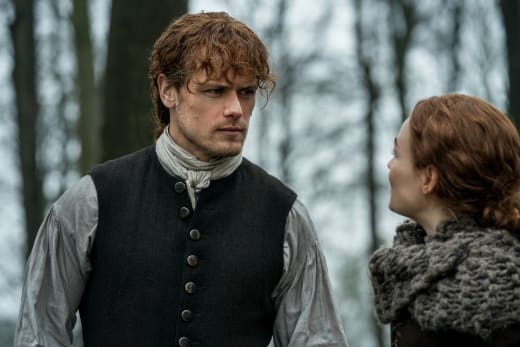 It's hurtful that she's still using the Frank vs. Jamie as a dad card when Jamie has proven to be every bit as caring and concerned for his birth daughter as the man who raised Brianna.
Brianna was still blaming herself for not fighting hard enough, and Jamie proved to her what fighting harder could have gotten her. It was masterfully done, and she never saw it coming. That's why it worked.
Related: Outlander Stars Talk About Their Characters Future
At the same time, Brianna knew her father, who has a fiery personality much like her own, would go to the ends of the earth to find her violator and things wouldn't end well. But when her not-so-carefully crafted tower of miscommunication came crumbling down, she expected him to know the man he hurt wasn't her rapist.
Jamie: I'll make it right. You have my word as your father.
Brianna: My father would have never said those things to me. My father was a good man. You are nothing but a savage.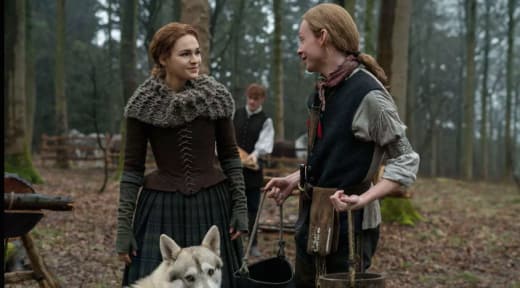 How did Brianna come to think Lizzie was in the dark when it came to her rape? She returned to their room at the tavern clearly in distress, covered in bruises and with an inordinate amount of blood between her legs. 
I'd like to hope Brianna wouldn't have someone close to her who wouldn't recognize such a disturbance. 
Brianna did a lot of slapping, notably slapping the crush right out of Young Ian. 
If Brianna had chosen to share the truth with everyone instead of stacking one lie atop another, she would have already been reunited with Roger. Yes, it was a plot device and typical not only of romance novels but soap operas. That doesn't make them any more appealing.
It does effectively shake things up going into the second half of Outlander Season 4, though.
My poor Roger, who everyone loved to hate when I last spoke of him, was doing his damnedest to stay alive while clinging to anything to do it. Whether it be a string to count the dead or landmarks to return home, Poor Roger was working the short pants as he was tugged about a thousand miles by the Mohawk.
Related: Outlander Review -- Wilmington
If Young Ian was right and the Mohawk were hoping to take Roger (and the others) in as a replacement for their dead, they could have done a better job taking care of their new brethren. If they wanted to make better time, why blame them for walking too slow when they could just put them on a horse?
There are other ways to denigrate people than tugging them along on ropes and denying them water. 
It's utterly bizarre.
But for all the outlandish requests and demands Brianna made as a result of her poor decisions, she got at least one thing right. 
It is necessary for someone Roger knows to be there when he is found. If he is found. Which he may not be. But wait! More on that in a second.
I'm looking forward to seeing Auntie Jocasta and Murtagh share some scenes, but not necessarily jumping into the slavery debate again when Outlander returns.
Getting off of Fraser's Ridge for a while will spice things up for Jamie and Claire, but who takes care of the homestead while they're gone? They can't leave it unattended. They have gardens and animals. 
Probably the most exciting aspect of the hour was Roger stumbling onto the stones. They are obviously the ones we saw earlier in the season and never revisited. The stones must have brought whoever belonged to the skull with the filling Claire found when she and Jamie were homesteading, too.
I don't think Roger will go through the stones, but is there a chance stones in different areas call to different people? Could Jamie possibly have an opportunity to go through the stones if they were somewhere other than Craigh na Dun?
Related: Outlander Review -- Down the Rabbit Hole
It's only a thought. 
It's nice to have stones so close to Fraser's Ridge so sailing to and from Scotland isn't necessary to go from past to future. Have they been used in the books? What do you have to share?
Hit me with comments on this latest episode and watch Outlander online if you haven't had a chance to see it yet!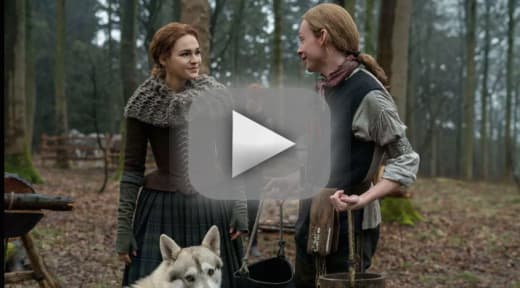 Carissa Pavlica is the managing editor and a staff writer and critic for TV Fanatic. She's a member of the Critic's Choice Association, enjoys mentoring writers, conversing with cats, and passionately discussing the nuances of television and film with anyone who will listen. Follow her on Twitter and email her here at TV Fanatic.