What to Watch Next Week: The CW Shows and The Walking Dead Return, ABC's Stunt Casting & More!

Carissa Pavlica at .
Our final run of fall broadcast premieres sets sail when shows from The CW return.
That includes new series Batwoman and Nancy Drew, the final season premiere of Supernatural, and the tribute to Luke Perry/Fred Andrews on Riverdale, among others.
Because television has an exhaustive universe now, there is a lot more to consider, too!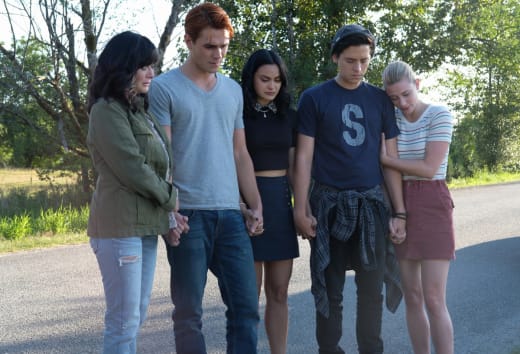 Saturday, Oct. 5
9 p.m. Over the Moon in Love (Hallmark) It's the first Fall Harvest movie, and that means that Christmas is just around the corner!
I don't know about you, but I'd like to see Fall Harvest last a little longer with some Thanksgiving programming. maybe that's just me.
With her match-making business on the verge of closing, Brooklyn finds herself in the unique position to be featured in a magazine on Over the Moon in Love, but she has to set up the writer with her childhood friend Devin. Stars Jessica Lowndes and Wes Brown.
9 p.m. Succession Season 2's penultimate episode finds the Roy family and Waystar testifying before congress about the whistleblower complaint related to Parks and Cruises. Can they survive the scrutiny?
10 p.m. Gary Gulman: The Great Depresh (HBO) I've been a fan of Gary's since he appeared on Last Comic Standing years ago. He's suffered from debilitating depression in recent years, and with The Great Depresh does what he does best -- talks about it with a comedic bent.
Sunday, Oct. 6
8 p.m. Batwoman (The CW) -- The DC comic multiverse expands once again with the premiere of Batwoman, starring Ruby Rose as Bruce Wayne's cousin, Kate Kane.
Batman has been MIA for three years when Kane returns to Gotham to help rescue her ex-girlfriend, Sophie, from the villainously mad Alice and her Wonderland gang. Fans of Arrow and The Flash will delight in this female-led action-adventure with Kane donning the iconic cowl to defend her city and face her past.
8:30 p.m. Back to Life (Showtime). I've had the pleasure of seeing a couple of episodes while I was attending SeriesFest this summer in Denver, and it's tremendous!
"After 18 years behind bars, Miri Matteson returns home and stumbles back into adult life in the claustrophobic coastal town she once knew in this half-hour comedy series.
"Miri attempts to rekindle old relationships, make new ones, look for work and readjust to life outside, while desperately waiting for the world to forget about what happened on that fateful night."
9 p.m. Supergirl (The CW)  The fifth season premiere will be the kickoff to a series of cast changes from the addition of Julie Gonzalo as the villain Acrata to Mehcad Brooks leaving the character of James Olsen behind during the mid-season.
How Supergirl Got James Olsen Wrong
It is sure to be an interesting season that features the danger of technology and the fallout of Lena learning Supergirl's secret identity. Oh, and did we mention, Kara finally has a suit with pants?!
9 p.m. -- The Walking Dead (AMC) skips forward a bit in time. Where does that leave Alpha and the Whisperers? Find out on the season premiere.
9 p.m. Matchmaker Mysteries: A Killer Engagement (HMM) -- Danica McKellar stars in this series that teams a perceptive matchmaker with a local detective to solve mysteries. Victor Weber and Bruce Boxleitner also star.
Danica McKeller Talks Matchmaker Mysteries, Good-Natured Entertainment, McKellar Math & More
10 p.m. Press (PBS) -- I don't know much about this, but PBS sure does a great job making it sound interesting. From the plot to the cast, it ticks all the right buttons.
Set in the world of newspapers in London – its past riven by hacking scandals, its present at the mercy of the digital age and the 24-hour news cycle, its future uncertain – this razor-sharp and observant drama explores the current, turbulent media landscape and the ethical dilemmas that journalists and editors face each day.
Charlotte Riley (Peaky Blinders) and Ben Chaplin (Apple Tree Yard) star, alongside Priyanga Burford (King Charles III) and David Suchet (Poirot).
10 p.m. The Rookie Season 2 Episode 2, "The Night General" (ABC) -- Officer John Nolan runS into his old college flame, Grace, (played by Ali Larter). Will things heat up between them once again? Will Nolan stay faithful to Jessica or is their relationship toast?
The Rookie Season 2 Episode 1 Review: Impact
10 p.m. Madam Secretary (CBS) -- The wait is over and we'll now get to see how Elizabeth McCord -- and her family -- are doing at running the country. Elizabeth deals with a crisis 100 days into her presidency, and Henry deals with negative media attention after a disastrous appearance on the Stephen Colbert show.
This time slot has a lot of other action including Star Wars Resistance (Disney Channel, final season), Mr. Robot (USA, final season), and the latest season of Get Shorty (Epix).
Monday, Oct. 7
8 p.m. All American (The CW) -- Are you read to get back into the game? All American Season 2 premieres after having wowed the Netflix crowd. Will it garner even more viewers this season?
9 p.m. Prodigal Son (FOX) -- Jessica, Ainsley, and Gil have all figured out that Malcolm has been seeing his sociopathic killer dad, and hopefully we'll get more information about what really happened to the girl in the box!
Tuesday, Oct. 8
8 p.m.: The Flash (The CW) -- The synopsis for the episode promises a lot of drama for the premiere.
While Barry (Grant Gustin) and Iris (Candice Patton) deal with the heartbreaking loss of their daughter, Nora, the team faces their greatest threat yet — one that threatens to destroy all of Central City.
Meanwhile, Killer Frost (Danielle Panabaker) has a brush with death that results in an unexpected new dynamic that will change her relationship with Caitlin forever.
Gregory Smith directed the episode written by Eric Wallace & Kelly Wheeler."
8 p.m. The Conners Season 2 Episode 3, "The Preemie Monologues" (ABC) finds Baby Bev getting to go home from the NICU!
But emotions run from elation to despair when Becky discovers the astronomical bills she'll soon have to pay, and Dan struggles with what to do when things with Louise (Katey Sagal) get too comfortable.
And guess what -- someone knows Darlene's secret, AND there is a Blues Brothers 2000 reunion when John Goodman's costar, Dan Akroyd, appears as one of Dan's poker buddies.
9:30 black-ish (ABC) stages a Girlfriends reunion when Golden Brooks, Jill Marie Jones, and Persia white join former castmate and black-ish star, Tracee Ellis Ross.
Wednesday, Oct. 9
8 p.m.: Riverdale (The CW) premieres with what is sure to be a tear-jerking hour of television. "In Memoriam" will be the official sendoff for Luke Perry's Fred Andrews, Archie's beloved father. 
We've seen the episode. Have plenty of tissues. It's beautifully done and incredibly emotional. It might be the most moving hour of television you'll be watching all season.
8 p.m. The Goldbergs (ABC) stages a Cheers reunion with several cast members including Kirstie Alley (Rebecca), Rhea Perlman (Carla), John Ratzenberger (Cliff), and George Wendt (Norm).
They play customers of a new food service and wound up invited to the Goldbergs' residence.
9 p.m.: Nancy Drew (The CW) While I personally didn't fall in love with the premiere or its followup, others are hoping it's going to be a fun play off the old series.
10 p.m. Stumptown (ABC) Dex takes her first steps towards becoming a licensed P.I. enlisting the help of a new face, Artie (Donal Logue). How will Dex handle working under someone else? Tune in to find out.
Thursday, Oct. 10
8 p.m.: Supernatural (The CW, final season) -- Does anything else even need to be said about this? Well, maybe.
If you listen to podcasts (and even if you don't) fire up your app and listen to Michael Rosembaum's Supernatural sendup on his podcast, Inside of You, from this past week including chats with Mark Sheppard, Misha Collins, Jared Padalecki, and Jensen Ackles on subsequent days.
8 p.m. Grey's Anatomy (ABC) stages a Charmed OG reunion with Holly Marie Combs and Alyssa Milano.
Grey's writers Krista Vernoff and Andy Reaser were also writers on Charmed, so it's an on and off screen reunion for The CW series.
9 p.m.: Legacies (The CW) is back, and we'll be introduced to a world without Hope Mikaelson. Based on the information released, relationships will change as a result of tribrid disappearing from existence.
Legacies Adds The Originals Favorite for Season 2
The premiere will also introduce us to a Damon Salvatore-like vampire who may or may not be taking a romantic interest in one of the Saltzman twins. Oh, and there's a new sheriff in town. What does that mean for Matt Donovan, who has survived for far too long? We'll need to tune in to find out!
Friday, Oct. 11
The Birch (Facebook Watch) is a horror series that turns a tree into a monster.
El Camino: A Breaking Bad Movie and Insatiable (Netflix) will dominate the streamer possibly drawing eyes away from other shows for the evening.
8 p.m. American Housewife (ABC) The Drew Carey gang reunites when Carey, Ryan Stiles, and Kathy Kinney join former costar Diedrich Bader as characters found at the school.
Kinney will play a lunch lady (can't you just see it?), Styles an environmentalist, and Carey will appear as a man called in to put an end to the lunch lady's anti-environmental antics.
8 p.m.: Charmed (The CW) Charmed might have been one of the most divisive new shows last season, but it returns with tighter storytelling, less melodrama, and a more exciting mythology.
With new showrunners Liz Kruger and Craig Shapiro on board, we're excited to see whether the second season will retain any of the beloved plotlines from the original series, or take an entirely new direction.
9 p.m.: Dynasty (The CW) -- We have no idea what's in store for this soap, but we hope all of the actors are intact when it begins!
Saturday, Oct. 12
8 p.m. The College Admissions Scandal (Lifetime) -- Is this just a little bit too soon? The scandalous Felicity Huffman and Lori Loughlin college admission fiasco comes to the small-screen.
Lifetime does their take of the ripped from the headlines story of privilege and rich people problems on Octobed 12. It should be a pure soapy goodness!
9 p.m. Love, Fall & Order (Hallmark) -- The second of three Fall Harvest movies features the beloved pumpkin farm, a favorite location of Hallmark's when Erin Cahill stars as a gal from the patch who's back home and facing an old rival played by Trevor Donovan in the courtroom.
9 p.m. The Banana Splits (Syfy) -- Will one of my favorite childhood memories be shot to (bleep) when the Splits goes the horror route? Hey, it's Syfy. We love that kind of stuff, right?
What will you be watching? Give us a heads up in the comments below.
Carissa Pavlica is the managing editor and a staff writer and critic for TV Fanatic. She's a member of the Critic's Choice Association, enjoys mentoring writers, conversing with cats, and passionately discussing the nuances of television and film with anyone who will listen. Follow her on Twitter and email her here at TV Fanatic.