The Good Doctor Season 6 Episode 16 Spoilers: Introducing The Good Lawyer

Jack Ori at . Updated at .
The malpractice suit against Shaun may have come out of nowhere, but it has a purpose.
The Good Doctor Season 6 Episode 16 is a backdoor pilot for its new spinoff, The Good Lawyer.
Don't worry -- this story will still revolve around the characters we know and love. But it will also introduce the new law firm and attorney with OCD that will drive the action on The Good Lawyer.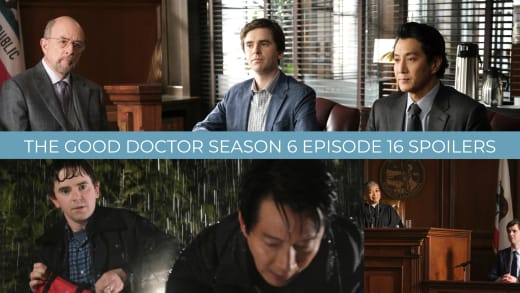 According to the spoiler video, Glassman introduces Shaun to his friend, an experienced lawyer who has helped him before. Unsurprisingly, Shaun soon decides to go instead with her associate, a young lawyer with OCD who has never tried a case before.
Lea's skepticism about this idea mirrors Shaun's experiences on The Good Doctor Season 1. Most doctors didn't think Shaun could succeed at the hospital and viewed his autism as a liability.
That's why Shaun wants to work with Jodi. According to the spoiler video, Glassman's friend says that Jodi's problems are too significant, and Shaun counters that people said that about him too.
The senior lawyer's statement makes little sense. If Jodi is so impaired that she can't succeed as a lawyer, why did this lawyer hire her?
Not all lawyers try cases in court. Still, hiring an associate who can't do the job is a poor business practice. And in any case, Jodi will come through for Shaun in the end.
There'd be little point in allowing Shaun to lose a malpractice case. How would the show go on if Shaun's career tanks over his insistence on hiring an incompetent lawyer?
There'd also be no point to the new series if Jodi loses this case. This pilot episode will be about her doubting Shaun's confidence in her, only to win at trial.
That doesn't mean Shaun won't appear to have made a mistake. It'll seem that the odds are stacked against him and that his stubborn refusal to listen to everyone else is about to do him in -- and then he'll snatch victory from the jaws of defeat.
The case involves a man whose arm Shaun and Park amputated, so both doctors are involved. But will Park hire a different lawyer?
According to the spoiler video, Shaun is ready to settle the case until Jodi suggests he shouldn't.
I don't know if Park can settle while Shaun proceeds with the case. But this could be a source of additional drama.
Park probably won't agree with Shaun about Jodi's credentials. He also may pressure Shaun to stop listening to Jodi and settle.
If Shaun's decision to go to trial interferes with Park's ability to settle this case and move on, Park won't like that. He'll do everything he can to convince Shaun to drop the case.
I'm also curious about how Morgan will react. Usually, Morgan/Park scenes are the worst part of The Good Doctor. But this could be interesting!
Morgan will have a strong opinion on what Park should do about this lawsuit and won't be shy about sharing it.
But what will she think, and will Park listen?
Knowing Morgan, she might be the one to push Park to disregard what Shaun and his lawyer want to do. She might even think Park should get Shaun to settle the case so they can all move on.
Another wild card: Jared's return.
Jared's character is only supposed to be recurring, so there's no guarantee he'll appear on The Good Doctor Season 6 Episode 16.
But Jared was there when Shaun got served, and he may want to help his old friend.
Since he worked with wealthy patients, Jared may have the connections to make this disappear. Still,  he burned his bridge with Roland, so his options could be limited.
And Shaun won't want that kind of help.
Jared might also offer advice or a lawyer of his own. He successfully sued the hospital for wrongful termination after he was fired for physically confronting an attending that was sexually harassing Claire, so he knows a bit about how to navigate the legal system.
Jared was also supposed to be working under Shaun. But will Shaun be able to work while the case is being tried?
Lim or Andrews might see Shaun as a liability and suspend his privileges pending the case outcome. Shaun won't easily accept that!
Life in the hospital must go on regardless of this courtroom drama. There are too many patients who need care. But will we get a medical storyline alongside the legal stuff?
The spoiler video focuses exclusively on the legal case; let's hope there are other storylines.
Finally, I'm curious about how The Good Doctor and The Good Lawyer will depict OCD.
This is one of those disorders that TV often gets wrong. The detective show Monk made OCD famous, but this character also suffered from PTSD following his wife's death, and his symptoms overlapped with high-functioning autism.
The Good Doctor has done a fairly good job depicting autism, although sometimes it falls into the magic ability trope. So hopefully, it'll present OCD with similar accuracy.
What do you think, The Good Doctor fanatics? Are you excited about this backdoor pilot for The Good Lawyer? Hit the big, blue SHOW COMMENTS button and let us know.
Don't forget you can watch The Good Doctor online while waiting for the newest episode to air.
The Good Doctor airs on ABC on Mondays at 10 PM EST / PST.
Jack Ori is a senior staff writer for TV Fanatic. His debut young adult novel, Reinventing Hannah, is available on Amazon. Follow him on Twitter.