What to Watch: Black Mirror, Extraction 2, Outlander
Paul Dailly at .
With the broadcast networks pretty much dormant due to the lack of original scripted programming, there are some exciting offerings on streaming and cable.
Black Mirror makes a grand return on Netflix, the Droughtlander (finally!) comes to a close, and we even have a big-budget movie with Chris Hemsworth.
Talk about winning, right?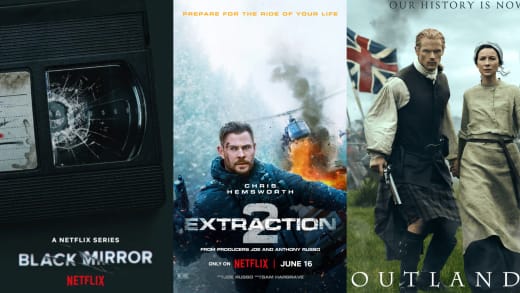 Check out what we TV Fanatics think should be on your radar. It may be the summer, but there's plenty out there.
Saturday, June 10
8/7c Mary J. Blige's Real Love (Lifetime)
Mary J. Blige remains an icon and a renaissance woman, and she's taking her talents to new heights with her transition into using her songs to bring forth love stories on Lifetime.
Serving as executive producer for two films that are inspired by two of her most legendary songs, the first of the bunch, Real Love, will follow Kendra, an HBCU student who is just getting out on her own for the first time, a scholarship kid determined to focus on school and work before a complicated love story involving Ben comes into play.
And you guys, we got you covered, so don't forget to check out our review afterward!
8/7c Love's Greek to Me (Hallmark Channel)
It's every bride-to-be's worst fear. When Ilana and her Greek boyfriend Mike travel to Santorini for his sister's wedding, they become engaged.
His over-eager mother, Athena, takes over the wedding planning and teaches Ilana Greek traditions before she can catch her breath.
As Mike's family tries to involve her in more activities, will Ilana feel overwhelmed or like part of a big Greek family?
Sunday, June 11
8/7c The Pregnancy Scheme (Lifetime)
The Baby Business is booming! What baby business? Fret now; Lifetime always has you covered for all the new ways that shady things happen with babies, kids, and pregnant women.
In this instance, a pregnant, single Julia is hard up for cash and falls in line with her new friend, Alana, who shares that people share top dollar for positive pregnancy tests. Not thinking this can go wrong at all, Julia jumps into it for the case only to discover that she bit off more than she or her unborn child could chew.
Of course, this is also based on a true story, TV Fanatics, so have fun with this one!
9/8c The Idol (HBO)
Tedros found a way into Jocelyn's house and helped make some changes to her comeback single, but these new changes don't sit well with her team.
This leads to clashing with the team members, and she tries to push herself on the set of her music video.
Tedros introduces Joss to his inner circle.
9/8c FROM (MGM+)
Only a few more episodes of FROM left this season, and to say this one is a doozy would be an understatement.
Jim and Randall's search for answers about the town leads them to develop a very dangerous plan.
New discoveries will have the townspeople reeling.
When people go looking for answers, they don't come back. Brace yourselves for the next chapter of #FROM, dropping Sunday on @MGMPlus! pic.twitter.com/iCMHlPcgIo

— FROM on MGM+ (@FROMonMGM) June 9, 2023
9/8c The Lazurus Project (TNT)
On The Lazarus Project Season 1 Episode 2, George is distraught.
Having seen what the miracle of time travel can accomplish, George wonders why it couldn't be employed to reverse his loss.
Seeking guidance, George approaches Archie, his teammate who recruited him and is becoming a close friend. Here's what's in store for the coming episode:
Monday, June 12
8/7c The Rising (The CW)
The first suspect when someone goes missing or dead is their significant other.
So naturally, as Neve and her father try to get to the bottom of who killed her, questions arise regarding her boyfriend, Jordan.
But did he have the gumption to take her out, or is this another red herring in this supernatural murder mystery? Tune in to find out!
Her soul can't rest just yet. Stream a new episode of #TheRising free only on The CW: https://t.co/CxAUIn0rfX pic.twitter.com/wcwTLFVXh8

— The CW (@TheCW) June 6, 2023
9/8c Crime Scene Kitchen (FOX)
Season 2 of the Joel McHale-hosted kitchen competition blasted off last week with the self-taught bakers exhibiting some crazy investigative skills and some lucky guesses too!
Get ready to meet the classically trained bakers this week! What will their kitchens reveal?
ICYMI, check out the clip below capturing the moment self-taught bakers Davionne and Donavon realize they've made a terrible mistake.
10/9c Cruel Summer (Freeform)
The quiet town of Chatham has discovered its first murdered victim! What started as a murder mystery might go deeper than anyone realizes.
Megan and Isabella are hiding plenty of secrets about what happened. Why do they need to get their stories straight in the summer of 2000?
What will happen when Isabella spills the truth of the VHS tape to Debbie in the winter of 1999? And how will Megan find peace with Isabella after her arrival in the summer of 1999?
This mystery is getting juicier by the time jump.
Days of Our Lives (Peacock)
Oh no! We knew Bonnie wouldn't be able to keep her mouth shut about Sarah's pregnancy, and she's positively giddy with excitement as she spills the beans to Justin! How long will it be before all of Salem knows -- except Maggie, of course, since a mother is always the last to know on Days of Our Lives!
But the fascinating question is what Abe will do now that he knows he's the mayor. There has to be more to this story than him watching more "Body and Soul" with Whitley, right?
Wednesday, June 14
8/7c Nancy Drew (The CW)
With Nancy and Ace finally working together to break their curse, will fans get some sweet moments between the two? Or does the title, "The Danger of the Hopeful Sigil," not bode well for our favorite couple?
And when Carson gets an unsettled feeling, will it spell doom for his relationship with Jean?
You won't want to miss the third installment of Nancy Drew's final season!
8/7c Masterchef (FOX)
The regional auditions conclude with The South, y'all, and who wants to bet they might be the frontrunners?
From steak-loving Texans to those bringing that New Orleans Cajun cuisine to the table, there are so many ways this can go well and have our mouths watering the whole time.
We also get guest-judge James Beard Nominee Tiffany Derry adding her own flavor and a heaping dose of critique. Grab your snacks and tune in to see who represented you best!
Only five #MasterChef aprons left. 👀

We'll see you next week for the final auditions for Team South! pic.twitter.com/YkwTlIwWGI

— MasterChef (@MASTERCHEFonFOX) June 8, 2023
9/8c Gordon Ramsay's Food Stars (FOX)
If you aren't watching Food Stars, then you should know it's like the best and worst of cooking competition shows and The Apprentice combined, and it makes it completely irresistible to watch while also being a hot mess.
Ramsay pits two teams against each other to test their time management skills, among others, by placing them in a ghost kitchen in L.A. to cook for a hungry crowd of office workers via a delivery service to see which entrepreneur is worth investing in.
We're going to be honest, no one is worth investing in so far, but they are bringing all that catty and conniving drama, so the entertainment factor is there!
It's time to head into the challenge of the night! And this time it's all about marketing 🌟 #FoodStars pic.twitter.com/Ksv741fsaY

— Reality Club FOX (@RealityClubFOX) June 8, 2023
10/9c The Big D (USA Network)
One of Bachelor Nation's most successful couples hosts USA Network's latest reality series.
Picture this: You're getting divorced and going on TV to help your ex find a new lover.
Yep, that's where the "D" in the title stems from, and frankly, the trailer looks like a lot of fun.
Thursday, June 15
Black Mirror (Netflix)
Ever since Black Mirror went off the air in 2019, fans have been clamoring for more.
Thankfully, Netflix and Charlie Brooker are giving fans what they want with a five-part sixth season that will deliver more twists and turns than before.
This time, though, we have some new cast members along for the ride.
Star Trek: Strange New Worlds (Paramount+)
Season 2 of Star Trek: Strange New Worlds premieres with an action-packed adventure that takes the Enterprise into risky but meaningful territory.
With Una's career and freedom hanging in the balance, Pike leaves Spock in command and the ship in space dock to pursue options to help his Number One.
When a distress signal comes in from a former crew member, Spock must decide what to do. Also, what will his engage command be?!? Strap in, tune in, and get ready for the most ambitious Trek season yet!
Friday, June 16
The Crowded Room (Apple TV+)
After meeting Danny's immediate family, his stepdad left a nasty taste in our mouths, but where was his father?
The shooting was the event that changed everything in Danny's life.
After that, he flees to London to find his father.
Extraction 2 (Netflix)
The highly-anticipated sequel to this action-packed, high-octane action thriller is here, and it's a bloody good time. Like, literally.
The Russo Brothers collab with the hottest Hemsworth, Chris, for the continuing story of Tyler Rake, who fought his way back from literal death and will head up a new contract mission that will literally have us on the edge of our seats.
Seriously, the slick camera work in just the trailer alone is enough to have you ducking, dodging, and thoroughly engaged with all of the intense action sequences.
8/7c Outlander (Starz)
Jamie and Claire return with the rest of the Fraser's Ridge residents for an all-new season.
Yes, the Droughtlander is over, and we've been waiting to find out how Claire escapes the hangman's noose for her supposed hand in Malva's murder.
Bree is also expecting another child, which will affect where she and Roger find themselves in the years to come.
Paul Dailly is the Associate Editor for TV Fanatic. Follow him on X.