Neighbours Spoilers for the Week of 9-18-23: New Episodes Bring a Wedding and New Families With Secrets to Erinsborough!

Jack Ori at . Updated at .
If it seems like it's been a long time since you've visited Erinsborough, don't worry; the all-new episodes will make up for it.
As we reported previously, Freevee's revival of the iconic Australian soap will pick up two years after the original finale. But the drama will be just as intense, and the all-new stories will be easy to follow.
Neighbours spoilers for the week of 9-18-23 promise to jump right in with a wedding, and that's only for starters!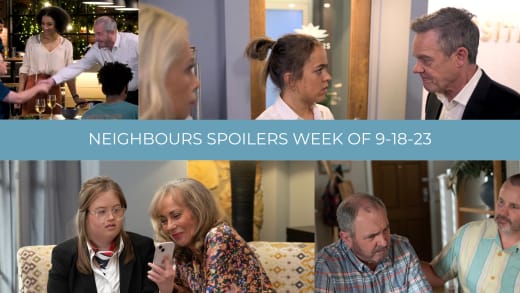 Although spoilers don't reveal exactly who is getting married, it's most likely Paul and Terese.
These two always find their way back to one another, and they reconciled during the original finale. And since Glen no longer appears to be in Erinsborough, the time is right for them to make their reunion official.
Spoiler photos include Harold Bishop returning for the affair, and he'll have a storyline of his own this week, possibly involving a health scare.
Harold is one of the few Neighbours characters to return after a supposed death—this soap doesn't do that kind of thing often—and is an iconic but aging member of the Ramsey Street community. So a story involving his health could be moving, though hopefully, it's nothing fatal.
Neighbours does its research when it comes to medical storylines, and I'm still traumatized over Sonya's all-too-realistic death from ovarian cancer in 2019!
Jane is also a guest at the wedding, so it's not her own, though Mike is in town as the series begins. There is not yet any information about how he may be written out, but it's unlikely that Guy Pearce will remain on the series for more than a few days.
The first week of the revived series seems to have one theme besides the wedding: secrets.
The Varga family, set to move into the street as the series begins, will be one of the most diverse families yet, headed by two women in an interracial and same-sex marriage with two teenage boys. But someone in this family has an ulterior motive in moving to Erinsborough, which will add to the drama.
And they're not the only ones with secrets. Susan and Karl are one of the most solid and iconic couples in the series, but Susan has a potentially serious secret. It's unlikely she is cheating on Karl after the pain he caused her by doing the same years ago, but what is she hiding?
Please scroll down to check out the complete list of Neighbours spoilers.
The residents of Ramsay Street are in high spirits as they prepare for a wedding.
The wedding will bring the town together, but will there be any troublemakers in attendance?
While interrupting weddings is a common soap trope, and one Neighbours has used in the past, this time, the happy couple will make it all the way through the ceremony.
There'll soon be trouble in paradise as the newlyweds try to balance work and family obligations, but we'll start off with a genuinely happy occasion, which will also help introduce new viewers to the characters.
A new family arrives in town.
The Vargas family is moving into the street, but what are they really up to?
And who is it who has an ulterior motive? It's likely one of the adults since they'd be the ones who have the money and ability to decide whether their family lives.
But with two teenage boys moving into Erinsborough, there's sure to be plenty of trouble, even if they're not the ones with the secret right now.
Susan hides a secret from Karl.
I'm so curious about what this could be!
Spoilers say that Susan has made a lot of life changes in the two years since her emotional speech during the original Neighbours finale.
But Susan is not the type to keep secrets, so she has to have a very good reason to keep this one. Karl sometimes engages in childish and petty behavior, so she could be trying to prevent him from doing so.
Holly fails to take her job at Lassiter's seriously.
Holly was never one of my favorites of the younger set because of her immaturity, so it's unsurprising that she's goofing off on the job.
Paul barely tolerated that from Harlow, and she was his beloved granddaughter! He'll go ballistic about Holly's inappropriate work ethic.
That'll be fun, though Terese may have to rein him in.
In any case, Holly's misbehavior will lead her to discover a major secret. But will that redeem her in anyone's eyes?
Harold's peculiar behavior rings alarm bells.
Karl might not guess Susan's secret because he's preoccupied with Harold Bishop's behavior.
For all his faults, Karl is an excellent physician, so if he thinks something's wrong with Harold, there probably is.
Will this story lead to one of the most heartbreaking deaths on television, or will Harold be able to survive and thrive once he's officially diagnosed and begins treatment?
The truth about Reece's identity sends shockwaves through Erinsborough.
Reece is a new character played by American actress Mischa Barton of OC fame. She also is yet another person with a secret.
Jane's son, Byron, develops an interest in Reece, but is her seeming attraction to him a carefully calculated part of the plot?
This secret is set to unravel quickly, with a shocking reveal set for the end of the week.
Karl and Susan's relationship is tested.
Whatever Susan's secret is, it will quickly place a strain on her marriage.
Let's hope it's something less ridiculous than the time Karl tried to sneak a durian fruit through customs and told an embarrassing lie about why the suitcase stunk!
Will Susan confess the truth, or will this one be played out a while longer?
Your turn, Neighbours fanatics! How excited are you for the revival of this series on Freevee?
Hit the big, blue SHOW COMMENTS button and let us know. And if you're curious about the series, check out our Everything You Need to Know About Neighbours post for more info.
Neighbours airs on Amazon Freevee. New episodes are available every Monday through Thursday.
Jack Ori is a senior staff writer for TV Fanatic. His debut young adult novel, Reinventing Hannah, is available on Amazon. Follow him on X.