Days of Our Lives Spoilers During the Week of 11-13-23: A Cruel Trick Leaves Nicole Devastated

Jack Ori at .
Stop us if you've heard this one before.
On Days of Our Lives during the week of 11-13-23, a woman gets into a major car accident and gives birth on the side of the road, only to learn later her baby was switched with someone else's.
No, it's not Sarah this time. It's Nicole, and while there are some differences, it uses a tired soap trope to tell a baby switch story.
According to spoilers, Dimitri and Leo crash into Nicole with their stolen getaway car, causing her to go into labor. Leo delivers the baby, and Dimitri whisks it away, later telling Nicole her son died.
This is a typical soap story in some ways, but it seems as cruel as overdone.
Nicole's wanted a baby forever, and her last two did die. This could trigger a serious mental health crisis for her.
And to add to the irony, Dimitri either gives or sells the baby to Melinda, who then gives him to Eric and Sloan -- so he's in his biological father's care.
It's obvious where this is going. Not only will Eric eventually find out that Sloan kidnapped Nicole's baby, but that he's the father. Nicole and Eric will get together and live happily ever after, or at least for fifteen seconds.
Yawn. This story would have made more sense ten years ago when Nicole gave birth to an allegedly dead baby she'd been hiding from EJ. In that scenario, EJ might have hired someone to kidnap the baby and tell Nicole he was dead to get revenge for Nicole hiding her pregnancy from him.
That baby was born only a few weeks early, so it would have been plausible that he wasn't dead. The motive for the kidnapping would have been more understandable. And it would have avoided the car accident birth scenario that we experienced with Sarah and Xander's child not that long ago.
Instead, we get the same old nonsense. Baby switches and reckless driving accidents happen frequently in Salem, but come on! Let's have a story we haven't done in the last few years, or at least one that isn't almost a replica.
As for Sarah and Xander, they'll fight again this week, too. Ugh.
Sarah's supposed to accuse Xander of foul play -- who else thinks she'll blame him for Nicole "losing" her baby?
It's a shame that her relationship with Xander has denigrated into these ridiculous, immature arguments. Linsey Godfrey and Paul Tefler are too talented for this nonsense.
Please scroll down for all eight Days of Our Lives spoilers for the week of 11-13-23.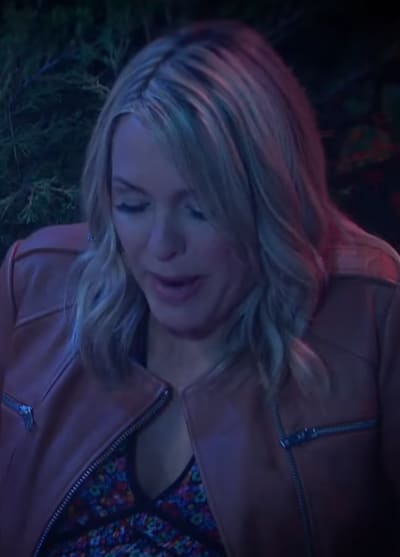 Nicole gives birth on the side of the road while EJ frantically searches for her.
At least EJ's aware she's missing. Spoilers also suggest that Holly is worried about her mom.
It's annoying that we have another birth on the side of the road story, but at least Holly'll show a more human side.
She's been snarky and snotty since she arrived, so she's overdue. Maybe she'll be more likable after this.
Melinda tries to stop Sloan from telling Eric the truth.
It's hard to believe that Melinda would involve herself in this.
Trask isn't above doing shady things, but it's usually in the name of justice. She refused to give Kristen immunity and berated Justin for hurting the legal profession by trying to blackmail a judge.
So why on Earth would she help Sloan by giving her Nicole's baby and forcing her to keep it secret? This is despicable as well as out of character.
Rafe grills Leo about Dimitri's whereabouts.
Hopefully, Leo won't be stupid enough to sacrifice his freedom for Dimitri.
This love story is nonsensical, and it needs to end. Leo also insisted Craig was the love of his life and was devastated to lose him, so why should we believe this fling with Dimitri is anything serious?
I wouldn't mind if Leo and Dimitri disappeared forever or went to prison. They're annoying, and their storyline has run its course.
And will Rafe discover that Dimitri, not Gabi, was responsible for LI's death? It certainly seemed like it from how Dimitri gloated about Gabi's arrest before the accident.
Tate comforts Holly.
Will Nicole's tragedy bring Holly and Tate closer together?
She's been keeping him at arm's length, hoping that Johnny will dump Chanel for her. She may be a teenager, but she's teetering on the edge of an obsessive love story.
Johnny'll want to grieve alone or with Chanel, but Tate might have a chance to make his comforting gestures into something more. But will Holly accept that?
Everett comes face-to-face with Alex.
Are we supposed to be excited about this meeting of the exes?
Alex is busy trying to fill Victor's shows. Everett is a stalker. Neither of them is particularly compelling right now.
And why should they fight over Stephanie (if they do)? She's supposedly with Chad, not either of them.
Steve and John consider going to Greece.
The best part of this stupid Konstantin storyline is that Steve's already onto him.
With Black Patch considering visiting Greece to learn the truth, the grifter is in trouble.
He'll put pressure on Theresa, but will it work? Or is this story almost at an end?
Sarah accuses Xander of foul play.
Of course. Sarah and Xander have become a one-note couple. Not only have they split for the sake of drama, but Sarah constantly throws tantrums and accuses Xander of horrible things.
It's almost as if he was supposed to take it while she tried to stop him from having a relationship with his daughter.
Whenever she finds out that even though he'd like to work things out, he'll fight her in court if she refuses, she decides that means he's evil incarnate and screams at the top of her lungs about it and his past misdeeds.
Stop it! It's grating, not entertaining, and it has to stop.
Chad makes Gwen an offer.
Will this be a one-sided phone call, or will Emily O'Brien play a dual role?
Chad tries to buy out Gwen's interest in the Spectator -- probably so he can boot Everett.
Jack Deveraux made the Spectator into a legendary paper, so can everyone else stop using it as a bargaining chip to get things they don't have a right to?
Your turn, Days of Our Lives fanatics. Hit the big, blue SHOW COMMENTS button and let us know your thoughts.
Check out the latest Days of Our Lives reviews and Days of Our Lives Round Table discussion posts if you want to chat about already-aired episodes.
Days of Our Lives streams exclusively on Peacock. New episodes drop on weekday mornings at 6/5c.
Jack Ori is a senior staff writer for TV Fanatic. His debut young adult novel, Reinventing Hannah, is available on Amazon. Follow him on X.