Charmed: Madeleine Mantock on the Witch in the Writers' Room, Inclusivity, & Doing the Right Thing

Carissa Pavlica at .
Madeleine Mantock will be playing Macy Vaughn on Charmed. The reboot of the cultural phenomenon has been much discussed and is highly anticipated. 
She was joined by her already highly seasoned costars as they worked the press room alone at New York Comic-Con.
Mantock plays the eldest of three magical sisters on the reboot, but as the series begins, she's the only one with that knowledge.
Macy appears in the lives of her two younger sisters live without warning, and similarly, the three together will discover they are witches.
Related: Charmed: Sarah Jeffrey on Sisterhood, Cultural Icon Status & More!
Macy is the eldest of the three sisters, all born of different fathers, something Vaughn is excited to explore on the series.
She's also quite commanding a presence in the press room, and it's hard not to wonder if she's taken on a big sister role among the three castmates, even if I never had the opportunity to speak with them together.
As the eldest, Macy grew up without sisters and will have to navigate letting others into her life as well as learning all things magical.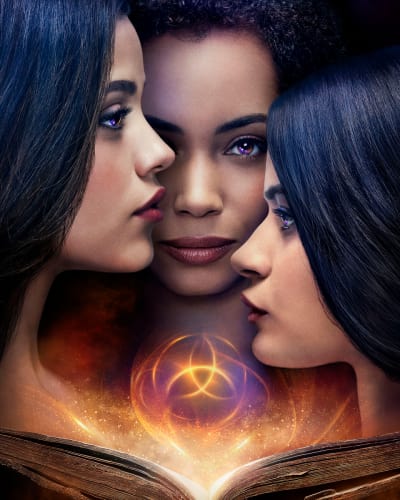 Mantock is excited about the diversity of the writers' room and shares the inclusion of an actual witch.
Of course, while another press member brought up the topic, as the "witch" is male, it appears they have a warlock in the writers' room! On a show about magic, it only makes sense there would be some representation.
Related: Charmed: Melonie Diaz on Action, Lineage, and Releasing Tension
Macy appears to be a combination of two sisters from Charmed OG. 
Like Prue, she has the power of telekinesis. Like Paige, Macy was adopted and wasn't raised by her birth mother or father.
We can also assume Macy is a smart cookie, as she's a geneticist. How will that particular skill come in handy for the Charmed Ones?
Make sure you watch the full interview with Mantock below to get a feel for what is coming from Charmed.
There are also interviews available from her co-stars, Sarah Jeffrey (younger sister Maggie Vera) and Melonie Diaz (middle sister Mel Vera), on the site with links available in this article.
We'll be here every week with reviews and news and more!
Related: Charmed Star Sarah Jeffrey Defends Reboot: It Will Have a Positive Effect!
What sister interests you most? Are you excited for the premiere?
Charmed comes to The CW on Sunday, October 14 at 9/8c just after Supergirl.
Don't miss it!