There are a lot of characters without whom Criminal Minds can survive.
You can argue with me if you want, but I'm of the opinion that the one whose departure would make the greatest impact would be one Penelope Garcia.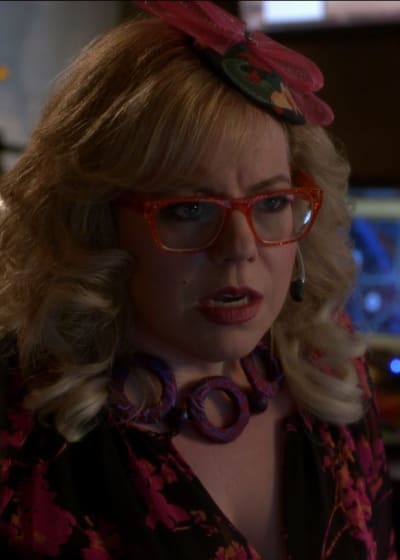 On Criminal Minds Season 12 Episode 10, the BAU team travels to San Diego to investigate some home invasions that turn deadly.
And when they're on the road, the team relies on Garcia's nimble fingers and puzzle solving mind to string together the pieces of evidence to track their suspects.
This time, she's looking into someone named Michael Sale.
Sales is the middle child of three boys
His father died at age sixteen and his mother drank himself to death soon afterward.
Garcia immediately feels the heartstrings pulling, and her face falls. 
"Those boys raised themselves," she says. "Aw. That's so sad. So, of course, they each got in their own kind of trouble."
As she begins chatting about their records and lamenting the reasons they may have gotten there, Prentiss has other news for her.
She needs to research a green van. As she lists the states to which this van may be connected, Garcia realizes this is going to take a lot of time.
Maybe she can have the make and model, too.
Um, no, but Alvez chimes in, "Wishful thinking." After all, the van is about 40 years old.
Garcia's in for a long night...unless she's her usual, awesome self, and she'll have them the information they need in no time.
Be sure to tune into Criminal Minds on CBS tonight at 9/8c and be here for a full review after it airs!