Oh, Alex.
Or, perhaps we should write instead, oh no, Alex.
ABC has unveiled the first footage from Grey's Anatomy Season 13 Episode 1 and it centers on the beatdown Alex put on Andrew toward the end of Season 12.
Did he really expect there to be no fallout from this violent action?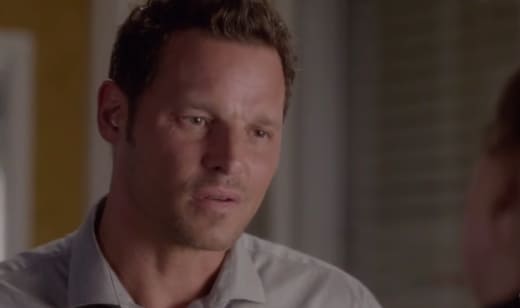 "You think nobody's going to realize this is you?" Meredith asked him at one point during a heated conversation about the incident.
She later warns Alex that he "could go to jail," while he asks his friend a very simple question:
Is she going to turn him in?
No way, right?
We don't know a whole lot about Grey's Anatomy Season 13 at the moment.
Although Shonda Rhimes did recently come out and say that Arizona will be getting a new love interest, while Callie will still be referenced at times, despite the departure of Sarah Ramirez.
In the following sneak peek, meanwhile, Jo is nowhere to be found
We also have to wonder about the extent of Andrew's injuries. 
Just what sort of punishment could Alex be facing?
Check out the clip now and then start the countdown to the Season 13 premiere on Thursday, September 22 at 8/7c.