The Resident Season 3 Trailer: Conrad is Down!

Jasmine Blu at .
In this fandom, we protect Conrad Hawkins at all costs!
The hit medical drama sneakily dropped the trailer for the third season of The Resident, but if you missed it, no worries, TV Fanatic has you covered!
One takeaway from the trailer is that the third season will be explosive!
The trailer begins centered around none other than the series' beloved couple, CoNic.
Of course, they're lying in bed together, which confirms that despite their many issues (most of which remain unresolved) during The Resident Season 2, the couple is going strong.
Conrad asks Nic what she's thinking about as they gaze adoringly into each other's eyes, and she says "us," but she follows it with an "I'm ready." The two share a searing kiss that will leave fans in all of their squishy CoNic FEELS.
Related: 9-1-1 Trailer: A Tsunami Hit Santa Monica! 
What is she ready for, though? Is she prepared to move in with him? Does she want to walk down the aisle with him? Does she mean she's ready to go back to work?
What does she mean? She was an enigma for most of the sophomore season, so with Nic, you never know.
There's a fire in the hospital -- an actual explosion, and we see Conrad get knocked off of his feet.
Related: The Resident Season 2 Report Card: Best Arc, Worst Addition, & More! 
He yells to Nic that the entire hospital may go down and tells her to get out of there, but for Conrad reasons that may involve him being a hero, as per usual, he's staying behind.
There is another explosion, but this time, Conrad is knocked out. Conrad is down, you guys!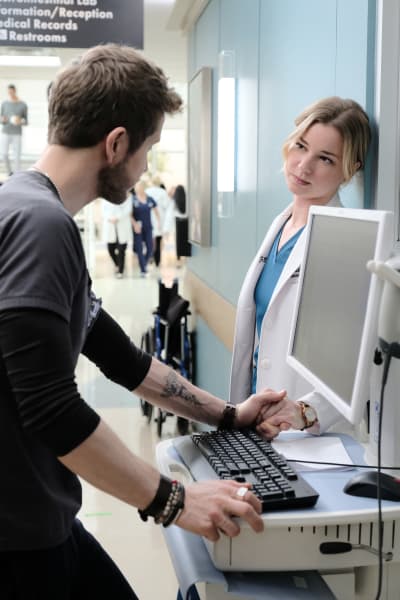 A frantic Nic tries to tend to him, and elsewhere in the hospital, Bell is trying to figure out what the hell is going on.
Related: Pearson Season 1 Episode 5 Review: The Former City Attorney 
Outside of that, we have a brief look at Devon in scrubs for surgery commenting on how unforgettable it is when you first save a life.
Thank the Resident gods; Jane Leeves' Kit Voss is still in the picture, and she mentions how much she loves her job. Surely she loves it almost as much as we love her!
None of the others get lines, but we do get a shot of a pensive Mina donning regular clothes and looking fabulous. Also, AJ is looking serious (and extra handsome).
Related: 11 Reasons Conrad Hawkins is the Greatest Doctor on Television!
The final shot has Nic crying in a field of flowers. What does it all mean?!
When The Resident left us, Kyle and Jessie's lives were hanging in the balance, and we're led to believe one or both of them perished. Maybe the field of flowers has something to do with that.
We also know Bell may have made another deal with another devil when he agreed to a merger with the mysterious Red Rock Mountain Medical.
There is no doubt changes are afoot at Chastain Memorial. Are you ready for them?!
Speaking of changes, The Resident will be on a new night, Tuesdays.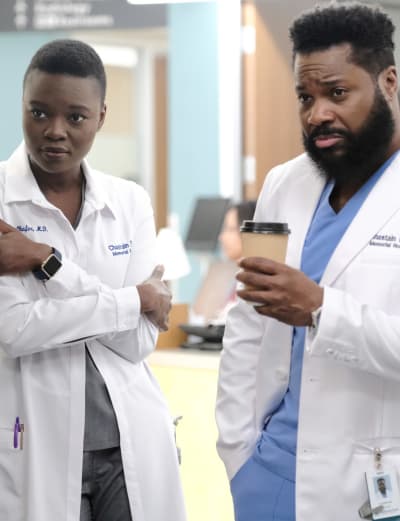 The Resident returns September 24! 
In the meantime, you can watch The Resident online to refresh your memory or check out our reviews.
-Related: Get Shudder via Prime Video Channels for Spine-Tingling & Provocative Films, TV Series, & Originals! -
Get your first look at season three below, and hit the comments with your reactions!