Titans: Brenton Thwaites Takes on Dick Grayson, Robin, and ... Nightwing?!?

Carissa Pavlica at . Updated at .
If you're not a Titans comics fan, chances are you have no idea about the story of Robin.
Oh, sure, you may know the story of Batman, but who is Robin, exactly?
You're about to find out a lot about him. Well, at least you will if you subscribe to DC Universe and watch Titans.
Brenton Thwaites takes on the role of Dick Grayson, once a boy with a family. A boy who didn't lose his family and run TO the circus, but a boy who was in the circus WITH his family, The Flying Graysons.
How did Robin wind up being mentored by Bruce Wayne aka Batman? 
Titans: Teagan Croft on Going Dark as Raven, Parental Figures, & More!
All will be revealed on Titans Season 1 Episode 3, "Origins." 
And guess what, Titans isn't afraid to mention Batman because on DC Universe, at least as far as the showrunners (and you know, Geoff Johns) know, nothing is off limits to them. 
That is cool, you guys.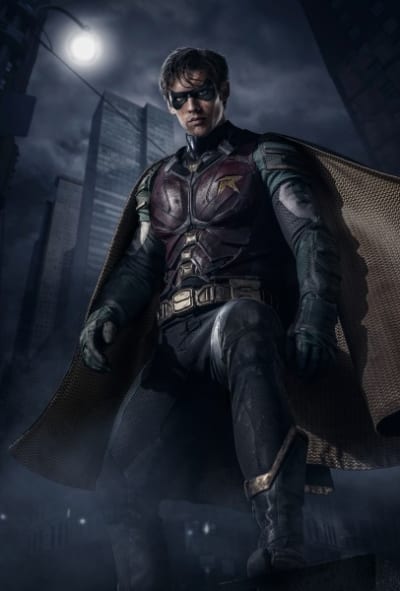 As it turns out, Robin is sick and tired of Batman and his hooligan ways. 
Robin wants to be one of the good guys. Yes, in this world, Batman has gone dark, and he's not exactly welcome.
Related: Anna Diop on Bringing Starfire to Life for the First Time!
Like so many other vigilante shows out there, he's given the masked bunch a bad reputation.
Things might not even look very good for Robin when Detective Dick Grayson, a very good guy, tries to do more than he can with a badge and a gun.
But don't envy star Thwaites his position in taking on this role just yet.
When you watch the interview below, you'll see Thwaites giving a lot of props to his stuntman for the exciting fight scenes (some of which you've seen in the trailer!).
They might have even been a bit frustrating for him. Find out why.
Thwaites won't be the first actor to give a shout out to the costuming department for his amazing Robin costume, either. 
Related: Titans Renewed for Season 2!
He's not donning a hood or a piece of lycra for this outing. All the heroes won't look the same on Titans. A lot of work goes into the details and creating their looks, so pay attention!
Be sure to check out the other interviews we dropped today, and keep an eye out for upcoming interviews with Minka Kelley (Dove), Alan Ritchson (Hawk), and Ryan Potter (Beastboy).
Be sure to tune into the premiere on October 12 and come back for reviews, news, and more!