Family Guy delivered a weak, jump-the-shark installment with "German Guy," due to the introduction of Nazi Franz. 
The episode started out promisingly, with dirty allusions to Chris' extracurricular activities. We watched as he stumbled upon Franz and his puppet shop with his family's insistence that he find a different hobby.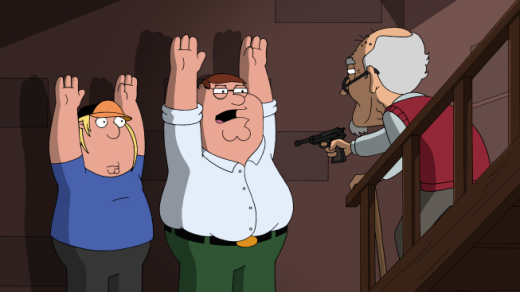 While it's always entertaining to see interactions between neighborhood pervert Herbert and the object of his affection, Chris, "German Guy" quickly regressed into a filler episode in which the main cast has absolutely no part. 
Franz was a throw-away character, neither memorable nor very funny, and the fight scene between him and Mr. Herbert actually seemed like an attempt to make the episode last longer.
The highlight came when Chris essentially summarized the essence of the Twilight series with Edward and Jacob puppets, discussing their love for Bella. But that was about it. Below, we have managed to find a few Family Guy quotes from the episode worthy of publishing:
Edward: I'm a vampire, and I'm in love with this unattractive girl.
Jacob: I'm a werewolf, and I am also in love with this unattractive girl.
Edward: Boy, she sure can act though, can't she?
Jacob: Nope. | permalink
Herbert: You know Chris, all my life, I've wanted to see you locked in a basement. But now that it's happened, all I want to do is get you out! | permalink
Chris: How do I know which one to shoot? How do I know which one's the real dad?? | permalink
Peter: You're not going to get away with this, Mr. Google Search! | permalink
Lois: I'm pretty sure our washer machine is pregnant! I'm not even sure how that's scientifically possible! | permalink
Tags: Family Guy, Reviews
Want more Family Guy?
Sign up for our daily newsletter and receive the latest tv news delivered to your inbox for free!