South Park Review: "Crack Baby Athletic Association"
by Eric Hochberger at .
I love just how out there South Park will go during some of its satires, always pulling off what seems to be absolutely ridiculous concepts.
Only Matt Stone and Trey Parker could take go from making fun of a Sarah McLachlan commercial to a full-fledged mocking of the NCAA.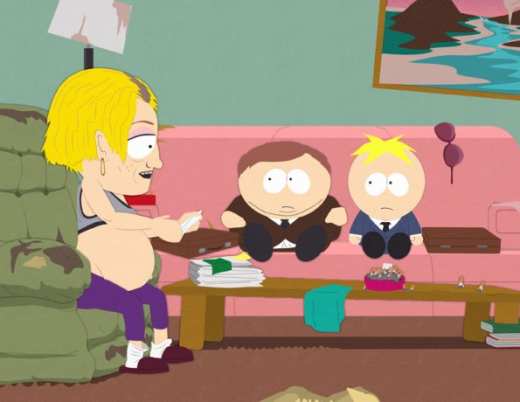 So, how did they get there? By giving a bunch of crack babies a basketball of crack, of course! Hey, I don't make up the rules. I just write them down.

Things started off somewhat subtle. Well, as subtle as a non-profit organization that's extorting its unpaid players to make millions could be. Oh, and did we mention it was named the "Crack Baby Athletic Association," or the CBAA. Not to be confused with the NCAA.

That is, until they through subtlety out the window and Cartman met with the President of UC Boulder for a little slave shop talk.

How do they get away with not paying their players?

Meanwhile, the NCAA wasn't the only target of

South Park

's wrath this week. For some bizarre reason, the second target was

Guns N' Roses

guitarist, Slash, and his ubiquitous ability to play at multiple venues.

Outside the guy selling out his likeness to Guitar Hero 3, I can't figure out why they picked on this infamous rock star. Somehow, they seemed to pull it off as they tied it in with the A story for a ridiculous WTH ending.

So while the story was a little more out there than previous satires and not quite as biting as it could have been against the NCAA (though some of the slave comments came damn close), it was still a pretty decent episode.

Far from their best episode, but any time you stick Cartman in some suspenders and make him a business owner, you got me laughing. Combine that with turning Kyle into the firm's guilty Jewish accountant and the return of delicious KFC gravy and you had enough humor to pull off the episode.

Oh, and did you realize that not only Baconalia really is going on at Denny's, you can in fact order a Sundae with it as a topping? I'm not proud to say I went to one this past weekend. And no, I did not partake in the sundae.

So, what did you all think of the episode and what were your favorite South Park quotes? And help out a gambling man. Which crack baby team are you betting on this season?

Eric Hochberger is the programmer of TV Fanatic, so please forgive his mediocre writing. His programming is far better. Follow him on Twitter and/or email him. Just don't request threaded comments. They're coming.

Tags: South Park, Reviews
From Around the Web