Comedies don't always need to make sense. Would I prefer there be a mythology to the Wilfred madness? Sure, but if that dog continues to kill vacuum cleaners because he thinks they are evil robots, the hilarity will keep on trumping the confusion.
"Doubt" definitely muddied the waters that "Compassion" seemed to clear up last week. After seeing Ryan's mother talk to Mittens, it seemed that this was some sort of hereditary psychosis that he inherited from Catherine. Now, with all of this Bruce business, I am not so sure.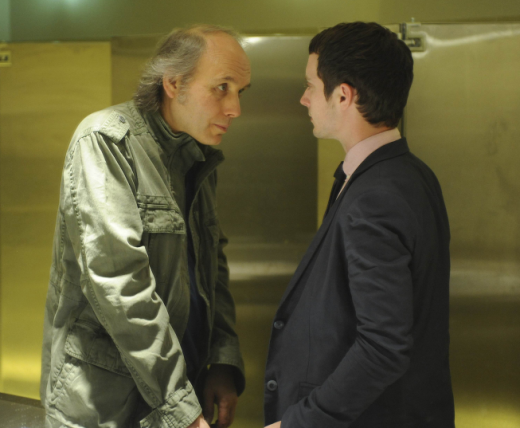 Was Bruce another figment of Ryan's imagination? Or was he just another troubled man that could also see man-Wilfred as he claimed? The one time Ryan pointed him out to Kristen, Bruce wasn't there. However, Wilfred acted like Bruce was a real person at times, yet at others made it seem like he had invented Bruce Bruce.
The entire scene in the woods was seriously confusing, but Wilfred's ability to lighten the mood more than made up for it. When Bruce complained that Wilfred had made him make out with own father, the dog's response was Everybody at the party loved it. They thought it was edgy. That had me in stitches.
At the end of the day, Wilfred was once again just attempting to help his friend. In all seriousness, if Ryan heads back out into the work world right now, he would be in major trouble. Is Wilfred a major reason for that though? Absolutely.
Sometimes, it's just the little things that Wilfred does that make this show so enjoyable. "Doubt" proved that with his reaction to Ryan stating that he's going on a date. With who?!? Wilfred laughed. It was also evident in the dog's excitement at the fact that there was an entire acre of potted plants that Ryan was taking him to.
Then again, sometimes it is the over the top plays that keep butts in the seats. For example, here with Wilfred sniffing butts like he's at a wine tasting, picking up shoes to eat like he's in a cafeteria line, and bringing back the fact that he is obsessed with Matt Damon.
Now, after checking out some of our favorite Wilfred quotes from "Doubt" below, let us know what you thought of the episode.
Wilfred: What did you do with my hair? I distinctly remember leaving it right here, all over the place. | permalink
Kristen: He says I won't be able to adjust to a new culture. Excuse me, but I was the one who was willing to live in the Valley. | permalink
Wilfred: Favorite music, all types. This chick must be like an expert in music. | permalink
Ryan: I really think I'm gonna be alright.
Wilfred: Of course you are...I ain't going anywhere. | permalink
Dan Forcella is a TV Fanatic Staff Writer. Follow him on Twitter.

Tags: Wilfred, Reviews
Want more Wilfred?
Sign up for our daily newsletter and receive the latest tv news delivered to your inbox for free!
From Around the Web
More From TV Fanatic
It's getting crazy on Gang Related! Lines are being crossed by gangsters and officers, is anyone in the right?
On Rookie Blue, Andy assists Sam in a missing persons case. Elsewhere, an undercover operation to track down illegal handguns sends Chris scrambling to maintain control.
Join us for the rewatch of Gossip Girl Season 2 Episode 9 "There Might Be Blood." What did you think of this episode?
Duck Dynasty Season 6 Episode 5 was all about re-branding. Read on for our latest rundown.
---