The basis of Shameless is that the Gallaghers put the fun in dysfunction. But "I'll Light a Candle for You Every Day" took their dysfunctional antics to a whole new low, while simultaneously showing us a rare remorseful side of the family.
How low can Frank or Fiona sink before their conscience begins to feel heavy? For Frank, who knows what the answer is, but consider: we basically saw him sex a woman to death this week.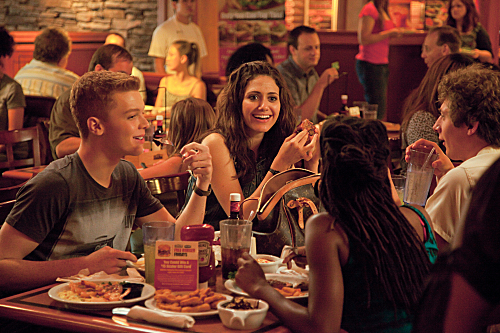 There's really no PC way to talk about what happened between Frank and Dottie (aka Butterface). Last week, she told him that she can't have sex because her heart would explode. This week, after realizing she wouldn't be getting a new heart, she asked Frank to make love to her. That's certainly a Hell of a way to die! 

Of course, what Dottie didn't know was that there was a heart for her. Her new sham of a fiancee Frank heard the beeper go off and told the service that Dottie had already passed. Then he proceeded to go on a rant at The Alibi about how people shouldn't get a second chance with organ transplants. 

It's hard to believe that Frank can keep topping all of the messed up things he's done before. I still want to puke that he slept with Karen, but this was the worst. He let a woman die. Plain and simple. Sure, she asked him to take her to her death bed, but still.

There are just some things that are a bit too disturbing. Fiona sleeping with a married man and stealing the contents of a purse were obviously morally wrong, but in the spectrum of this episode it wasn't that bad. Besides, we see Fiona remorseful for her actions. She at least tried to pay the purse woman back, until obscenities were tossed left and right. By the way, Lip, you are too smart to think the bag could've only gotten $200 on eBay. Step up your game, man.

Lip gets a pass this week since Karen is going to marry her weird random boyfriend. I feel bad for him, but it's also a blessing in disguise because Karen is off her rocker. 

Did anyone else just plain laugh during the sex scene with Fiona and Craig? Talk about the fantasy being way better than the reality! Taylor Kinney is one hot piece, but after seeing those faces he made in his minivan I'm not sure I will ever feel the same way about him. Fiona was blinded by rage when she made that decision and completely regretted, it as evidenced by a certain call she made right after.

Well, hello, Steve, it doesn't look like you're missing Fiona all that much. What a d-bag and what a fake green screen he was standing in front of. Fiona is just struggling to keep it all together and you know her heart is still broken. When I spoke to her before the premiere, she mentioned a major transgression in episode that for which Fiona would end up paying. 

I'm sure we'll see the fallout from her fling with Craig on next week's installment. So... what did you all think? Were you as horrified by Frank's actions as I was? Did you think Veronica was too hard on Kevin about buy the bar?

Leigh Raines is a TV Fanatic Staff Writer. Follow her on Twitter.

Tags: Shameless, Reviews
Want more Shameless?
Sign up for our daily newsletter and receive the latest tv news delivered to your inbox for free!
More From TV Fanatic
On tonight's The Bridge, the search for Eleanor continues. Will she kill again before she's found?
On Extant, Molly reveals her pregnancy to John. However, Sparks' story isn't exactly a plausible explanation.
On Graceland, Mike, Briggs and the team pull out all the stops to get Paige back. Read our review of "The Unlucky One" to find out if they were successful.
On Suits, Rachel and Jessica's life choices seep their way into the business of the men in their lives, some of which only cause more problems. Read out review of "Litt the Hell Up."
---