As an avid fan of Two and a Half Men, I can confidently state:
This episode does not rank among my top 50 favorites. Maybe not even my top 75.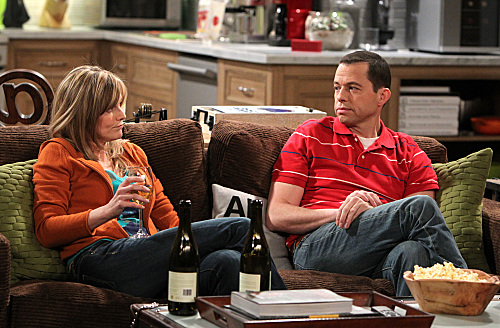 The episode was pretty decent by all comedic standards, but it lacked the punch Two and a Half Men is known for. I mean, we know Walden is rich, we don't need to be reminded every single week. As a viewer, I yearn for the days of truly epic installment, by which I mean, a half hour filled with laughter and not just mere chuckles or smiles. I do hope Chuck Lorre and company can rectify this.

On to the episode at hand: "Not in My Mouth" showed us how tricky and disgusting love can be. Lyndsey vomited in Alan's mouth while Zoey and Walden almost broke up because the former did not utter those three important words to the latter. Then, Walden almost buried his sorrows in Jennifer's bosom, but Jake took his place and enjoyed the best half hour of his life.

Alan, Berta and Jake still delivered the best lines of the night. Head over to our Two and a Half Men quotes page for more and I'll assume everyone agreed: we need to see more of Evelyn and Bridget.

In all, this was a poor outing for the show. I hope the upcoming episodes do much better.

Tags: Two and a Half Men, Reviews
Want more Two and a Half Men?
Sign up for our daily newsletter and receive the latest tv news delivered to your inbox for free!
More From TV Fanatic
On Perception, Daniel and Kate investigate an art heist. Also, Daniel must make a decision about his love life.
Things on Pretty Little Liars looked pretty darn bleak this week as Hanna's friends started to get sick of her but Zack couldn't get enough. Read the review for more insight into the latest installment!
Evan, Paige and Bob confront Russel about his rug theft, while Divya and Jeremiah treat a woman desiring to be a mom. But were those all the surprises the Hamptons had to offer? Read our review of "I Didn't See That Coming" now!
On Chasing Life, Leo makes wishes come true. Elsewhere, Brenna meets her other sister, discovering one more family secret. Read on for more!
---