Californication Review: Highway to Hell and Whatnot
by Chris O'Hara at .
As "The Party" opened, we found Hank kicked to the curb as Bates returned from rehab.
With last call at Karen's house well behind him, our hero felt New York calling him home once again. Thankfully, Charlie saw fit to throw Hank a going away shindig and as Samurai so accurately noted, "Charlie Runkles" knows how to throw a party!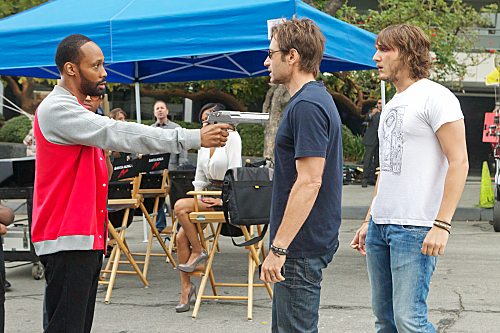 There were some great heart-to-heart conversations this week which offered up some of the best Californication quotes in our updted section. Charlie on bended knee begged for Hank's forgiveness, but also was right to warn his dear friend about expecting his agent to be someone he isn't.

I loved the scene on the beach where Hank let Karen be the crazy one for once. That whole moment was superbly set up by the couch confessional Hank had with Marcy. It's been too long since we've seen her spout off on how much she loves her star-crossed couple of friends as only she can. While I will feel for her when the truth about Stu's infidelity comes to light, nothing would please me more than to see her inner spark rekindled by Charlie once again. 

Bravo to Hank for channeling his inner Ari Gold and giving Tyler the bitch slap he deserved. Not since Adam Davies had someone been so deserving of such a five-fingered facial. Hank, of course, did not feel like he needed to bother his family with the truth behind why he attacked Becca's beau. He does have a tendency to blow into town and cause a lot of chaos, but I wish he would more adamantly defend himself on those occasions when he is not to blame. 

Things between Hank and his family were as good as they have been all season leading up to the party. Hopefully by the finale Becca and Karen will learn the truths Hank has been shielding them from; i.e.. Bates letting go, letting God and letting his sponsor go down on him. I'll wrap up this week with a question to you all:

Did anyone else notice how it seemed to go from light out to dark several times during the party? A rare flub for such a fantastic series but overall a solid episode. 

Tags: Californication
From Around the Web