Valentine's Day is normally a day for finding and celebrating love, a fact that rang true on tonight's episode of Two and a Half Men.
After breaking up in New York, Kate and Walden got back together, albeit for a short time, as she traveled to China with her new "business partner." (More on that later).
I figured Walden would have to work very hard to rekindle this flame, and like Kate said, she really loves him - and it is pretty hard to ignore true love.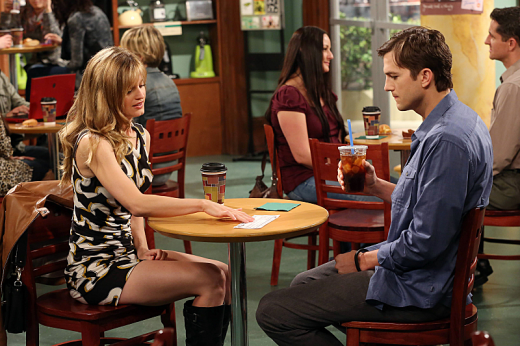 Elsewhere on "Advantage: Fat, Flying Baby," Lyndsey and Alan also re-sparked their love... in the most bizarre of ways. After getting injured while "manscaping" and then getting pulled over by police, they professed their ever-growing affection for each other in the hospital. They get my vote for wackiest couple on television.

I think Alan was onto something when he said he was not a quitter. After all,  he still got a "gift" from Lynsdey, despite problems with his private region. There is not much to report about that, really.

Overall, "Advantage: Fat, Flying Baby" was just a filler episode, but with a twist ending: Kate returned Walden's  initial investment of $100,000 because she has a new financial partner, who is no other than... ROSE!!!

Our friendly neighborhood stalker is back, and only God knows what hare-brained scheme she has up her sleeve.

So what did you think of tonight's episode. Are you as excited as I am to see what Rose is planning?

Tags: Two and a Half Men, Reviews