I'm a sucker for dog stories. Nothing consistently makes me weepy like a sad story involving canines.
"To Cur With Love" was no exception. Homer's foray into hipster culture in last week's "The Day the Earth Stood Cool" was pretty amusing, but this week's episode combined the silly with the sweet.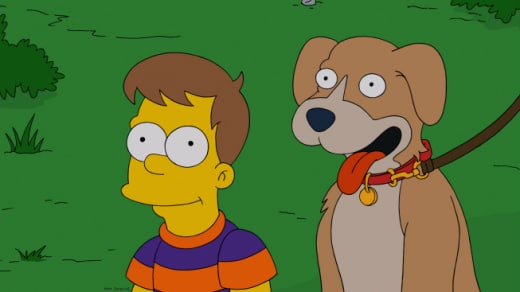 The story of Homer's best friend Bongo followed the usual narrative of boy and his dog. Grampa's retelling of their friendship hit all the emotional notes. Their separation, due to Mr. Burns' desire to put down the protective Bongo, didn't exactly make me cry, but I did get a little misty-eyed.
Even more touching was when Homer found out that Bongo never forgot him or their special bond. Seeing Bongo curled up on Homer's old sweatshirt made him finally open his heart to Santa's Little Helper and forgive his father.
The episode also used the the story of Bongo to tell the "origin" stories of some of Springfield's favorite characters. The funniest to me was Herman losing his arm on his way to piano lessons and giving one of the best The Simpsons' quotes of the night: "God closes a door, he opens a gunshop."
Similarly, dog-catcher Wiggum giving a school age Lou a ride-a-long made me giggle. Especially given the obvious disdain Lou had for Wiggum then, which he still does today. It seems like Wiggum tried quite a few careers before settling on police chief.
This wasn't a perfect episode, but then none of the episodes from the last decade could really qualify as such. One major thing that bothered me was the lack of consistency. Professor Frink's sound-wave powered MHV crashes into the Springfield Retirement Home causing Grampa to move in with his family. But in "Gone Abie Gone" didn't Grampa move into his own apartment? Why is he suddenly back at the home?
This coupled with the overuse of the Homer-Abe reconciliation bored me a little. The father-son duo always seem to have some misunderstanding from their past that caused their crappy relationship. Over and over again, they work it out and vow to be closer. But again and again some other incident is revealed to be the real root of their relationship problems.
*Sigh* I'm sure it won't be any different this time.