The Flash: 9 Things to Know About the New CW Series
Jim Halterman at .
The Flash is finally here.
It's been a long time since we last saw Barry Allen on Arrow Season 2 Episode 9 and, well, it's time for him to come out of his coma and begin fighting some bad guys, don't ya think?
As you'll see in The Flash Season 1 Episode 1, we find out what happened before and after that fateful night when Barry becomes a meta-human - but Barry also has several relationships that are affected by his new abilities.
There's his best friend (and crush) Iris... his imprisoned father...  Iris's father Joe... and, of course, Star Lab employees Caitlin, Cisco and Harrison Wells. He'll also be forced to work with Iris's boyfriend, Eddie, who is a detective alongside Joe. 
Stars Grant Gustin (Barry) and Tom Cavanaugh (Wells), as well as Executive Producers Greg Berlanti, Andrew Kreisberg and Geoff Johns, sat down with members of the press at the DC Entertainment offices in Burbank earlier yesterday to talk about the first episodes of the Arrow, teasing some of the exciting plans for bringing comic book villains to the series, as well as crossing over with Arrow...
Who's Good? Who's Bad?: After watching the first episode, you might think you have a good idea who is good and who is not so good. However, as Kreisberg explained: "When Arrow started, Oliver was as much the Green Arrow as he was ever going to be skill-wise and that show is really an exploration of somebody getting back their humanity. But, for Flash, it's day one of being a hero and we experience the show through Grant and through Barry so who people are and what they seem, we're learning that just as he's learning that and that's his evolution as a hero."
Johns referenced Caitlin (Killer Frost in the books) and Cisco (Vibe) may not track the same way in the series as they did in the comic books.
More Meta-Humans: We'll see more meta-humans, but they won't be one-note, said Berlanti. "We're really cognizant about not having too many people affected by the particle accelerator just being villains. We like to change it up. Sometimes it's that, sometimes it's someone who's good, sometimes there's a villain, in the case of Cold and Wentworth, it's not someone who's not affected by it at all…it really does change and evolve so you'll definitely see them."
Father figures galore: Barry ends up with more than a few father figures, which lends  the show being very heavy in character. Barry has his real father, Joe, the man who raised him and now Harrison Wells. And we'll also see that Barry/Wells is "really one of the primary relationships in the show," said Berlanti. "It's so nice to see Barry interact with these different mentors." Friendship and respect are seen between the two, added Kreisberg, but watch for more layers to come.
Grant is working 24/7: Gustin, who you'll remember was the first actor to read for the role, has obviously been working hard on the show. But what's been the biggest change for him in his life?
"Just adjusting to the schedule and just the lifestyle change of the schedule," he admitted. "I've worked on TV before now but I've never had my own show that I work every day, all day and it's physically demanding and I also want to be emotionally connected to this character at all times. I never want to phone it in. So I'm working 24/7 to make sure I get it right."
What about Time Travel?: "Well, it's an important part of The Flash mythology so it has to be in there somewhere," says Johns. Berlanti added, "it's an active part of the first year."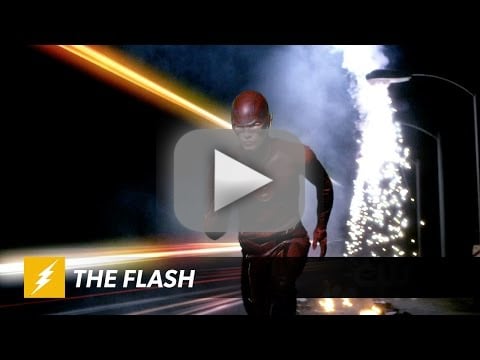 Booster Gold Could Appear: Asked whether we'll see the hero in the series or if there are rights issues to the character, Johns said: "There's no rights issues…Booster Gold is a very beloved character so I would say chances are probably pretty good" [If you didn't know Berlanti/Kreisberg sold a Booster Gold pilot to Syfy that never got made so you never know, right?]
Ronnie Raymond/Firestorm is coming: Gustin admitted the character was showing up sooner than even he thought. In terms of Ronnie, Johns said, "again another character I think we're all fans of and organically it just grew out of story," said Johns.
Kreisberg revealed that Ronnie wasn't originally going to be Caitlin's fiancé, who we find isn't as dead as everyone thinks at the start of the series. "We're so thrilled. Robbie [Amell] is amazing and has been so much fun to work with," he said.  
Arrow Crossover: It's been revealed that the episode is titled 'Flash Vs. Arrow,' so what will we see since, from what we know, the twosome actually get along? The gang was mum on details, but they did say these crossovers are more than gimmicks.
"I think when you do episodes, and I don't say this pejoratively, that have a gimmick like that, the best thing you can do is that it's not just the gimmick, it's also advancing the storylines that we've been telling and that your characters actually grow," Kreisberg said.
He referenced classic episodes like Buffy's 'Hush' episode or Doctor Who's 'Day Of The Doctor,' which were important episodes overall. "These aren't just about the crossovers of the casts. They really are very important episodes for what Barry is going through, for what Oliver is going through.  We have one of the biggest surprises on Arrow of all time on the Flash episode. Both episodes are really important for Barry's growth."
You Don't Need To Have Watched Arrow: Though it might be more enjoyable to know the Arrow world when diving into the The Flash, it's not entirely necessary. "Even though it is a spin-off," said Kreisberg, "you don't need to have watched a minute of Arrow to enjoy The Flash pilot and enjoy that world."
Berlanti added that he thinks the show will make you feel the same way you felt when you were a kid reading the comic books. "This is the most comic book show that's ever been made, said Johns.
Are you excited for the new series? What are you looking forward to the most?
The Flash Season 1 airs Tuesdays at 8/7c on The CW.
Jim Halterman is the West Coast Editor of TV Fanatic and the owner of JimHalterman.com. Follow him on Twitter.