The Simpsons Season 26 Episode 3 Review: Super Franchise Me

Stacy Glanzman at . Updated at .
What does The Simpsons have against Arbys? The Simpsons Season 26 Episode 3 is the second episode in a row to take a jab at them. 
Fast food jokes aside, this was just an okay episode. The dueling sandwich franchises kind of reminded me of the time Bart helped Mrs. Krabappel open a muffin shop and she had to deal with competing stores as well. After twenty-six seasons, repeating storylines are to be expected.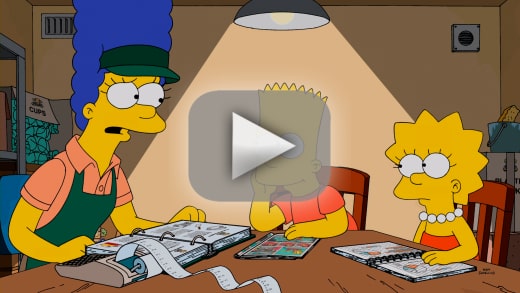 The episode had its moments though as no Simpsons episode is completely devoid of good jokes. This quote from Marge with FOX popping up on the screen made me chuckle:
It's like they don't care if you make money, as long as they make money. What kind of corporation does that?

Marge
I do love when The Simpsons takes jabs at Fox. 
One of my favorite things about The Simpsons is when they have some random opening scene that always has this really strange way of leading into the main storyline of the episode. Tonight was Ned helping Rod and Todd hunt vampire appliances for their school project that led to Ned taking back his freezer from Homer. 
How many things has Homer stolen from Ned over the years? Countless items that Homer never returns even when Ned asks nicely. It was a little surprising Ned actually went home with his freezer tonight, though later he admitted to feeling guilty for taking it back. Still, good for him. 
When Marge's new hires didn't work out, it was nice to see the whole family step in and help out with only minimal complaining. Even little Maggie helped work the register by pressing the pictures and cajoling people for tips. Though they may have been better off without Grandpa's help as he thought a window was a drive thru. 
The side story with Mr. Burns becoming infatuated with the cardboard cutout of the sandwich lady was a little weird. I really didn't expect it to continue after he left the store with "the body," but then there was that random scene with him on the boat. The whole plot was pretty unnecessary, even if it did give us a good line from Grandpa: 
Homer, if I ever seem that senile, get a gun and...what are you doing with that gun?!

Grandpa
How about Moe saving the day for the family tonight? Who knew he could be so smart and actually offer good advice. The staged injury worked like a charm and Marge got her money back thanks to some fine print in the contract the owner failed to read. It's surprising the idea didn't come from Lisa though. 
RIP Jan Hooks. We shall miss Manjula Nahasapeemapetilon, though The Simpsons episodes are done so far in advance that we may still get a few episodes with her this season. 
What did you guys think of the episode? Is The Simpsons being too hard on Arbys? Did you enjoy the musical couch gag this week? Don't forget you can always watch The Simpsons online and check out The Simpsons quotes page for your favorite lines. 
Stacy Glanzman was a staff writer for TV Fanatic. She retired in March, 2019.