The Mindy Project Season 3 Episode 6 Review: Caramel Princess Time

Mary Kate Venedam at . Updated at .
Mindy is back! Running a little late, but she and the rest of the Shulman and Assoc crew, have returned.
In addition to the familiar faces on The Mindy Project Season 3 Episode 6, there was an introduction and the return of some guest stars who all added a little something extra.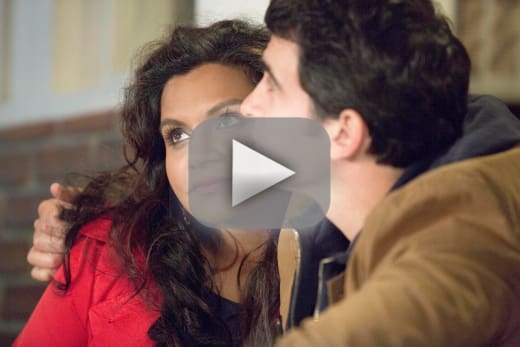 Dr. Fishman, the new head of obstetrics, who was introduced in The Mindy Project Season 3 Episode 5 came back to address Danny's mental issues.
I liked this story because Danny is someone who would never believe he had issues but, of course, when he was forced to go see help, he was way too high-and-mighty for it. Just like Danny is with most issues. 
My mental health is perfect and I do have an outlet. His name is Father Francis, he's 97, and he only speaks Latin.

Danny
No doubt, Brendan being the professional in charge of "fixing" Danny made the situation all the better.
I've always been give or take with Brendan. There have been times when I just find his character annoying; that may have been when he dated Mindy. But, there are other times, like here, where his presence is almost necessary. If it was any other professional, the story would not have been as entertaining.
The story was short, but many of the moments were worth it. Morgan in class (because of course he would be) and Danny's breakthrough (which wasn't quite enough for Brendan) made the story worth it. 
Allison Tolman (from Fargo) made her first appearance as Peter's date. Funny enough, I knew she was going to be on the show, but didn't realize it was her until after I watched. Full disclosure: I never watched Fargo.
I liked her. It is going to be an interesting ride watching Peter and her together, considering they didn't start out on the right foot. Though one of my favorite moments came during the date when Peter ditched using an elaborate lie, describing the John Travolta/Kirstie Alley film, Look Who's Talking. 
I'm a sucker for pop culture references, especially ones I have seen and understand.
Peter: Look's like a patient is going into labor, and there's no father, so the taxi driver is kind of the surrogate now.
Abby: I'm sorry. Are you describing Look Who's Talking?

The biggest story was Mindy's chronic lateness. I liked how in the session Brendan asks why it took the trip to the movies for it to really bother him. Its an obvious question: why would it take seven months for Danny to notice her being late? But they find the reason. 
Luckily, Danny comes up with the best way to teach her a lesson. Taking Mama Castellano on errands.
I just love Rhea Perlman as Danny's mom. The dynamic between her and Mindy is such a fun thing to watch. Not only that, Annette's friend, Dot, is just as fun. The inadvertent comment she made about losing her license was so out of the blue; almost like Beverly's comments. They always make me laugh.
Annette: We're not that different in age, you know.
Mindy: You are the oldest person I know's mother, so that's obviously not true.
My favorite part of Mindy and Annette together was when Mindy snapped at her and Dot. I'm not even sure she realized, in that moment, that she was complaining about everything that she does. What made it better was when Annette and Dot started having a meltdown and crying in the hospital, like children.
This was a good way to restart after a few weeks off. All of the stories were interesting and worth watching. There were so many great lines and even little moments (Did anyone else notice Jeremy's face at one point in the break room scene?) that made me laugh out loud. These are the moments I enjoy.
Which guest star did you like the most? Was Danny justified in his anger at Mindy? How long do you think Peter and Abby's relationship will last?
Do you need to see what has happened so far this season? Make sure you watch The Mindy Project online via TV Fanatic and you will be all caught up.
Mary Kate Venedam is a staff writer for TV Fanatic. Follow her on Twitter and on Google+.