The Simpsons Season 26 Episode 11 Review: Bart's New Friend

Stacy Glanzman at . Updated at .
Congratulations to Judd Apatow for an excellent script! It only took 25 years but The Simpsons Season 26 Episode 11, written by Apatow when the show had only been on the air for six weeks, finally made it to air. 
Obviously The Simpsons is not the same show that it was back then, so I'm curious how much of the original script had to be re-written. I'd love to read it for comparison.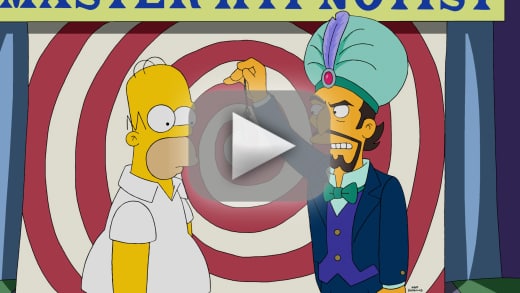 In The Simpsons Season 26 Episode 10, I commented on the parallels drawn between Dizneeland and Itchy and Scratchy Land. Bart and Homer returned to Itchy and Scratchy Land and I laughed at the whole "fast pass" exchange between Bart and Chief Wiggum. The fast pass being a clear tie to Disney, linking the two parks further. I am a huge fan of the fast pass...who wants to wait in line for Space Mountain?
Poor Principal Skinner was looking for some love from Superintendent Chalmers and just kept getting shut down. Even though Chalmers denies it, I think there is a soft spot for him buried deep down somewhere. At the very least, he'd miss yelling "Skinner!" if he were gone. 
Homer as a 10-year-old was hilarious, especially watching him spit out that beer. Give Dr. Hibbert credit for a great idea on how to test the hypnosis! I really enjoyed watching Homer and Bart interact as friends and it was also sweet watching him play with Lisa as well. I'm glad Homer kept his memories at the end and chose to give Bart a hug instead of strangling him. My guess is that won't last long.
If there was ever any doubt on who the dumbest character on this show is, Chief Wiggum continues to make his case. Only he would enter a cell with a hypnotist.
Loki showing up was a little random, that was clearly an X-Men reference right? It looked like Magneto's cell and they were playing chess. Maybe the line was drawn at having an Avenger and an X-Men character in the same scene, since I know the movies aren't allowed to crossover. 
Some final thoughts:
Homer comes up with some pretty creative songs, even if he did rhyme cooridor with "Floridor."
Interesting couch gag - poor Maggie looked traumatized by Homer's version of Goldilocks and the Three Bears
All these years there was a second safety inspector for section 7G? That explains A LOT. 
Did you guys enjoy Judd Apatow's episode 25 years in the making? Don't forget you can watch The Simpsons online any time!
Stacy Glanzman was a staff writer for TV Fanatic. She retired in March, 2019.