The Vampire Diaries Season 6 Episode 15 Review: Oh, the Humanity!
Miranda Wicker at . Updated at .
What is it with the tearjerker episodes and why aren't they coming with a Kleenex warning!?
On The Vampire Diaries Season 6 Episode 15, Mystic Falls said goodbye to their beloved Sheriff Forbes, once again leaving me in tears. 
No one knows how to micromanage the organization of a funeral quite like Caroline Forbes. Her endency to run a tight ship is but one of the many reasons we love her. To some it might have seemed like Caroline was compartmentalizing her mother's death and refusing to deal with it, and those people would be right. Sort of.
We've long suspected that a Caroline-flips-her-humanity-switch arc was coming, and for those of us eager to see this explored, tonight didn't disappoint. Nor will The Vampire Diaries Season 6 Episode 16 when the series returns on March 12th. (Just in time for my birthday!) We're getting what we've hoped for.
It makes absolute sense that Caroline would want to turn off her humanity, and it's fair that she gets to take a stab at it since everyone else has. Why should she be the one to suffer through her grief while she's watched so many of her friends just peace out of having to deal with the hard stuff? 
The question is whether or not this will actually work for control freak Caroline. 
My money's on this being the best Caroline we've ever seen. A vampire who doesn't care that she's hunting humans capable of stopping when she wants because she wants to without any of the guilt or shame her humanity-feeling cohorts deal with when they do the same? Yep. Sign me up. 
It will probably be shortlived and now that he's realized he feels something for her, Stefan will probably be the one to bring her back to her senses, but this is going to be fun while it lasts. It's terrible that it took Liz Forbes dying to make it happen, but hey, we have to find the silver lining, right?
I have to say I'm digging the Stefan-Caroline will they-won't they and the way it's feeling like a bit more of an organic revelation for Stefan. He's a bit obtuse when it comes to relationships with Elena being the only girl he's ever loved more than she's loved him. This thing he has with Caroline, whatever it is, is different. It's...more grown up. 
Team Staroline, guys. I'm on it.
Another thing that was great about tonight, really the last several episodes, is the way the breadcrumbs have been dropped leading us up to one of tonight's giant shocks.
It was sort of odd that Damon would drop references to his own mother's death to Liz last week, but it sort of made sense. It was a way for Liz to ask that he be the one to deliver her eulogy and process his own grief. Plus, it gave us a few great flashbacks to kid Stefan and big brother Damon long before Katherine Pierce entered their lives. 
Damon used Liz's funeral as a way to say goodbye to his own mother and to apologize to Stefan for letting him down so long ago. But wait! There's more!
Mama Salvatore has been living in a prison world since 1903. 
I can honestly say that I did not see that coming. Not by a long shot in a million years. I have so many questions and I want so many answers, and I suspect that Kai is the keeper.
Kai showed up on Jo's doorstep vomiting blood and looking like walking death. The minute Jo was shown puking into a toilet, I knew she was pregnant. Bad Thai. Psshh!! (The Originals Season 2 is having such a good time with magical miracle baby Hope that The Powers That Be are probably trying to see if lightning can strike twice.)
The sequence with Jo, Alaric, and Kai was well done even if things between Jo and Alaric feel a little rushed. If my math is correct, it's been around 150 days since Damon returned, which puts Jo and Alaric together for a little longer. That's certainly enough time for him to know he wants to marry Jo. The baby is just a nice little touch. 
There was never any question that Jo would opt to give him her magic in order to save her family, even the family she didn't yet know about, so the real wonder now is what will Kai do with it.
What does he want with this magic? As ruler of the Gemini coven, what's his plan? To...not wear skinny jeans? Play video games? World domination? 
Or maybe his plan is linked to the prison worlds. As the gatekeeper, he has the power to release those trapped by his family. People like Damon's mother, that is, if she didn't somehow hitch a ride on Bonnie's Aurora Borealis.
The best but most underwhelming moment of tonight's episode is that Bonnie Bennett is BACK!
(Who has been cutting her hair so amazingly well in the prison world? Does it not grow over there since she's technically been reliving the same day for 278 days? These are important questions, Julie Plec.)
For a moment that has taken us 16 episodes to see, it sort of felt like getting Bonnie back should have been a more prominent feature of tonight's episode, but that would've taken away from Liz's funeral and Caroline's decision. Maybe all is as it should be and Bonnie saving herself and going straight to Damon to make pancakes was the perfect re-entry for our resident Bennett witch.
What do you think, TVD Fanatics? Was this the perfect return for Bonnie, or were you hoping for more fanfare? How do you feel about Mama Salvatore being trapped in a prison world?
Let's chat in the comments below and remember, TVD returns in March! Until then you can watch The Vampire Diaries online.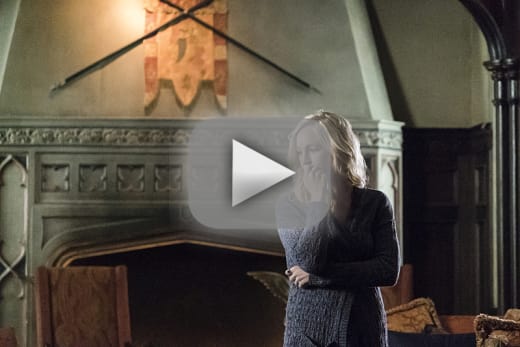 Miranda Wicker was a Staff Writer for TV Fanatic. She retired in 2017. Follow her on Twitter.