The Simpsons Season 26 Episode 19 Review: The Kids Are All Fight

Stacy Glanzman at . Updated at .
Over the past twenty-six seasons, there have been countless instances of Bart and Lisa fighting, but some of the best episodes are the ones where they work together as a team. 
The two of them have an "uneasy alliance," as Lisa put it. 
Thanks to The Simpsons Season 26 Episode 19, we now know the story of how that alliance came to be.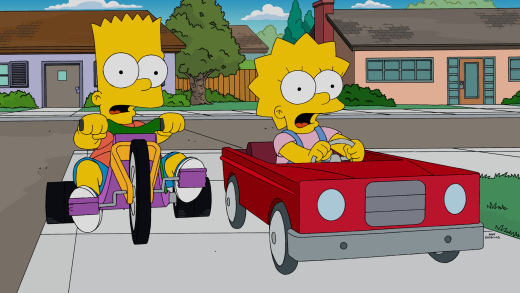 It's always cute seeing little Bart and Lisa, but little Ralph is super adorable. I love him at any age, but his "your brother is stupid" comment right before getting into the wheel of that truck was priceless. I love Ralph.
Is Grandma Flanders the twin sister of the cat lady? They look an awful lot alike. 
It makes sense that Bart and Lisa fought so much due to Lisa being younger and smarter, but all Bart really needed was to feel like he brought something to the table: 
. 
Lisa: I was pretending, and it worked!
Bart: You know kid, with your smarts and my Barts, we make a good team!
Lisa: What are Barts?
Bart: You're the smart one, you figure it out.
Lisa used her brain to save him from the bullies, and Bart repaid the favor by saving her from crashing into a tree. Granted, he's the one who put her in danger in the first place, but in his mind they're even. 
Bart: I saved you.
Lisa: But you pushed me!
Bart: Duh, I couldn't save you until I pushed you. Girls make no sense.
The two of them spent their day lost trying to find their way home and they had to help each other get through it. Sadly, no one else was going to help them, that's for sure. Abe fell asleep and Milhouse apparently has inherited Attention-Deficit Disorder from his dad. 
I liked that Marge's book said to send the "funny one" out to look for the kids. Homer has decided that they should name their next kid Maggie because it's a good name if they lose her. I'll have to keep that in mind for my future puppy. 
I used to work in the photo lab at Target and as a salesperson at Circuit City, so I got a kick out them poking fun at both being non-existent now. Too bad it's not Throwback Thursday! 
I'm glad Marge called Homer out on taking all of those pictures but doing nothing to stop the fighting. Come on Homer, put the camera down! 
Bart's bed was seriously scary. I don't blame him at all for not wanting to sleep in it. 
What did you guys think of the flashback heavy episode? Do you want to hear the story of Marge's weed room next? Seriously, where did that come from? Maybe that was her only way of coping with her constantly fighting children and dimwitted husband. Maggie made it all better. 
If you missed anything, you catch up and watch The Simpsons online any time!
Stacy Glanzman was a staff writer for TV Fanatic. She retired in March, 2019.