The Vampire Diaries Season 6 Episode 20 Review: I'd Leave My Happy Home For You
Paul Dailly at . Updated at .
Is Elena Gilbert human?
It certainly seems that way after The Vampire Diaries Season 6 Episode 20, which found her debating with Damon whether to take the cure. Did Damon join in on the fun?
Not quite yet. He is still contemplating it and taking pointers from Stefan, who wants to make sure his brother isn't making the biggest mistake of his life, which is understandable considering he will be waving goodbye to his immortality.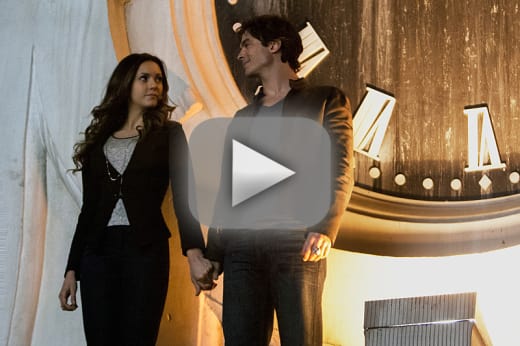 Did anyone else love the scenes with the clock tower? It was very reminiscent of the Katherine and Stefan moments from The Vampire Diaries Season 5, but these were scenes we've been pulling our hair out for all season.
Elena: Want some?
Damon: Do you deliver?

Damon loves Elena THAT much and I can't believe that the cure lifted the compulsion from her. She spent so long trying to rid her mind of him and for it all to just rush back to her, it must have been a mixed bag of emotions.
Elena only removed her feelings for Damon because she was sure she'd never see him again after his trip to the other side.  She took the easy way out, but I can't blame her. Losing someone you love is never easy. 
With the news that Nina Dobrev is leaving and the fact her character has just returned to the land of the living, it make makes me wonder if Elena could actually leave the show as a human. I'm still not sure and think it would make the most sense if she was killed off. 
A storyline involving her being compelled would just be a lame attempt at keeping the door open for her return, should the opportunity ever arise.
Did anyone else LOVE the bachelorette scene? I was certain Jo was about to get bad news about Alaric, but then the cop got his kit off and Elena and Bonnie burst in. That was one crazy scene and one that has never been done on the show. It was hilarious.
We can't forget about Lily flirting with darkness. The mother took matters into her own hands in order to get the ascendant back, but she didn't quite succeed. After hurting Bonnie, she went after our very own Miss Gilbert, but Elena was too smart for her and essentially poked her eye. Where did that even come from?
Hello mother, I think it's time you and I have a talk.

Stefan
Although Lily was in full ripper mode, something stopped her from tearing Jo to pieces – she's having twins! How will Kai react when he makes his way back to Mystic Falls?
We don't quite know, but it isn't going to be pretty. That final scene with him and the heretics gave me the chills. He might have had some of Luke's traits before being banished to the prison world, but don't expect him to still have them when he gets his hands on Bonnie.
We're left with a lot of questions as we go into the penultimate episode of The Vampire Diaries Season 6. These are mostly all related to Elena and how she will depart the series, but we'll have to wait and see.
"I'd Leave My Happy Home For You" was a solid episode of this CW drama that set the wheels in motion for a solid ending to the season.
Other tidbits from the episode:
What was the deal with Matt? He literally owned someone for the first time in the shows six year run.
How will the whole twin baby affect Kai's return?
Damon and Alaric moments always make an otherwise dull episode an interesting one.
Remember you can watch The Vampire Diaries online, right here on TV Fanatic. Get caught up on the drama now.
What did you think of the episode? Will Damon join Elena in the land of the living? Will he be able to cope in it? Hit the comments below.
As for what's to come on The Vampire Diaries Season 6 Episode 21...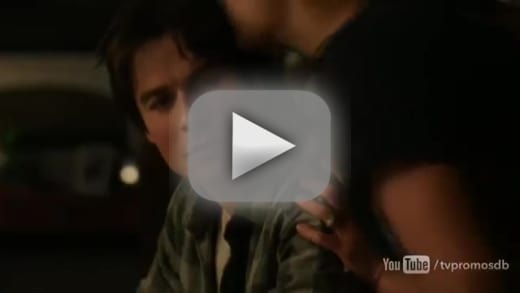 Paul Dailly is the Associate Editor for TV Fanatic. Follow him on Twitter.