Pretty Little Liars Season 6 Episode 8 Review: FrAmed
Paul Dailly at . Updated at .
As if there weren't enough suspects already!
On Pretty Little Liars Season 6 Episode 8, A messed up Aria's chances of gaining an internship by ridiculing her and the gals by replacing her art with pictures of them out cold in the dollhouse.
I expected something to happen, but not that. Usually when A tries to ridicule the girls in public, it's something minor, but this was very personal and it even affected the parents. Ella is so over Tanner's stupid observations, and I don't blame her.
These girls are pretty much in mortal danger, and not much appears to be getting done about it. The people who are playing this sick game need to be brought to justice once and for all. 
I'm totally not buying that Reese looks like a DiLaurentis. Sure, he could have been, but he didn't look like one. The fact that Emily thought it was Jason just made it feel like an agenda the writers are forcing on us, and it won't work.
I admit that something was off with his character. He couldn't have gotten Spencer and Hanna out of his office any faster, right?
Tanner looking through the security footage at the close of the hour was probably the most she's done the whole time she's been on the show. It sure looks like Reese, but I don't believe for one minute that he's Charles. There's no way this will ring true. It does seem a little weird that Charles is trying to annoy Tanner now. Maybe he's just shocked at how incompetent Rosewood PD actually is. 
I know that ABC Family has teased a multitude of answers we will be getting in two weeks, but I don't think it warranted the return of red coat. This makes me more concerned that one of the gals could be her. It would be a game changer if one of them were. The show would change forever, but I'm not so sure the show would make a risky move like that. 
Alison's storyline was really interesting. As a character, she's developed a lot from the bitch we were introduced to back on Pretty Little Liars Season 1 Episode 1. She deserves happiness after everything she's been through, but I don't think that'll happen if she's dating guys who are WAY older than her. A police officer and a school girl just don't fit right in the same sentence. 
Will Lorenzo even take her back? Like, she did get him in A LOT of trouble with Tanner, but was it worth it? We all knew she'd be caught by Tanner, but I understand her curiosity. She has a brother who has stalked her and her friends, so she kind of has every right to be curious. I don't understand her qualm with him being shot on sight. The dude can literally escape from anywhere, so it's probably going to be the only way that he is caught once and for all. 
Going forward, it looks like A and Red Coat are hatching a plan to kidnap the liars at prom. Let's hope that isn't a lethal injection they have and that it's just to sedate them. We would like all of the liars back when Season 6B kicks off. 
Other tidbits of interest:
What's the deal with Ezra taking Nicole to Aria's ceremony? Nothing like sticking the knife in a bit further. Also, he was way too nosey when he commented on what Clarke was asking. Clarke is one of the shadier characters on the show, but Ezra still had no right. 
Where was Toby, or even Dean for that matter? It would have been good to see how Spencer got back to her happy self after the drama last week. 
Will Ashley and Ella join forces to help take Charles down? It would make for great TV!
"FrAmed" was another mediocre affair. It's obvious the answers are being saved for the season finale, but would it really have hurt the powers that be to throw some in along the way? 
Remember you can watch Pretty Little Liars online, right here on TV Fanatic. Get caught up now!
Note: Pretty Little Liars Season 6 Episode 9 airs Tuesday August 4 at 8/7c on ABC Family.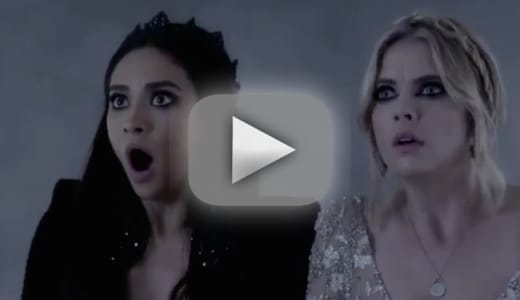 Paul Dailly is the Associate Editor for TV Fanatic. Follow him on Twitter.