Family Guy Season 14 Episode 5 Review: Peter, Chris & Brian

Lisa Babick at . Updated at .
What defines a person as a success or a failure?
On Family Guy Season 14 Episode 5, Peter faces this question after he watches a video of himself he made as a teenager. The video makes him feel like a failure. When he sees Chris doing some of the same things he did in the video, he vows to make Chris a success.
But Peter soon learns that success is a matter of perspective.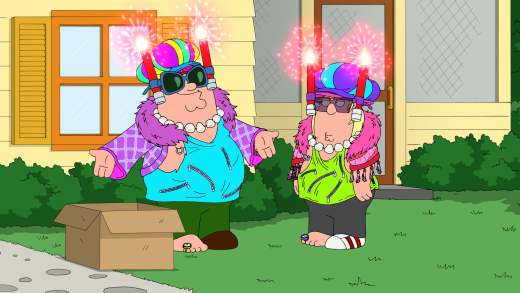 There were no subplots this time around. The focus was purely on Peter and his thinking on success and failure. And transformation.
Peter discovers his teenage video after he learns his mother's house was sold. He remembers that he hid a stash or porn videos in the house and wants to retrieve them. He reminisces about the videos and his teenage life with the guys at the Clam and they decide to break into the house to get the videos back.
They never get to that point because the owner of the house comes out and after Peter explains what they are doing there, the guy tells him to get the videos out because he has kids. Like guys who have kids don't watch porn.
Peter is all excited to have his videos back and is going to binge watch, but the thrill is gone. He realizes it's not the same as when he was a teenager. He's made a transformation. He's become an adult.
But even as an adult, Peter is still "Peter." He just doesn't realize it at the moment. 
When he decides to make Chris a success, he does a lot of Peter-type goofy things to try to make Chris sophisticated which Peter believes is the path to success.
The funniest of them all was when they walked into their living room high-stepping with tall hats. 
It was refreshing to see a Peter that wasn't completely obnoxious. He was doing a good job being a fun, good dad, and it was unfortunate that he didn't realize how much of a good influence he was on his kid. But since his objective was to sophisticate Chris and he felt he failed at that too, he decided to hand over the reins to Brian. 
What better character to help someone become a blowhard than Brian. It was interesting to watch Brian's manipulation of Chris and Chris' transformation into something he wasn't. But blowhard Chris is boring.
Peter isn't enjoying blowhard Chris either, especially when the new Chris isn't interested in doing the same goofy things he did before. But luckily for Peter, and all of us, blowhard Chris doesn't last long.
All it took was for him to realize he was a fraud just like Brian. I loved when he called Brian out at the book club. And it was touching when Chris showed up at the zoo and told Peter that he wants to grow up and be just like him.
There weren't a lot of laugh-out-loud moments this time around, and the cutaways were kind of lame (as they have been pretty much this season – what was the point of the Pai Gow – Vegas one?????), but the story was fantastic.
What did you think about "Peter, Chris & Brian"? Share your thoughts in the comments below and remember, you can watch Family Guy online anytime, right here on TV Fanatic!