Family Guy Season 14 Episode 19 Review: Run, Chris, Run

Lisa Babick at . Updated at .
Skinny Jeans and sparkling water.
One Direction made a short, but sweet, appearance on Family Guy Season 14 Episode 19 when they joined Stewie and Simon Cowell in a spooky story campfire cutaway.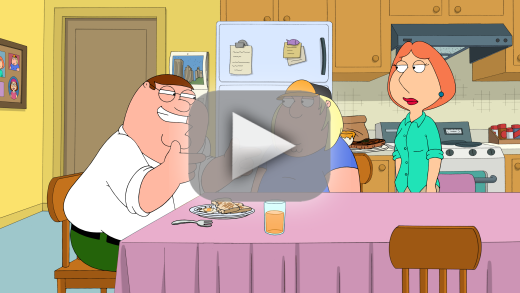 I guess if you're a huge fan, three seconds of an animated One Direction are enough to last you a lifetime, even if it was only Liam and Louis who talked. 
Stewie was telling a horrific story about a band that checks into a hotel suite to find that the mini-bar wasn't stocked with sparkling water. The band gasped in fear, but when Stewie continued by telling them the stylist forgot to send the skinny jeans, the fear worsened.
Liam assured Louis it's just a story, until Stewie pulled out a pair of "regular" jeans which sent the band running and screaming into the woods.
Simon Cowell was there too, but Stewie scared him off with the threat of a story about a loose fitting t-shirt.
It was all kind of cheesy and goofy, but also kind of fun, especially when Stewie pulled out the regular jeans "that fit normal." As the mother of a teenage boy, I totally get the fear factor. This was a definite chuckle.
Aside from the cutaway, the rest of the episode revolved around Chris being named homecoming king, and Cleveland ditching Peter and the guys to hang out with Jerome.
Who would have ever thought that Chris would be named homecoming king? When he told Lois he was going to run, Lois was prepared for the worst. Much to her surprise, though, Chris actually won the nomination.
You knew it wasn't going to be something as simple as being liked by his peers, which made it surprising that Lois and the others (except Meg) kept feeding his ego about the win.
When Meg brought it up to Brian and Stewie, they were both a little stunned at the thought it could be a prank, which was kind of silly, because how could they think Chris being voted homecoming king was anything but a little odd? It just seemed out of character for the show's two brainiacs..
So, the two decided to do a little investigation of their own at the school which just gave Brian another opportunity to be creepy around underage girls. He got kicked out and made a reference to living in a "culture of fear." It wasn't funny, but I guess you could say it's timely.
They have security guards in the bathroom. We live in such a culture of fear now.


Brian
It's not until they're watching Tom Tucker's newscast about how Chris came to be king that they realized what Meg feared was partially true.
Chris wasn't voted king as a prank, it was more an act of pity for the weird kid. This led to a laugh-out-loud (at least for me) exchange between Brian and Stewie:
Stewie: Oh my God. They just elected him out of pity, because they think he's mentally challenged.
Brian: Kind of like we did with George W. Bush, huh? Right?
Stewie: [loud sigh] I guess. I guess, Brian. I don't...I don't know. Let's just watch some commercials now.
When Chris' ego didn't budge, Brian eventually told him the truth, but Chris didn't believe it until reality hit him in the face on stage. It's nice that Chris wasn't completely bummed out after realizing the truth, and I liked that Stewie was protective and kind to his brother. It was still out of character (for both of them actually), but a nice change.
The Herbert part was a bit odd, though, but then again....
I wasn't too thrilled with the whole Cleveland storyline, though I did enjoy when the guys stuck Cleveland with the bill, and Cleveland got upset about it, especially considering he never picks up a round.
But the rest of the story with Peter and the guys trying to get back into Cleveland's good graces was just stupid. If I could have, I would have just fast forwarded through those parts.
Like Jerome said, Cleveland is just boring.
What did you think of "Run, Chris, Run"? Share your thoughts in the comments below, If you missed One Direction's appearance, you can watch Family Guy online right here via TV Fanatic!