There aren't a lot of family dramas on TV these days. It feels like everything is a procedural or a mystery, with the occasional legal or medical show thrown in for good measure. And zombies. Don't forget zombies.
More and more, the shows on TV are dark and violent. 
That's part of what makes Queen Sugar so wonderful. It's about family. 
But don't mistake this for fluff. Queen Sugar Season 1 Episode 1 is complicated in the best possible ways.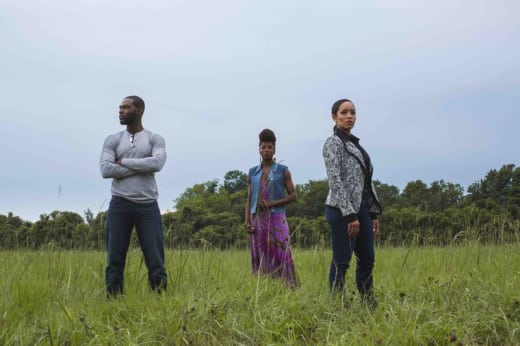 The show (created by Ava DuVernay, best known for the film Selma, and Oprah Winfrey) first hooked me with its trailer. The family dynamic had enough soapiness to remind me of the primetime sudser Dallas which I loved growing up. 
But Queen Sugar is so much more. The Louisiana setting and music give it a unique vibe and the focus on an African American family is a perspective we don't see much of on the small screen. 
Best of all, every character, so far, is complex and intriguing.
Ralph Angel, newly out of prison, desperately wants to be a good father. In the same scene he gives his 6-year-old son Blue a great lesson on the importance of discipline, and then he goes off and robs a convenience store. 
His love for his son is practically pouring out of him and yet he makes stupid, dangerous choices. I'm guessing that's because bad decisions are what he knows, like a bad habit, and those can be hard to break, especially as he convinces himself he's stealing money to help his family. 
On a side note, I had to laugh when the store clerk yelled after him, "I saw your face." Not the smartest thing to say to a man who just held a gun on you. 
Nova is the most mysterious and least fleshed out character in this premiere. She's a journalist, an activist, an herbalist. I found it a bit difficult to get a handle on her just yet, but I'm curious to find out more. 
I can only imagine that her affair with a married police detective will add extra layers of drama to her fight against police brutality. 
Then there's Charley. Oh Charley.
It really looked as though she had it all, although I had to laugh when she chastised her husband for giving their son cash. Perhaps her lessons about money would have sounded better if the kid wasn't driving off in a vehicle worth six figures.
But it really seemed as though she had it all. The happy marriage. The successful career helping direct her husband's basketball stardom. 
I found her commentary in this Queen of the South quote, on the rookie basketball players being accused or rape interesting…
The players who got caught with the girl are just kids, coming straight out of high school. No home training, no life skills. We hand them millions of dollars and then say good luck. They marry riffraff. They live wild, now they're messing up our livelihood.

Charley
Unfortunately for her, it wasn't just some "kids" with no one to guide them who were living wild and possibly raping women. When that video came out, I was as blindsided as Charley.
Charley's tirade on the court, screaming "What did you do?" at Davis, intercut with little Blue crying for his Pop as the ambulance drove away, hopefully gave us a glimpse at what we can expect from Queen Sugar. 
There were some plot points that were telegraphed fairly early. When Ernest talked to Charley over the phone, it was obvious he wouldn't make it to the end of the hour unscathed.
I just need a little advice, you know, and time. I could use a little time.


Ernest
I expected the farm to have problems, I didn't expect for Ernest to have stopped planting on it all together for two years and not say a word to anyone, even Violet. 
With the family back together in Louisiana, I can't wait to see what happens next.
Check back tomorrow as Queen Sugar Season 1 Episode 2 airs in its regular Wednesday night time slot. If you need more, you can watch Queen Sugar online here at TV Fanatic.
C. Orlando is a TV Fanatic Staff Writer. Follow her on Twitter.