Pretty Little Liars Season 7 Episode 14 Review: Power Play
Paul Dailly at .
Well, that was quite the turn of events. 
Pretty Little Liars Season 7 Episode 14 was the jolt of life the series needed to make me care about the series again. It had a string of shocking reveals. 
Heck, the promos teased we were finding out the truth about Jessica's murder, but I never thought we'd be watching Aria consider joining A.D. Like, what the eff?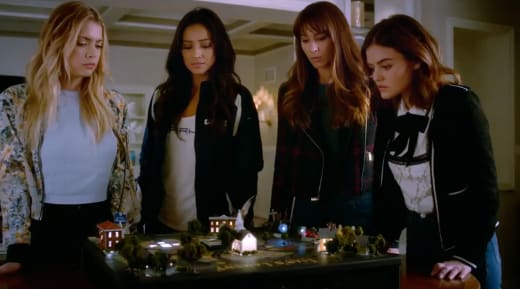 It was just a week ago that I was questioning whether Aria could be the real villain and now, I'm trying to fathom what the hell his going on. There's every possibility Sydney has yet to meet A.D. and that Aria could still be the perpetrator. 
We know these villains know a thing or ten about technology, so I'm still not ruling Aria out. I can totally get on board with Aria being scared about taking her shot at the game. 
She witnessed just how badly it all went for Hanna, but lying to her friends is not the right thing to do.
There will come a point that A.D. will reveal Aria is working with him/her, and it will cause a whole lot of drama. 
I was glad that Ezra returned, but still, he's kind of messed Aria around, and he should have been doing more groveling before she let it slide. 
Nicole feels like such an innocent bystander in all of this, and that's a shame. She went missing and expected her relationship to return to the way it was. She clearly did not stop to think that Ezra could have moved on.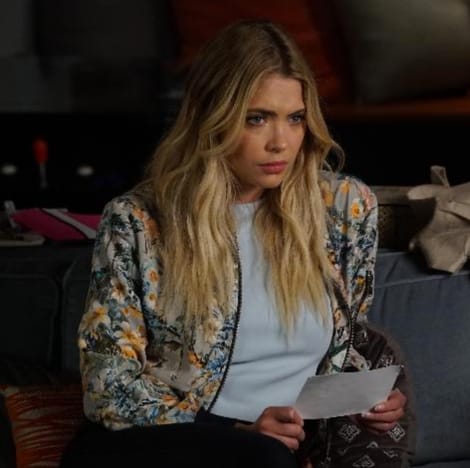 The reveal that Lucas was friends with Charlotte at camp seems like a big fat red herring to throw us off the scent of the true villain. However, it was weird he has never opened up about it to Hanna. 
Aren't they meant to be, like, BFFs now? Did he get the money to start his company from the money Charlotte had? Something does not add up. 
It would be a great twist if Lucas did kill Charlotte if she wanted to restart the game or something. I'm grasping at straws here just to make sense of it. 
Mary killing Jessica was a bit of a copout. It was like one of those reveals that were just there, without any buzz surrounding it. Maybe it would have had more of an impact if it occurred long before now. 
Peter Hastings has a knack for talking crap, so there's a good chance things did not play out the way he wants his daughter to think. 
I did find it hilarious that Spencer called BS on his claims that he was out of the country for longer than he implied. There's really no excuse for not visiting your daughter when she's been shot. We already knew he was a bad parent, but this was just a new low for him. 
He really needs to get his act together and let Spencer know the truth about EVERYTHING before it's too late. We're approaching the end of the series, and we still have so much left unresolved. 
Ted being Charlotte's father came out of the left field. I was racking my brain trying to connect Ted to Mary, but I should have guessed they had a secret love child. 
Could you imagine how low the population of Rosewood would be if there were no secret kids falling from trees? It's ridiculous, but at least something's happening. 
With Emily and Paige getting closer, it was obvious something was going to stop their relationship in its tracks. That something came in the form of Emily's eggs apparently being inside Alison. 
I wish I could say I was kidding, but I'm not. A.D. is going to some crazy lengths to piss these young women off, and it's becoming a little too much. 
With the police likely closing in, they should just go to the police and have everything sorted out. Yes, they are probably going to spend some time in jail, but would it not be worth it to unmask the tormentor?
"Power Play" was great. It was a shocking episode that gave us some much-needed reveals. It's just a shame the series is off for two weeks now.
Remember you can watch Pretty Little Liars online now via TV Fanatic. Get caught up now!
Over to you, Pretty Little Liars fanatics. What did you think of all the twists?
Hit the comments below!
Paul Dailly is the Associate Editor for TV Fanatic. Follow him on Twitter.