Grey's Anatomy Round Table: A Special Jessica Capshaw and Sarah Drew Edition!!

Jasmine Blu at .
There are still a handful of episodes left in Grey's Anatomy Season 14, but fans were just blindsided with another cast shake-up.
After 9-10 seasons on the hit medical series, this season will be the last for fan-favorites April Kepner and Arizona Robbins!
This will make three series regulars who bid the series farewell this season. As you recall, Martin Henderson parted ways with the series after two seasons when Grey's Anatomy Season 14 Episode 5 served as a very understated and quiet swan song for Nathan Riggs.
Grey's Fanatics are gobsmacked over this recent bombshell! How will the write out these two ladies? What will it mean for their respective 'ships?
We caught up with TV Fanatics Paul Dailly, Stacy Glanzman, and Jasmine Blu for an emergency Grey's Anatomy Roundtable to digest this news. Join the discussion below!
What is your initial reaction to this latest cast shake-up?
Paul: I'm mad. They have been such a big part of the series over the last nine and ten years. It's horrible that the news is coming out like this. The actresses, characters, and fans deserve better.
Stacy: I was surprised. The first article I saw said they weren't returning, so I had assumed the actresses were leaving voluntarily, but not long after that, I started seeing that was not the case.
Related: Grey's Anatomy Stunner: Jessica Capshaw and Sarah Drew Fired!  
I'm disappointed, but this series has dealt with major characters leaving before, so I think the series will be fine. I am more upset about Arizona because I love her. April has never been one of my favorite characters, so I won't miss her as much, but I was just starting to like her.
Jasmine: I was surprised by this news as well. I didn't expect it at all. The show is known for casting changes, but like Stacy mentioned, I'm used to the actors making the choice. That was not the case here.
I was never a big fan of either character, but both of them have grown on me more recently. I won't miss them like others will, but their absence will be felt.
How do you think Grey's Anatomy will write them off? Do you think one or both of them could be killed off?
Paul: I'm guessing April will die, while Arizona will leave town and find herself back with Callie. It wouldn't make sense to have April up and leave. She has a daughter with another lead character.
Stacy: I agree with Paul on Arizona. The easy thing would be to have her move to be closer to Sofia. As for April, my guess is she'll go back to Iraq or somewhere else overseas.
Related: Grey's Anatomy Season 13 Episode 16 Review: Who Is He (And What Is He To You)?  
She's on a downward spiral right now, so I could see her needing to leave town to get her head together again. It wouldn't shock me if she died though, since leaving means leaving Harriett (and let's face it, this is Shonda we're talking about).
Another possibility could be that April transfers to another hospital in Seattle and we just never see her.
Jasmine: I can see Arizona leaving town and moving to be closer to Callie so they can co-parent better. I don't think they'll end up together though. Maybe Arizona will take Carina with her.
Related: 15 Shows with Major Behind the Scenes Drama!  
We haven't had a big death in a while, but I don't expect April to be killed off. I could see her transferring to another hospital or going somewhere else for a fresh start. I can see her taking Harriet with her.
How important do you think April and Arizona were over the years?
Paul: Very. They were characters who represented a lot of people in this day and age. Their storylines were heartfelt, exciting and very important.
Stacy: Agreed. Both were important characters and will surely be missed by the fans. But again, we've seen major characters leave before, and luckily this is a show that can sustain it.
Jasmine: I definitely agree with both of you. I think Arizona was a pivotal character and great representation of the LGBTQ community at a time where the rep wasn't as prevalent. She has solidified herself as one of those integral figures in television history for that community.
Related: Grey's Anatomy Season 12 Episode 22 Review: Mama Tried  
While April was never my cup of tea, I loved and respected the fact that she was representing devout Christians. It's odd to think about compared to other groups of people and representation issues, but women of faith who are openly expressive about it, that's not something you see a lot of on television either. I appreciated what she represented.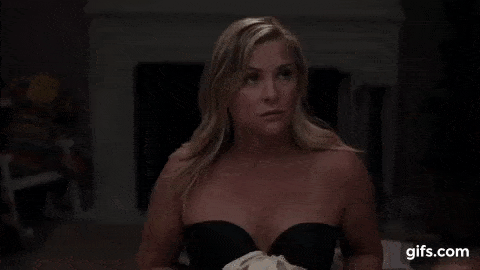 Were you holding out for a Japril reunion? What do you think April's departure means for the former couple?
Paul: I was not, no. There's no chemistry whatsoever with them. I'm guessing April's partying is going to get wilder.
Stacy: No, I'm honestly not a huge "shipper" in general, so I don't normally get super invested in relationships on TV (there are a few exceptions). I think with the news of April leaving, we can safely say that ship has sailed.
Jasmine: Heaven's no! Like Stacy, I'm not a huge "shipper." I can take or leave most of them, and Japril was a 'ship that never did it for me. I hope April's departure won't be specifically about Jackson though.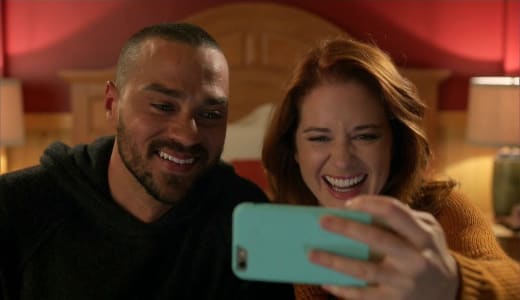 Was there story left to be told for Arizona, or do you think the timing is just right for her to leave?
Paul: I feel like the writers have been going in circles with her character for the last year or so. I do think there was a story left but had the writers tried a little harder, there could have been a good story to tell.
Stacy: They did seem to be struggling more with her character lately, so perhaps the writers just felt they've done all they can with her character.
Related: Get Great Selection of New & Classic Movies with the Lifetime Movie Club via Amazon Channels!
I just hope she gets a good send off (and doesn't die). Shonda does exits very well, and it'd be great to leave it open for the possibility of her popping back in some time.
Jasmine: Out of the two, the writing for Arizona has suffered the most. I can buy into the creative decision to cut her. I have been frustrated with the way her character has been written since Callie left, so it may be the best time to bid her farewell.
What was your favorite April moment/memory/scene?
Paul: I'll be honest, I bailed on the show a few years ago, but returned because of Megan and Teddy returning this season. This season has been a pleasant surprise, but my favorite April moment is her drinking on last week's episode. She was the life of the party.
Stacy: I think I have to go with April's crisis of faith on Grey's Anatomy Season 14 Episode 10. She really stood out in that episode and it got me invested in her current storyline.
Jasmine: Ironically some of my favorite April moments have to do with her friendship with Arizona. On their own, both women irked me often, but together, their friendship was absolutely precious.
Also, I have to say, in 14 seasons, my absolute favorite April arc has been her current crisis of faith.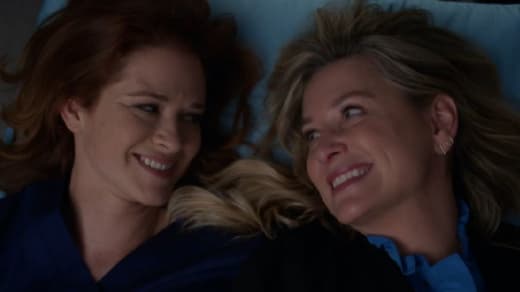 What was your favorite Arizona moment/memory/scene?
Paul: Is it bad that I've liked all of her scenes with Carina? They've been a breath of fresh air and my favorite memories will be her with Carina.
Stacy: Oh man, that's hard, but I think some of my favorite Arizona scenes have been between her and Alex. I loved watching her mentor him. Seeing her glide down the hall in her Heely shoes is pretty unforgettable too.
Jasmine: The Arizona and Alex mentor/mentee relationship is Arizona at her absolute best. I also supported her during the Sofia custody case.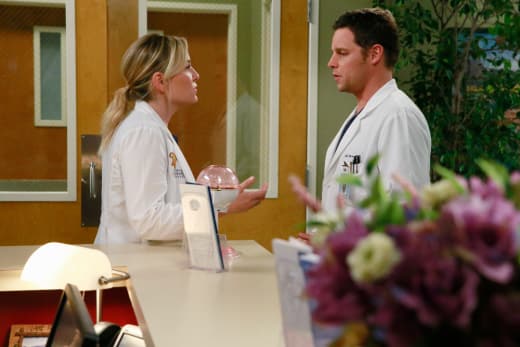 With the departure of two long-standing fan-favorites, do you think it's a sign that Grey's Anatomy should hang up the stethoscope soon?
Paul: No way. The series is still doing well for ABC. It's essentially a soap. Cast members come and go, but I do feel the exits of these two characters will shake up the show in a big way.
Stacy: No, this series is still doing well in the ratings, and it will continue to do so. As I said before, this is a series that has proven it can sustain the loss of major characters and continue to put out entertaining stories week after week.
Jasmine: Haha! I'm the "Oh my God, Grey's Anatomy will never end!" and "Good grief, this show will never end" fan. Either way, Grey's Anatomy will be going on until a brief time-jump happens, and Zola gets her own spin-off. She's a Cardio-Goddess in the making.
Over to you Grey's Fanatics, how are you taking this shocking news? Hit the comments!
Relive the best of April and Arizona, and watch Grey's Anatomy online here via TV Fanatic!
Jasmine Blu is a senior staff writer for TV Fanatic. Follow her on Twitter.