Younger Season 5 Episode 2 Review: A Titanic Problem
Lizzy Buczak at .
Charles is so terrible at pretending. 
His jumpy, jittery nature was put on display on Younger Season 5 Episode 2 when his lawyer -- let me pause and let that sink in -- Bob, the lawyer Liza so craftily dodged last week during their sexual harassment meeting who is also her good friend, advises him not to fire her after finding out the truth about who she is. 
It's sound advice considering the scandal that Empirical is facing with L.L. Moore. 
He has a point -- the optics aren't in Charles' favor. Firing a woman because of her age, not to mention a woman you kissed multiple times isn't a scandal this company can afford right now.
And hilariously, it correlates directly with age-issues in the workplace, the very thing that forced Liza to lie in the first place to get a job. 
Bob tells Charles to just pretend everything is okay but as Charles tells Pauline, he's tired of pretending.
I paused the episode at one point because I couldn't help but laugh -- Bob has NO idea that Charles is referring to Liza, and I cannot wait until he pieces it all together.
Eventually, Charles will have to loop in his lawyer when he confronts her with the truth, right?
Especially because by the end of the episode, it seems like Liza is aware that Charles has figured it all out. The shade he's throwing is very unlike him so something must be up! 
There were obvious moments where he made it clear he knew. Like I said, he is not good at pretending. 
Admittedly, it was hard to watch him flip through all the evidence Moore provided him -- she was a soccer mom for crying out loud! How did everyone miss that?
That just speaks volumes to their HR department. Maybe that's the reason they are having financial issues?
No one even remembers how they found Liza; no one ran a background check; no one even looked through Facebook. 
He starts to question how he didn't see the signs before and it's hilarious, however, I'd like to point out that not being able to see from a distance isn't exactly a sign that someone is "of age." That's offensive to all of us who wear glasses on the daily, okay?
The worst part is that Charles is really hurt by this revelation because he really loves Liza. He said it, you guys. He said the L-word when talking about her! 
And he even admitted that he's relieved she isn't twenty-seven. I wish he would just follow through on that feeling of "relief" because now, at least he can make sense of why he fell for her. 
If he just confronted her instead of avoiding it this would all be resolved. He would, hopefully, understand what motivated her to lie in the first place and see that she was simply trying to keep up appearances.  
Liza: I'm sorry I didn't say goodbye after the wedding.
Josh: It's fine... I DM'd you, though.
Liza: You what?
Lauren: Yeah, Josh is always sliding into those DMs.
Kelsey: Um... Instagram has a direct message feature. It's kind of like a text message.
Liza: Oh, I didn't know that.
Lauren: How could you not know that?
Liza: I read three novels a week. That's like a thousand Instagram stories.
Lauren: Ahh.

Watching him be cold and calculated with every step was painful because you could see that he no longer trusted his own instinct about anything. 
It almost bled into his relationship with Pauline. 
There were moments where I thought he would give things another try, but I'm glad he told her that he loved her but wasn't in love with her. 
I can't be the only one who finds her unbearable? She has absolutely no chemistry with him, yet she keeps trying to force something.
She's been pushing for it so hard that when she brought up the kids wondering why "mommy and daddy" weren't sleeping together, I actually cringed. 
I wanted to just shake her and tell her that she did this to herself when she left him. 
Liza: (gasp) Reese just slipped into my DMs.
Kelsey: What?
Diana: Speak English. What does that mean?
Liza: It means Reese Witherspoon sent a private direct message to me.
Diana: What's the slipping part?
Kelsey: It's slide. You slide into someone's DMs.
Liza: I meant slide. All my friends say slide. I would never slip into someone's DMs. Only slide. I slide into... Kelsey's DMs all the time. Maybe I should slide into Zane's.
The good thing is that her book is a success and on its way to securing film rights with Reese Witherspoon possibly nabbing the role. Do you think she'll make an appearance at any point? That would be fun! 
Liza's secret gets bigger with each season. Now that she's working with Reese, Millenial is getting more attention and she's closer to being exposed. She's in too deep.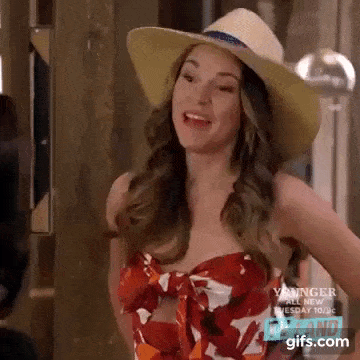 Pretty soon, she's going to have to come clean before someone else digs up her secret. 
Her idea with the content incubator doesn't only open up a money stream for Empirical, it opens the door for her own tell-all novel.
In fact, Sutton Foster didn't deny that possibility. It would be the perfect out for Empirical and would make sense in terms of this storyline -- a powerful woman lying about her age to get a job and then killing at it? It's brilliant and relatable! 
Not only is Liza good for Charles' heart, she's good for business. And she proves it time and time again. 
That's mainly because she's got a heart of gold and really cares about her loved ones.
She was able to put any friction or awkwardness between her and Josh aside when she found him crying in his dark apartment... alone. 
Understandably, any girl with eyes would be there for Josh, who returned from Ireland and revealed that Clare would not be following him to the States. 
It's ironic that the reason she didn't go through with their "marriage for papers" was that "she was tired of lying." Liza definitely knows a thing or two about that. 
I've always been riding the fence and shipping both teams, but I have to admit, Liza definitely gave me a motherly vibe as she comforted Josh. Dare I say, it showed her age?
Maybe it's all part of the "we're just friends" vibe they are attempting this season.
I'm also perturbed by this development. Not that I cared much about Clare or that we didn't see this coming, but we spent so much time on them as a couple, it's upsetting to know she's out of the picture and we're supposed to drop it.
How are they going to get this marriage annulled? 
Some of My Favorite Things About The Episode
Heller Good... Better Than Great. God bless whoever created that promo video with her and a tiger.  
Lauren meeting the diva, the legend that is Diana Trout was better than I could have imagined. Especially because she misused the "hip" sliding into the DMs phrase, and Lauren was fully on board. 
Kelsey telling Kiara that Zane was "fully gay" made me laugh out loud. Or you could just tell her he's taken? You're obviously jealous, Kelsey! 
How fun did that book launch party look? Diana could have at least given Liza some of the credit for it! 
Slide into our DMs and watch Younger online! Leave your thoughts below! 
Lizzy Buczak was a staff writer for TV Fanatic. She retired in June 2021..