Shadowhunters Season 3 Episode 12 Review: Original Sin

Justin Carreiro at . Updated at .
Who wouldn't want to take a stroll through Paris? Even if that meant having to spend the day with Jonathan, you could still sign me right up!
Clary's misadventures with her demonic brother took her to the City of Lights on Shadowhunters Season 3 Episode 12.
Paris was Jonathan's way of trying to win over his sister, but her dream destination couldn't hide his evilness. That dark side could only be suppressed for so long before it lashed out. And it provided us with a new mystery to solve.
Firstly, similar to Shadowhunters Season 3 Episode 11, "Original Sin" captured such beauty with its editing effects and choice of scenery.
Historical architecture, chic fashion, and sublime French music highlighted the romantic quality of Paris. Shadowhunters had the chance to travel to this gorgeous city, and they made the most of it with every second they could.
It makes me want to book a summer trip to Paris right now!
You could feel the energy of the city come through whenever Jonathan and Clary were out in the streets. Even during intense scenes, like her at the cafe plotting her escape, there was a different underlining tone to it compared to scenes in New York.
"Serene" and "cozy" come to mind.
The backdrop of Paris added a new breath of fresh air to the mix. And don't get me wrong, I love Shadowhunters' on-location shots in "New York," especially since they're Canadian spots with which I'm all-too-familiar. But this was Paris!
Clary tried her hardest to escape on her own, and we have to give her a lot of credit for her resourcefulness. Stealing the stele was a pretty cunning move that would've worked had it not been for the Shadowhunter's return.
Plus, her manipulation made strides in earning trust with her brother.
Within hours of their arrival, she already got him to leave her unguarded. That's a great feat against someone who kept awkwardly staring at her. And he let down his walls to spill his inner turmoil and goals.
Related: Enjoy UNLIMITED access to thousands of Movies and TV shows with Amazon Prime Video. WATCH ANYWHERE. CANCEL ANYTIME!
On the other hand, nothing she could've done or said would've changed Jonathan's mind.
Jonathan's delusional narrative in his head created a future where they'd reclaim the Morgenstern honor. He would never leave her truly alone out of fear of her escape.
That's not a life Clary should ever live.
Thankfully, Clary reunited with her loved ones again, and her mysterious "death" won't be dragged on for too long from a plot standpoint. Also, on the positive side: the "Clace" reunion!
Everything about Clary and Jace's meeting on the Paris street tugged on the heartstrings.
There's nothing more perfect than feeling complete in a state of pure happiness. Clary and Jace looked like they felt whole again back in each other's arms.
Plus, they had the backdrop of the Eiffel Tower behind them. How much more perfect could their reunion be?
Let's hope their relationship keeps growing from here. There isn't a Lilith or Owl demon to keep them apart anymore.
Jonathan: That was incredible.
Clary: You killed a man, Jonathan. A Shadowhunter.
Jonathan: And I did it for you. Seeing him in your arms like that ... so vulnerable. It wasn't like any kill I'd done before. Clary, it felt so good! You make me good!
Clary: That's not what good is, Jonathan. Killing like that should never feel good!
It's a shame that Clary didn't get the full truth of his plans for the Morgenstern Sword. She nearly got more information, but those pesky cliffhangers got us again!
Of course, Jonathan would have an underhanded reason for being in Paris. He's more like Valentine than we realized. It's all about power. It's always about power.
Related: Shadowhunters Season 3 Episode 11 Review: Lost Souls
Based on his chat with the shopkeeper, could we be seeing a reverse effect of the Mortal Sword? One where non-demons get harmed instead?
Jonathan is planning something to get back in power, and he's going to make sure that the demons get the chance to rule. Might he be opening a little portal back to Edom to bring more creatures into the mortal world?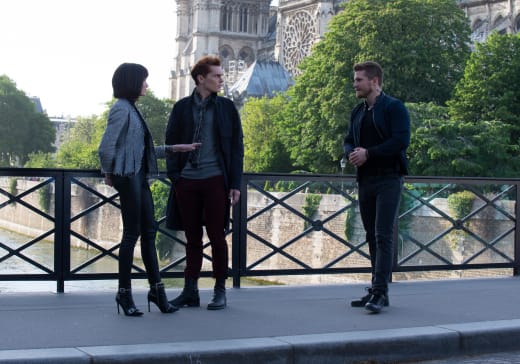 "Malec" raised the heat on their romance considerably! Between their flirty retorts and steamy hookups, they're making our heads spin with all the shipping moments.
Alec and Magnus are living their best lives with the abundance of bliss. For the first time in a while, they're at their highest peak of happiness. If their only trouble is oranges for handmade juice, that's a good problem to have.
Though, the best Malec moment of "Original Sin" came from their training session.
Let's face it, Magnus didn't need any of the training. He already had the skills to defend himself without magic, and he didn't look rusty at all.
The training session merely provided him with a way to get closer to his boyfriend. And he had a lot of fun throwing out the flirty comebacks and one-liners in-between the training moves.
He knew exactly what he was doing.
Magnus: [Alec in a headlock] Oh, I forgot to tell you, I trained with a grand master in Supenmiayah
Alec: Is that where you got your black belt in namedropping?
Magnus: Oh, low blow.
[Magnus puts Alec in arm lock]
Alec: You deserved it.
[Alec flips him around]
Alec: I didn't know this was supposed to be a competition.
Magnus: Oh, am I just supposed to let you win?
[The two break free and stand up]
Alec: We're supposed to be working.
Magnus: You're so cute when you're serious.
Alec: I told you not to flirt with me.
[Alec presses him to a pillar and they make out]
Alec: Hold that thought. Bedroom...
[They leave the training room]
Still, Magnus needed to slow down and smell the roses every now and then. Sure, making experiences can be fun, but it can also be an excessive fault to do too much.
The reality of his mortality most likely kicked in after Clary's death.
He never truly faced the prospects of death until his magic got taken away. His "living in the moment" was his coping mechanism to hide from the truth, which has been a problem that both he and Alec faced in their relationship before. Magnus can't keep internalizing and pushing away the real issues.
Related: Shadowhunters: 17 Favorite Hugs For Newcomers
I liked that Alec approached the situation and spoke to Magnus about his fast-paced mentality. Instead of moving from it, they discussed the fear like adults and worked together as a couple. The change will help them in the long run.
Dare I say, they could be on the path toward a healthy future together?
Simon found Cain a little too easily in the sewers of New York City. His quick discovery makes me wonder if Cain wanted to be found by Simon?
Rafael joked about the oldest vampire being an urban legend and that no one ever saw him through all the searches. But yet, Simon and Izzy found him on their first try? Did everyone not look hard enough?
The change in Cain's curse provided a good connection to the world that had been built by Shadowhunters.
Instead of an unreachable cause, Cain's eternal torment could partly be traced back to moves made by Lilith and the Seelie Queen. And if Simon had not done anything to remove his mark, he could've suffered the same fate.
Simon already had been pushed mentally from the stress of his mark. He was only one bad reaction away from living in isolation, too. The "loss" of Clary didn't help him in that regard either.
Even with all the benefits of the mark, based on Cain's current reality, Simon needed to get rid of it. We couldn't have Simon implode from the fear of hurting his loved ones.
Isabelle: Thanks again for getting us in.
Meliorn: It's my pleasure. Always happy to be of service to you and your ... boyfriend?
Simon: We're just friends.
Isabelle: Good friends.
Meliorn: In that case, we should hang out again sometime. Bring your friend if you like.
[Stunned silence between Izzy and Simon]
Simon: It's pretty impressive how popular you are with your exes.
Isabelle: Less impressive how quickly they become my exes.
Simon: You just haven't met the right guy yet.
After the sacrifice Izzy made for him at the ritual, he shouldn't worry about the fear ever again. He knows they'll risk it all for him too. And her move was so worth it.
This is the moment we've all been waiting for, "Sizzy" fans!
When Izzy allowed Simon to feed on her blood, their chemistry reached major levels of passion. They didn't have to say anything, and you could feel the sparks. The bite brought them closer than they had been before; more than just being casual friends.
Related: 31 Ships That Took Seasons to Sail
We can't forget the spiral Izzy fell into with her toxic relationship with Rafael. The constant biting and feeding nearly killed her. Plus, she fell into a bad addiction because of it.
Izzy made a big sacrifice to save Simon's life. One that he most likely won't forget nor will be left unrepaid.
I wouldn't be surprised if they start their romance within the next week. The romantic doors were kicked wide open!
Last Thoughts From The Institute:
Say what you will about the Seelie Queen, but she is a great wing woman. She saw the connection between Simon and Izzy in the court and spurred them on more and more. It's almost like she shipped them along with the rest of us, and her inner thoughts kept saying, "Go further!"
 
Jonathan looking at Clary while she was changing came across as super creepy. His chemistry with his sister strangely toes the line between evil brother and uncomfortable flirtation.
 
Did Jonathan have a crush on Sebastian? Based on how Jonathan spoke of their encounter, and him choosing to kidnap him instead of killing, it seemed like there was some attraction.
Shopkeeper: You think I want change? The last thing I need is a Morgenstern using that sword and ripping open the portals of hell.
Jonathan: So, you won't help me? Okay, I guess if I won't have your loyalty, I'll have your fear.
[Jonathan's eyes change to black]
Jonathan: Where is the sword?
Shopkeeper: Gone. I already sold it.
Jonathan: To who?
Shopkeeper: To "whom"?
[Jonathan slices his throat]
Jonathan: Guess I'll have to find it out on my own.
The shopkeeper outright correcting Jonathan's grammar to his face is the level of pettiness we hope to strive.
 
During the scene of Simon feeding on Izzy in the Seelie Court, when the camera pans away at the end, that moment looked visually stunning. Someone should please recreate that final scene in a piece of artwork.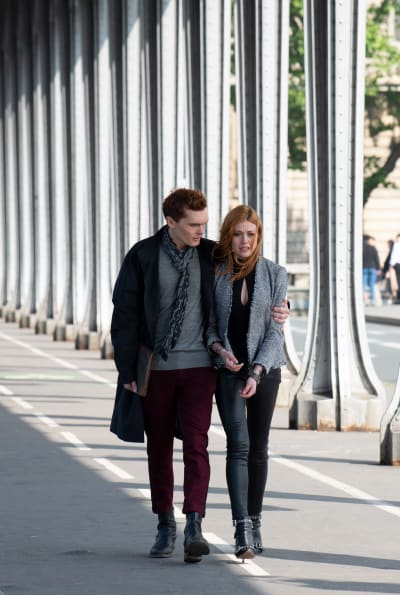 Now, over to you, Shadowhunters fans!
What did you think of "Original Sin"?
Where did Jonathan teleport to next? Will the bite bring Izzy and Simon closer together? What evil could be caused by the Morgenstern Sword?
If you missed the latest episode of Shadowhunters, you can watch Shadowhunters online via TV Fanatic. Come back here and share your thoughts in the comments below.
Justin Carreiro is a staff writer for TV Fanatic. Follow him on Twitter.