Blue Bloods Episode Guide
On Blue Bloods, when the Sanfinos order a hit on Jimmy Riordan, Frank puts Jamie under house arrest. Danny and Jackie's case leads to an underground fight club.
When an attempt is made on the life of a witness, Danny and Jackie realize the task force has a leak. Erin receives an intriguing job offer.
The son of a firefighter whose death was ruled a suicide convinces Danny to reopen the case and will press coverage of Jamie rescuing a baby from a burning building compromise his cover.on Blue Bloods?
When a weapon linked to a crime is brought into the NYPD's gun buyback program, Danny must decide whether to arrest the suspect or follow the "no questions asked" policy on this week's Blue Bloods.
As Erin prosecutes a woman accused of murder, the defendant's attorney is slain and Danny is asked to investigate. Things get heated when Erin cross examines Danny on the stand on Blue Bloods.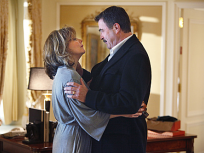 On Blue Bloods can Frank protect a female reporter who is the target of an attack and will Jamie's undercover work get someone killed?
When an undercover detective and family friend is murdered, how far will Danny go to catch the killer on the latest Blue Blood?
Danny and Erin go head to head when a man kills the person who robbed and beat his family on Blue Bloods.
As Frank investigates a priest with a past, a young woman whose mother died tells Danny that God told her it was murder. Will Danny believe her on the latest Blue Bloods?
Will Danny and Linda survive the consequences when their family has an encounter with a gunman? Frank reflects on 9/11 on Blue Bloods.