Sleepy Hollow Episode Guide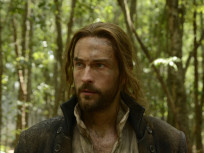 Abbie and Ichabod's mission resumes as Sleepy Hollow returns for season 2 on Monday, September 22nd.
Katrina is caught between worlds on Sleepy Hollow. This is the Season 1 finale.
Ichabod and Abbie discover a secret hidden in George Washington's Bible on this episode. It's part one of the season finale.
Abbie and Ichabod find a video of Sheriff Corbin's that shows Jenny possessed.
A monster is released from purgatory when Ichabod uses Henry to communicate with Katrina on Sleepy Hollow.
During the investigation of a missing person, Ichabod is led to a Colonial-era home that links to his past on Sleep Hollow.
Abbie and Ichabod interrogate the Headless Horseman.
Evil is on the loose in Sleepy Hollow this week. And John Cho is back!
Ichabod goes missing on this episode of Sleepy Hollow, while John Noble makes his first appearance on the series.
Ichabod and Abbie try to protect a young boy who turns up in town before something sinister occurs on Sleepy Hollow.