The 2011 Emmy Awards will be hosted by Jane Lynch this Sunday, September 18. In the weeks leading up to the event, TV Fanatic staff writer Dan Forcella has watched every episode submitted by various actors in various categories and present to you his analysis on each contender.
It's the TV Fanatic Emmy Submission Mission, readers, and we only have one final category.  Take a look back at the comedy categories: Lead Actor, Lead Actress, Supporting Actor, and Supporting Actress, as well as the other drama categories: Supporting Actress and Supporting Actor, and Lead Actress. Next up, Outstanding Lead Actor in a Drama:
In 2008 Jon Hamm, Michael C. Hall, and Bryan Cranston all broke into this category for their current starring roles.  Hall had been previously nominated in 2002 for Six Feet Under, but four years ago was the first time he garnered a nom for Dexter.  Over the next three years, while Mad Men, Dexter and Breaking Bad became known as some of the best shows on television, Cranston walked away with the individual trophy each and every year.  In 2011, the result will be different.
While Cranston's performance is currently winning over viewers once again this summer, his series did not air during this year's Emmy period, so he is not eligible and therefore leaves the door open for his fellow leading men to finally take home the prize.  Not ironically, Hamm and Hall have put forth what I consider the two best submission performances in the category in their first year without Cranston as a competitor.
We should start with Hamm, who has been the frontrunner ever since learning that Breaking Bad wouldn't be on the air this year.  When "The Suitcase" first aired, it was stated over and over again that this was Hamm's perfect submission episode.  Upon my re-watch, I couldn't agree more.  In this episode, Don Draper drowns himself in alcohol, gets into a heated argument with Peggy – in which he screams tv critic Alan Sepinwall's favorite line of dialogue "that's what the money is for!" – and learns the news that the only person he might truly care about has passed away.  Hamm's crying scene was simply the icing on the cake for this incredible performance.
Is Hall's submission quite that good?  No, but "Teenage Wasteland" is definitely one of his better outings.  Not only is Dexter dealing with all of his ridiculous serial killer happenings in the episode, but he also has to handle his teenage step-daughter getting drunk and being sad about her dead mother.  It is one of the few times Dexter seems to show true emotion, both in being there for his step-daughter and taking his rage out on his daughter's friend's father, who beat on his own teenage daughter.  The problem with Hall's chances is that his show has fallen out of the good graces of the Academy.  Yes it was still nominated for best drama series, but it's certainly on its way down the ladder.
Speaking of being on the way out of competition, Hugh Laurie has now been nominated six times for House, and has yet to leave with gold.  After failing to win last year for his brilliant two-part submission "Broken," it is increasingly difficult to believe he will ever win an Emmy for this performance.  While this year's "After Hours" doesn't give Laurie nearly as much material to work with as last year, or as many of his competitors this year, what it does is make him very non-House.  Some say that the reason he has never won is because Greg House is such a jerk.  Well in this episode he is too busy sleeping, performing surgery on himself, and passing out to be a jerk.  He has a few nice moments with Cuddy's daughter and a heartwarming talk with Wilson at the end, which might help him finally get over the hump.  On the other hand, performing his own leg surgery definitely turned my head the other way, I wouldn't be surprised if it did the same to voters.
The final returnee to the field is Friday Night Lights' Kyle Chandler.  As much as I love Coach, I'm afraid he is hurt in the same way as Connie Britton in "Always;" there is too much going on in the finale.  There are too many story lines to wrap up, forcing Chandler to be sidelined for too long.  He does have a heated fight, and a quasi-emotional moment when he decides to go to Philadelphia for his wife, but there certainly is not enough material there to warrant a win in this stacked category.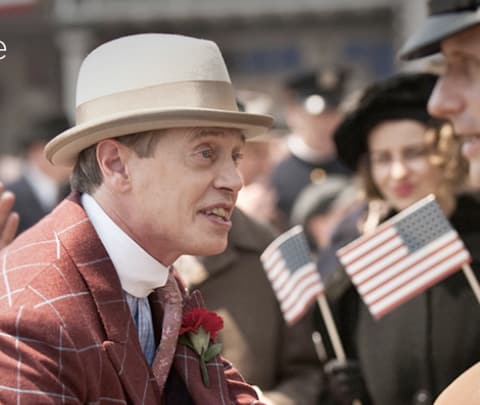 And on to our newcomers we go, as Steve Buscemi of Boardwalk Empire and Timothy Olyphant of Justified, are the only two new players in the field.  Buscemi has been the awards show darling as of late, winning both the Golden Globe and the SAG award for this performance in 2011.  His season was certainly impressive, but because the Emmys work with only one episode per actor, I don't think he has a shot against the top contender.  In "A Return To Normalcy" his Nucky Thompson has a vulnerable moment or two, but his character is so strong that the performance is not nearly as moving as what Hamm puts forth.  Additionally, Michael Pitt is so good, that at times, his performance downplays what Buscemi is doing.  The fact that Pitt was not even nominated for Supporting Actor goes to show how deep that category is.
Olyphant earned his first nomination for this performance, and while Raylan Givens may be my favorite character on television, this was not the best acting performance in 2011.  Olyphant has said himself that this character is very easy to play for him, and it shows on screen.  He is so very comfortable, and that's what makes him so fun to watch.  I commend him for choosing "Reckoning," an episode in which Raylan has to deal with the death of his Aunt Helen.  It gives Olyphant a few moments to show emotion, and to blow up at his on screen father, but Raylan is too cool, calm and collected to earn Olyphant the grand prize.
While Bryan Cranston's performance in the fourth season of Breaking Bad is sure to make him a frontrunner once again at the 2012 Emmy Awards, for once, the rest of these guys have a chance.  Hamm, Hall, and Laurie have each lost to Cranston three times, and I can't imagine one of them not leaving with the prize this time around.
Final Standings
1.Jon Hamm – Mad Men
2.Steve Buscemi – Boardwalk Empire
3.Michael C. Hall – Dexter
4.Hugh Laurie – House
5.Timothy Olyphant – Justified
6.Kyle Chandler – Friday Night Lights
Dan Forcella is a TV Fanatic Staff Writer. Follow him on Twitter.