The Mindy Project Season 3 Episode 2 Review: Annette Castellano Is My Nemesis

Mary Kate Venedam at . Updated at .
Danny's mom, Annette, played by Rhea Perlman, makes her first appearance on The Mindy Project Season 3 Episode 2. and, boy, did she make quite the impression.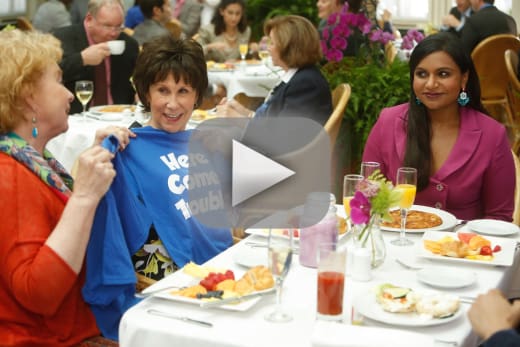 Annette makes her big appearance when she barges into Danny's apartment, and you'd think she'd be happy to meet her son's girlfriend. But, instead, mistakes Mindy for the cleaning lady. I actually half-gasped/laughed when I noticed she made the mistake.
Danny confirms that his mom has no idea Mindy exists leading her to be determined to get Annette to like her. You could already see the Mindy wheels turning and a determined Mindy is always more entertaining.
Mindy set her sights on Annette's birthday brunch to use her fool-proof plan to impress her. This was my favorite part of the episode because as Mindy explains the points, you see Annette falling for every single thing she says (such as always agreeing). Plus, I'm a sucker for references to my favorite TV Shows, like Annette's favorite, Castle.
Annette: I only watch Castle.
Mindy: He writes mysteries and he solves them? That is a great idea for a show.
Richie Castellano (Max Minghella) also, surprisingly, made an appearance and you got to see how Danny and Richie are, together, with their mom, and even though Danny's the more successful brother, its no secret who the favorite Castellano boy is. Why wouldn't any mother prefer a teddy bear from Hudson News to a brand new oven?
Rhea Perlman was perfect as Danny's mother. She had some great moments, especially at brunch with her friend, Dot (very underrated in the episode), and her one-on-one interaction with Mindy in the hotel room was a welcomed part to the episode. There was even a point in the restaurant when I saw just how well she was casted because Perlman and Chris Messina looked like they could almost be related.
Elsewhere in the episode, Peter helped Morgan with his Tamra-issues, while he's unhappy about Jeremy (who is mysteriously absent from tonight's episode) wanting his girlfriend. I saw a lot of similarities between Peter and Andy in The Office Season 5 Episode 19 as they both tried to get over a broken heart by giving relationship advice, which is truly ironic. Morgan and Peter always have great stories. Both characters are goofballs, so when you put them together it leads to so many funny moments, and tonight was no exception. 
Morgan: Are you talking about Dr. Reed kissing your girlfriend or this directly applicable to this situation?
Peter: No. The latter, dude.
Morgan: What ladder?
And then when Tamra asked Morgan to get rid of his 40, yes, 40, dogs, I also thought it was a trick, but when Peter shoved the dog in her face, I couldn't stop laughing at the mistake he just made when it turned out she was actually allergic to them. 
I really enjoyed this episode, even more than The Mindy Project Season 3 Episode 1. There were a lot more laugh-out-loud moments, with the help of Peter and Morgan's story, but also seeing Danny trying to deal with both his relationship with Mindy and his mother. I'm looking forward to seeing more of Danny's mom in future episodes.
Mindy: Can you please just call your mother. She's probably over it by now.
Danny: Italian people don't get over things. They let it fester and ferment and grow stronger over time. That's why our wine is so good.
Did you think Rhea Perlman was a good choice for Danny's mom? Do you think Mindy's four point plan would work in real life? Where in the world was Jeremy?
Don't forget you can watch The Mindy Project online via TV Fanatic if you missed the installment or want to relive your favorite episodes!
Mary Kate Venedam is a staff writer for TV Fanatic. Follow her on Twitter and on Google+.