The Simpsons Season 26 Episode 1 Review: Clown in the Dumps

Stacy Glanzman at . Updated at .
Welcome to the review of THE SAMPSANS EPASODE NUMBAR 164.775.7. Oops, make that The Simpsons Season 26 Episode 1. 
So, how many of you predicted the death would be Rabbi Krustofski? I had it narrowed down to him or Sideshow Mel, but was definitely leaning more towards the rabbi.
It is a good thing this death occurred on a comedy such as the Simpsons. I'm not sure I could have taken another emotional punch to the gut like another certain death that was suffered last week on Chicago Fire Season 3 Episode 1.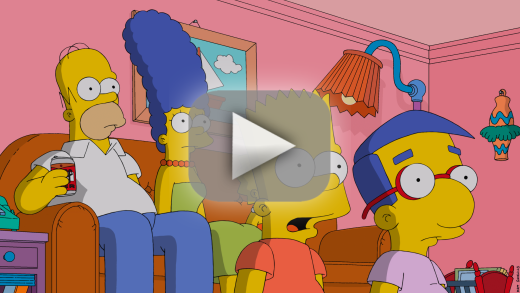 The episode begins with our favorite family gathering around to watch the Roast of Krusty the Clown. Unfortunately, Krusty learns that it's not as funny when you're the one being roasted: 
No one told me this roast would treat me the same way as every roast I've ever seen and laughed at.

Krusty
Poor Krusty just wants his dad's approval, and even though he dies before he has a chance to finish his sentence, it sure didn't sound like he was going to say anything positive. This leads Krusty to quit his job (taking Sideshow Mel with him) and sends him spiraling into a depression. 
But this is the Simpsons so even depression is funny. I cracked up when Krusty, passed out from a drunken binge, dreams that he's in Jewish heaven with his father.
His version of heaven comes complete with a kosher pickle forest, an "Oys R Us" (where the whole store is a complaint department), and a Joe Lieberman Presidential library. I'm not going to lie, there would be a kosher pickle forest in my heaven, too. 
The B-plot this week involves Lisa's concern that Homer stops breathing in his sleep. It was cute, and I normally love their sweet father/daughter moments, but in this episode it felt a little distracting. The scene with Marge and Miss Hoover felt especially unnecessary.
Did anyone else notice that Krusty mentioned to his father that he was the spokesman for "Hamco Ham" and then at the funeral we saw Homer piling what appeared to be ham and cheese onto his plate? That's about as non-kosher as you can get unless he had some shrimp to go with it. 
Simpsons Season 26 starts off with a bang, with plenty of laughs and even a few sentimental moments.
How can they say I'm past my prime? Me, the voice of Ovaltine.

Krusty
One thing that can be said about the SImpsons is no one will ever accuse this show of shying away from poking fun at itself. In fact, that's one of the things it does best. 
What did you guys think of this episode? Were you surprised by Sideshow Bob's appearance? Which of the other celebrity cameos did you like the best?
I have to give major props to Don Hertzfeldt for that very artistic couch gag, though that may be one of the strangest ones they've ever done. Did you guys like it? Watch The Simpsons online via TV Fanatic to see it again!
Stacy Glanzman was a staff writer for TV Fanatic. She retired in March, 2019.