The Simpsons Season 26 Episode 4 Review: Treehouse of Horror XXV

Stacy Glanzman at . Updated at .
It's that time of year again for The Simpsons annual Treehouse of Horrors Halloween special! I have to admit, I love this tradition and always look forward to this episode. 
As always, The Simpsons Season 26 Episode 4 is divided into three separate subplots: 
1. Bart and Lisa are transported to Hell 
2. A spoof of A Clockwork Orange
3. A spoof of The Others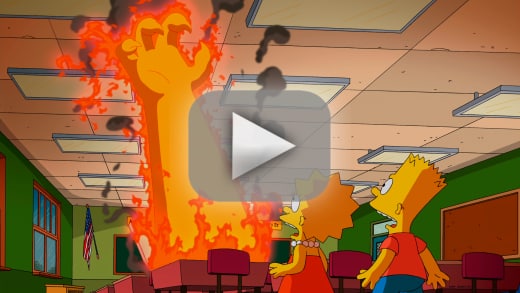 I don't think the first subplot was a spoof of anything, if it was, I didn't pick up on it. It was entertaining though. Hell isn't supposed to be somewhere you want to be, but Bart finds himself excelling at school and Lisa discovers she's popular. Is this really Hell or did they just end up in some alternate dimension? Maybe the real world they were living in was their actual Hell. 
The second subplot of the episode was my favorite as I loved A Clockwork Orange. The book is better of course, but I enjoyed the movie too. They did a really good job spoofing it with the gibberish language, the outfits, and of course, the eye make up. A Luther Vandross record took the place of Beethoven. 
My favorite part of the episode was when the pulled back to show Stanley Kubric watching the movie and deciding to re-write it and start all over. That was a great jab at the actual film which didn't include the original ending of the novel. If you ever decide to read the book, make sure you get the version with the final chapter as there are versions out there that omit it. 
I haven't actually seen The Others, but I know the basic premise. I know I said the second subplot was my favorite, but this one was actually the funniest. There were some really great lines and I cracked up at Homer holding the Car-Salesman's Bible and yelling "The power of Chrysler compels you!" 
How great were the ghost versions of the family with the animation from the Tracy Ulman show? Or did you prefer one of the several other options from the end? I was partial to the Despicable Me version myself. 
What did you guys think of the opening sequence this week? I really liked seeing the scenes from the past Treehouse of Horror episodes float by. Considering how long this show has been on, I was impressed with the creativity of the episode. 
As always, you can watch The Simpsons online and revisit your favorite lines from the episode via The Simpsons quotes page. 
Stacy Glanzman was a staff writer for TV Fanatic. She retired in March, 2019.