Family Guy Season 13 Episode 5 Review: Turkey Guys

Amanda Wolf at . Updated at .
The Griffin family Thanksgiving was really off the rails when Lois found out that Peter and Brian, in an intoxicated state, ate the holiday turkey. 
Well last night me and Brian got drunk and ate the turkey, but before you get mad we also ate the salad.

Peter
Meanwhile, in Family Guy Season 13 Episode 5 Chris also decides, with the help of Stewie, that it is up to him to become the host, and represent the family for Thanksgiving.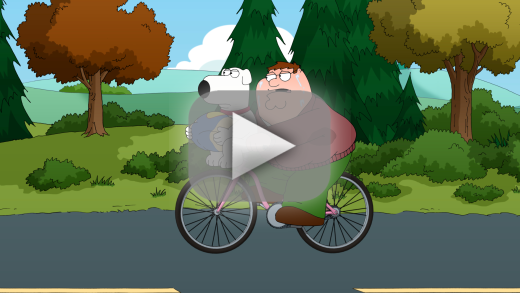 Despite, these two lines of story, this episode was mostly about Brian and Peter on a journey to save the Thanksgiving holiday and make sure that the white people in sweaters had something to eat. 
This turns out to be a real mission as all turkeys in the immediate vicinity of Quahog are sold out, or being freed. 
After Peter and Brian do manage to buy a turkey things go very awry for them, starting with a common misconception about a Prius, concerning whether the car was on or not. I admit this embarrassingly, but this same thing happened to me once, although I didn't drive it into a lake. 
The holiday madness of shopping for that last minute turkey on Thanksgiving took the form of an angry suburban man with a gun, and it shortly came out that Peter framed Brian for his involvement of the turkey eating scandal. 
Hi there folks! Hand over the turkey!
As it became clear that Brian and Peter were not going to make it home in time with the turkey, the Griffins at home were getting desperate from entertaining hungry family for so long. 
Well the fat man is never going to get back in time, and with him gone that makes you the man of the house.

Stewie
My favorite parts were the skit of the first snoopy dance gone wrong, followed by the reference to Madonna, which you can find in the Family Guy Quotes. The fountain of youth was far away from the live Madonna concert. The turkey chase scene was pretty good too! 
Watching felt like a good passage of time for me. It wasn't the best Family Guy, but certainly not the worst. Again, there was minimal use of the other characters, but focusing on the friendship between Brian and Peter is always worth that sacrifice. I also liked that everyone gathers at the Griffin house for Thanksgiving! 
Four years later me and Lois divorced and Stewie died. Gobble gobble.

Peter
Watch Family Guy online to follow Brian and Peter on their quest to replace the Thanksgiving turkey, that was devoured a night early in a drunken stupor. Hit the comments below to sound off on what you thought of the episode!