The Mindy Project Season 3 Episode 9 Review: How to Lose a Mom in Ten Days

Mary Kate Venedam at . Updated at .
There's nothing like a close mother-son relationship. 
For Mindy, it was a tad too much on The Mindy Project Season 3 Episode 9. You can't blame her for being frustrated with Annette for barging in on a romantic bathtub moment.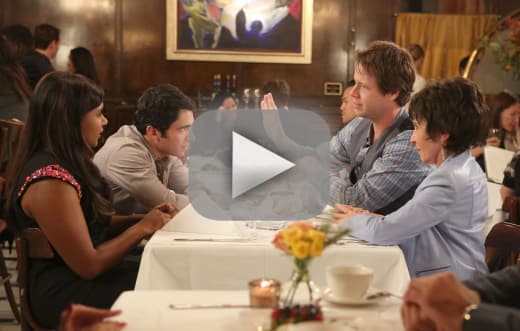 Of course, Mindy would not be Mindy if she didn't try to unsuccessfully fix the issue. Against Danny's wishes, too. Thankfully, it turned around after Annette decided it was time to date again.
I've noticed that some of Mindy's recent ideas have been extensions of whatever advice Peter gave her. Curious? Peter, almost by pure coincidence, set up Annette and Morgan considering he started Morgan's profile. 
If finding a husband was that easy, I would not be here working. I would be married and in Connecticut. Wine drunk all day and working on my smug mom blog called "Diapers and Daydreams."

Mindy
Morgan had a bigger story tonight than he has had for most of the season. It's about time, too. His hair-brained comments are what makes his character the MVP of much of the show. 
First, he moved into Peter's office after he and Tamra broke up. Though quick, it led to some funny moments between the two, especially when he eventually left and shut off the lights on Peter.
Normally, the amount of months I date someone, that's how many years it takes to get over them. So, 7 years.

Morgan
Ike Barinholtz has great chemistry with all of the cast individually. No matter who it is, there are always laughs to be expected when Morgan has a scene. 
The highlight for Morgan though was his reaction after his date with Annette. For a date that was seemingly a trick, watching Morgan act fatherly towards Danny was hilarious. To see them play catch – matching caps and all – was a nice touch. 
I can't break up with [Annette]. Danny can not have another father walk out on him.

Morgan
The idea to have Morgan date Annette was very funny but, like other episodes, I seem to find a similarity to The Office. Like, when Michael dated Pam's mom in The Office Season 6 Episode 7. I don't which scenario ended up better, but I think Danny lucked out better than Pam did.
All of the dating nonsense luckily led to a sweet moment between Danny and his mom about her dating. It's sweet to see how protective Danny is, but Mindy's right – he may be too protective at times. 
You're a saint, Ma. Not the BS kind like Mother Theresa.

Danny
Overall, the episode was good, but the better stories revolved around Morgan and Mindy's involvement with Annette. There were some pretty solid lines from many characters.
Jeremy sucking up to the doctor was a forgettable part which led to the dating storyline. Whenever Annette's friend Dot appears she always joins in with her colorful commentary, which makes the twosome one of the funniest pairings. What will she say next?  
What did you think of the newest installment of The Mindy Project? Was it nice to have Morgan rejoin the story? Did Mindy's involvement help or hurt Annette and Danny?
If you need to catch up on what has been happening, make sure you watch The Mindy Project online via TV Fanatic to see what has been going on. 
NOTE: The Mindy Project Season 3 Episode 10 is titled "What About Peter?" and it airs on Tuesday, December 2.
Mary Kate Venedam is a staff writer for TV Fanatic. Follow her on Twitter and on Google+.