Pretty Little Liars Season 7 Episode 15 Review: In the Eye Abides the Heart
Paul Dailly at . Updated at .
Detective Furey is onto Spencer, and she should probably make an escape with Wren on a plane. 
On Pretty Little Liars Season 7 Episode 15, Furey confirmed he was willing to cut Spencer if any sketchy information about her came to light and rightfully so.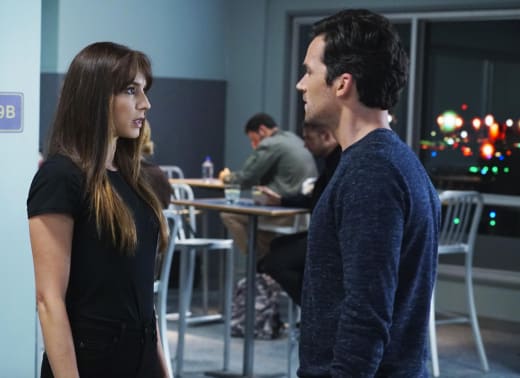 These girls know the situations they've found themselves in before due to the persistent lying. So what if A.D. has a video of the liars the night they buried Archer? If they had gone to the police in the first place, they would not still be going through their ordeal. 
I have no idea what the heck Spencer was really doing with Wren, but she was flying off the handle with him until Ezra appeared on the scene. And, no, I'm not buying Ezra canceling the flight. He and Wren know one another. That was made crystal clear by the way the pair were looking at one another. 
Wren was probably pooping his pants at the very thought of Ezra grabbing a drink with them in the event he opened his mouth and said anything that would implicate him in any of the wicked things that have happened over the last seven years. 
The whole Wren scene seemed thrown in there for shock value. I would have preferred if he had a bigger presence, because, well, the English accent. Could that also be a giveaway that Archer and Wren could be related?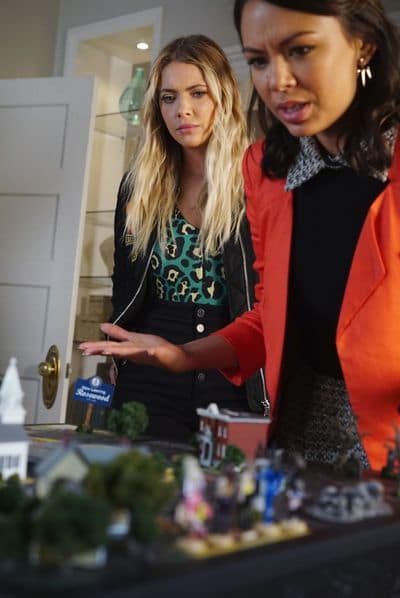 God, this show and the multitude of red herrings are killing me. While Pretty Little Liars Season 7 Episode 14 seemed perplexed with giving answers, this episode seemed more about spinning more questions from the yarn of deceit. 
I'm not impressed with the latter. Who do I need to talk to in order to get some meaningful answers? At this rate, I'm sure fan fiction is going to have the better ending for the series. 
Anyway. 
Let's switch gears and talk about Ezra. Aria was totally right to put him on the spot about the whole Nicole situation. What the hell is she supposed to think that her fiance is taking trips to New York at the drop of a hat to hang around with his ex-girlfriend?
Obviously, it's a delicate situation, but still, the dude needed to stay in Rosewood or else things between him and Aria would never be the same.
That's assuming I'm not right about him being linked to Wren. I mean, this is Pretty Little Liars. It's the show that features, like, ten misdirects per episode. 
Aria: What do you want?
Uber A: I want what you want. The end of the game and that's what we are going to accomplish. Together.
I'd love to know who A.D. is because those video calls were creepy. Aria is still very sketchy in my book.
There's a good chance that the video calls are all a figment of Aria's imagination. Time will tell, but for now, she's on A.D.'s payroll, and it doesn't look like she's going anywhere. 
Surprisingly, I enjoyed the way Emily and Alison reacted to the fact they were going to be parents. They both thought it through, despite being worried about what it would mean for their relationship. 
It was strange of Paige to show up in Alison's house just leering over her like that, but it was worth it for them to finally put their beef aside. Alison was horrible all those years ago, but Paige became just as bad by stooping to Ali's level to cause crap for her when she returned from the dead. 
Emily: Ali?
Alison: Congratulations. You're a mother.
Emily: The blood tests?
Alison: It's you and me.
Paige now knows that Alison has the hots for Em, and I'm quite alright with that. It would be a shame if Paige continued to hover around Rosewood hoping to have the slightest chance of getting Emily. Paige took the mature route and found out what she needed to know in order to help her move on. 
Despite Paige wanting to make a getaway, I don't see her disappearing with five episodes left. 
The comic book revelation about Lucas and Charles seemed rather dumb. How did A.D. or whoever the heck slipped the comic book in that box know they would find it?
Furthermore, the person who put it there wanted them to see it. Considering how smart Lucas is, I dare say he has that apartment rigged with cameras. 
"In the Eye Abides, the Heart" was a mixed bag. There were some good moments and some lackluster ones. It's time for us fans to get answers to all of the questions.
Nothing should be left on the table when the series concludes. If Marlene King and her team left storylines opened, it would be a complete smack in the face to everyone who has spent all of these years invested in it. 
Remember you watch Pretty Little Liars online right here via TV Fanatic. Get caught up now!
Over to you, Pretty Little Liars Fanatics. What did you think of the episode? 
Sound off below!
Note: Pretty Little Liars Season 7 Episode 16 airs May 30 on Freeform. 
Paul Dailly is the Associate Editor for TV Fanatic. Follow him on Twitter.