Grey's Anatomy Season 14 Episode 13 Review: You Really Got a Hold On Me

Jasmine Blu at . Updated at .
Did you enjoy this introduction to Andy Herrera? Is it enough to get you to watch Station 19?
Grey's Anatomy Season 14 Episode 13 was meant to serve as a backdoor pilot for the latest Shondaland series. While it was a decent hour, and it did give us our first impression of Andy, it didn't feel like a backdoor pilot. 
At best, it was a liberal and informal use of the term. We didn't get to meet any of the other characters for example. We already know Ben, and it was mostly about him letting go of his past career and officially moving on to his new one.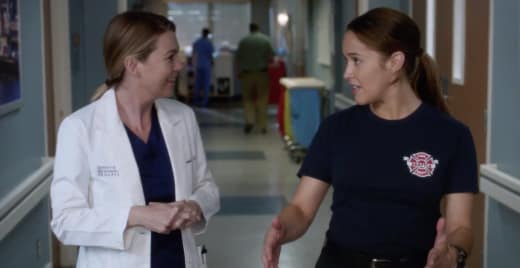 Thank God the actual case Andy was involved in wasn't as bad as the promos teased. There was an eerie similarity between Andy's hand stuck in a patient, and Meredith's bomb incident back when she was an intern. 
In the end, Meredith's surgery wasn't nearly as touch and go as the one with her patient's brother. Andy's role in the surgery was awesome. She got a high off of being in the OR with everyone and getting her hands dirty.
I loved how Meredith talked her through clamping. Andy even managed to do it with her non-dominant hand.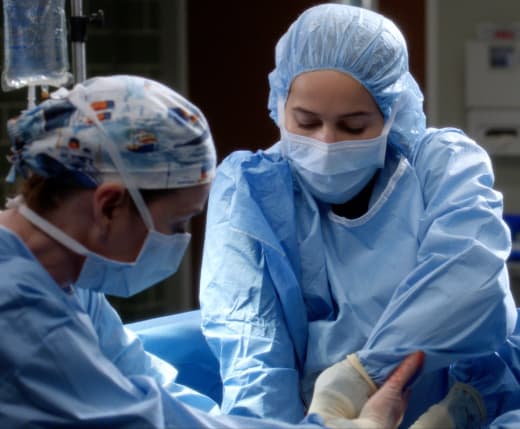 Meredith and Andy's interactions were the best. They had great chemistry with one another, and it's easy to imagine the two of them hanging out and getting a drink together off shift.
All of Meredith's friends are right there in that hospital, and they're all doctors. It would be awesome if Meredith developed a friendship with another woman outside of the hospital and her field. 
Related: Station 19 Trailer: Meredith Grey Helps Save the Day
In fact, ideally, Grey's Anatomy and Station 19 will take a page out of the Chicago franchise's book. 
Wouldn't it be cool if the characters from both series regularly interacted on and off, and then came together for a two-part crossover event like with Chicago Fire and Chicago Med?
Levi: Why is your hand inside?
Andy: Because he was bleeding a lot.
Levi: Take your hand out!
Andy: You look 12, can you find me a grown-up to tell me that?
We don't know much about Andy just yet. As far as introductions go, while she was great, there still wasn't much to chew on. 
We do know that she's as passionate about being a firefighter as Meredith was about being a doctor. They both were born for their careers. 
Andy's reaction to participating in a surgery was expected. By the time she was shuffled out of the room, she was invested in knowing what the outcome was. Ben knew how she was feeling, so he snuck her into the Gallery. 
Can you blame her though? I would have been the exact same way.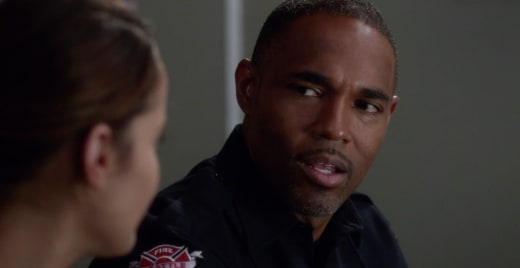 Hell, I have been the same way in less cool situations. It takes next to nothing to become invested, you know?
The situation helped Andy understand what Ben was leaving behind and what his life was like before. It also served as them being opposite sides of the same coin. 
First responders only get the person to where they need to go, and most of the time, they have no idea what happens to the people they help after that.
Andy finally got to see a rescue mission through to the end. It made her respect Ben's former life more and understand the rush he would have experienced as a doctor. 
Now, I'm doing a job where I'm the first one on the scene, and I do whatever it takes to save that life. And that's only a good thing.

Ben
Then there is Ben, who finally managed to put into words why he wanted to be a firefighter and make such a shift. Ben's constant career changes have been viewed unfavorably by others in the past. Once he had his discussion with Bailey, however, it made perfect sense. 
Related: Grey's Anatomy Round Table: April's Disconcerting Downward Spiral!
Ben has always been consistent in his drive to save people. He wanted to become a doctor because being an Anesthesiologist wasn't fulfilling. He wanted a bigger role in saving someone, and to him, being "the drug guy" wasn't it. 
But we saw how Ben was as a doctor. He acted first and didn't think things through. He bucked protocols and rules unapologetically. He didn't care how he saved a life, all that was important to him was that he saved it.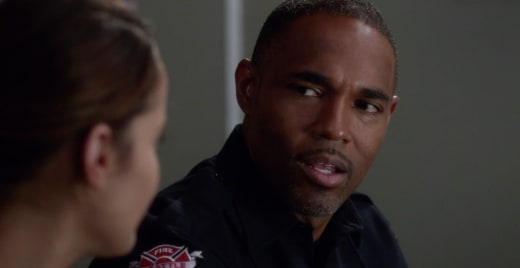 Hospitals are too restrictive. Although, I briefly wondered how Ben would have fared as a surgeon in the military or Doctors without Borders. 
He would have been great in a war zone. It's a shame he never worked alongside Owen more.
Ben was meant to be out in the field where his quick-thinking to save lives would be celebrated and not punished. He has freedom out in the field that he doesn't have in the confinements of a hospital. 
And since Grey's Anatomy isn't The Resident, Ben's penchant for rule-breaking doesn't work for him at GSM.
Ben: I never thought about what I would be giving up.
Miranda: Oh you thought about it plenty. You just didn't allow yourself to feel it.
I can finally accept and understand why he pursued this line of work. The explanation finally works. 
However, his transition was not an easy one. He spent the majority of the hour trying to do two jobs. He is passionate about being a firefighter, but he wanted to be a surgeon when it was convenient. 
Richard came in with the tough love commentating on his behavior, but Bailey approached it thoughtfully. Ben didn't allow himself to feel the loss of moving on. 
Related: Grey's Anatomy Admits Scott Speedman - Is He Leaving Animal Kingdom?
Jackson is somebody else who wants the best of both worlds. Jackson and Arizona were both right about April. 
Jackson has no stake or claim on April, and he can't expect her to be the same person that she used to be. He took for granted that she was never going to move on at all. That being said, April's behavior was troubling.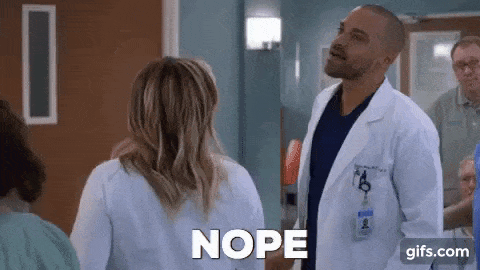 Jackson knows her better than anyone, so he knows just how off she is. 
The funny thing about him approaching Arizona about it is knowing that the two of them never interact much. At least they don't usually talk to one another one-on-one. 
April has gotten so bad that the interns are referring to her as a partier. There are boundaries she obviously crossed with her sexual relationship with Roy, but now she's a doctor that the other interns don't take seriously. That's disconcerting. 
Roy was comfortably alluding to their sexual trysts in the cafeteria like it was nothing. 
Jackson: I'm worried about you.
April: You're Harriet's dad. You're not mine.
Arizona has finally realized that April has hit rock bottom. She was shocked at April's drunken display at Joe's.
Hopefully, she'll be able to talk to April a bit. April would be slightly more inclined to listen to her than Jackson. 
Related: Get Walter Presents via Amazon Channels for Original, Exclusive, Hit Series from Around the World!
She'll certainly be more receptive than Tom was to anything Alex said. 
Tom returned, and he's quite a character. In light of the sexual harassment movement, I cringed a few times when he spent most of the hour flirting with Amelia and commenting on how hot Sam is. 
Kimmy's declining health is heartbreaking. But they may be on to something.
 I get why they were reluctant to introduce Tom to her, but it wasn't the best decision. Plus, Tom and Kimmy hit it off. 
It was second cutest Kimmy scene of the installment when they were passionately debating musicals. The best Kimmy moment goes to the Kimmy and Alex duet. 
Kimmy has gotten under his skin more than any of his other patients. She vaguely reminds me of Nicole, the young teen who wanted to share her first kiss with him on Grey's Anatomy Season 2 Episode 7. He was inspired by her back then, and he's inspired by Kimmy now. 
You know who else is inspiring? Dahlia. She's lovely, isn't she?
Dahlia falls on the sweet, soft, and gentle end of the Grey's Anatomy Character Spectrum. She's so soft-spoken and mousy, but it's endearing. The way she cried when the patient's mother cried was reminiscent of Lexie. 
She appears to work with Owen a great deal, but this is the first time that we've witnessed them having a personal conversation. Owen was impressed by her quick thinking when the kid pulled the shard out of his leg. 
Related: Get Great Selection of New & Classic Movies with the Lifetime Movie Club via Amazon Channels!
With nothing else at hand, she used her hijab to wrap around his leg to staunch the bleeding. While Owen's inquiry felt odd for a man who spent a significant amount of time in the Middle East, it was innocent and respectful. 
Dahlia's explanation for removing her hijab publicly was simple. 
Owen: That was fast thinking back there.
Dahlia: Thank you, Dr. Hunt
Owen: I'm surprised you just took your hijab off like that.
Dahlia: Well, I mean, it's a symbol of my faith, but my faith is about service and compassion. He was bleeding really fast.
In a sense, she was following the teachings of the very religion that has her choosing to wear a hijab, to begin with. It was a nice moment between the two.  
It as also a great moment for the quiet intern and for hijab-wearing women who are often scrutinized, as well as for a religion that is vilified and commonly misunderstood.
Dahlia is the sweetest. She's a personal favorite out of the interns. Half of them are blending in nicely so far, and the other half is... not. 
Grey's is back with a solid hour of television, but did you guys enjoy it? Hit the comments below with your thoughts!
Don't forget, you can watch Grey's Anatomy online anytime, right here at TV Fanatic. 
Jasmine Blu is a senior staff writer for TV Fanatic. Follow her on Twitter.