Arrow Season 6 Episode 22 Review: The Ties That Bind

Candice Horde at .
The writers really pulled out all of the stops for Arrow Season 6 Episode 22, "The Ties That Bind." We got action. We got intrigue. We got countless explosions. And we got big betrayals.
Can you all believe it was Anatoly that ended up betraying Diaz? It's interesting to see how the tables have turned for The Dragon. Initially, it was Oliver who got betrayed by everyone on his team, one by one.
Although I'm not going to pretend like Dinah, Curtis, and Rene leaving the team was a big heartbreak, watching Oliver become isolated from everyone one by one was sad to watch by principle. 
Oliver used to believe that he had to work alone for various reasons, such as safety, trust, etc. So, to watch all of his initial fears come to fruition with team Arrow seemed a bit deja vu-ey, especially after one of his biggest fears -- Laurel's death -- became a reality a few seasons ago. 
Speaking of Dinah Laurel Lance, I missed her in this episode. Siren would've made this good one even better with her quick retorts, dripping sarcasm, and expert fighting moves.
Related: Get Comic Con HQ via Prime Video Channels to Stream Original Series, Past Comic-Con Panels & More!
What do you guys think Diaz did to her? I pray nothing too brutal. It's getting a bit tedious and calculated to see everyone beat her up at every turn. 
Here's to hoping we see more Siren in the finale and she finally gets the revenge on Diaz she deserves. 
Nonetheless, even without Siren gracing our screens, this episode of Arrow was a good one, definitely one of the better ones of the season.
We always knew our lives would be high risk. Eventually, we got to a point where worrying about that seemed less important than enjoying the time we had together... even if that was on a battlefield.

Lyla
Arrow's been missing the hand-to-hand combat scenes. There are only so many ways a shootout can be exciting, and scenes that include Diggle and Lyla is one of the ways.
By design, they are a seamless team out there. The metaphorical and literal move where protect each other's backs from Diaz's agents had me squealing. More, please!
Related: Supergirl Season 3 Episode 17 Review: Trinity
If we have to stick to gunfights for the action, it would benefit the show to use more choreography with the gunfights. It's not all just standing in open spaces and releasing fire. 
It would be epic to see the entire team move like the well-oiled machine Lyla and Diggle represent. Can you imagine the camera going aerial l as we watched them collapse on their targets in a specific formation, plowing through their enemies like grass?
I have chills just imagining a scene like that.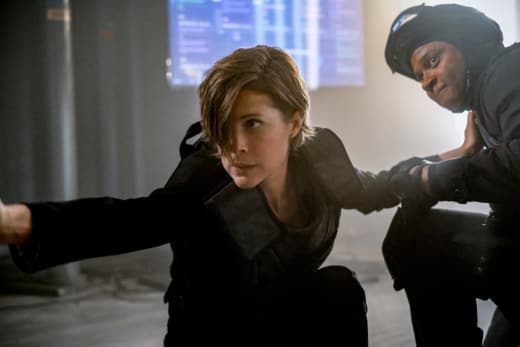 Speaking of Lyla though, how is she not a regular on this show yet? She brings such a fresh and dynamic feel to each episode. Her unerring confidence and tactical genius are always a joy to watch.
Obviously, her way of taking command would clash with Oliver's need to control everything, so she probably wouldn't work as a part of Team Arrow. However, she could certainly show up more often by bringing ARGUS in on more missions.
Related: The Flash Season 4 Episode 21 Review: Harry and the Harrisons
There are countless storylines in the Arrow comics to pull from that would work well even with the comic-less Arrow we see on The CW. So, let's make it happen Arrow writers. 
The show could use something new and fresh to push it into the seventh season, and more ARGUS appearances would help with some of the storyline diversity. 
A story we see over and over again revolves around Felicity and Oliver fighting and bringing their arguments into the field. Although it's exciting to see that they won't drag the drama to the finale -- it would be nice to put a plug on the arguments that affect their field work, in general. 
It's like every time these two go into a big fight; it's when everything is on the line. 
It's hard to express how frustrating it is that Oliver somehow feels he can make these choices for the women in his life. News flash, Oliver: you cannot tell grown people what they can and can't do. 
You don't get to change the rules on Felicity. You can change the rules on yourself. You can talk to her about how you may want to change the rules. However, you don't get to decide what others are allowed to do. 
And I'm sorry that [Felicity] thinks I'm changing the rules on her, but I am changing the rules on her because things have changed.

Oliver
About 95% of Felicity and Oliver's arguments stem from his mentality, and it would be wonderful if we could either change what they argue about or the fact that they argue at all. 
Another aspect that seems to be on the revolving door of Arrow is revenge. At this point, every character has had two or more stories that are fueled by revenge. How many other ways can we explore how revenge corrupts?
At this point, we could use another driving, character arc that revolves around something other than revenge or love. 
This season of Arrow touches on a lot of new aspects that break the mold in unusual ways. Diaz, played by the outstanding Kirk Acevedo, has a coldness and focus that we haven't seen since Deathstroke.
Additionally, Siren, played by the exceptional Katie Cassidy, gives us an antagonist that has a good heart. So, we can explore that nuance of a character who lives in that gray area, but doesn't default to hypocrisy to explain the wreckage they've caused away. 
If Arrow keeps going in the current direction, focusing on what could make Arrow new and fresh to the viewers, they just may have a series run as long as Supernatural.
What did you guys think of Arrow Season 6 Episode 22? What were your favorite parts? Share your thoughts in the comments section below! 
If you aren't caught up on Arrow yet, what are you doing?! Watch Arrow online here and get in on the action!
Candice Horde was a staff writer for TV Fanatic. She retired in July 2018.