iZombie Season 4 Episode 10 Review: Yipee Ki Brain, Motherscratcher

Jasmine Blu at . Updated at .
Um, okay iZombie Fanatics. Let's get this out of the way. 
iZombie Season 4 Episode 10 was a colossally dull hour. It was as aggravating as it was wearisome, and that is not what I expect when there are only three installments left of the season. 
iZombie's ability to string fans along episode by episode while simultaneously making fans forget that they have a shortened season is a blessing and a curse. Here, it's a curse, because, with so little of the season remaining, I don't know what to expect by the finale.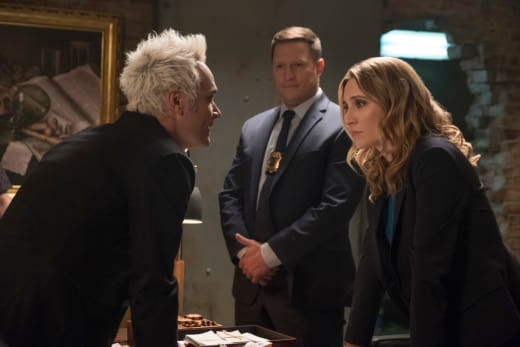 The biggest issue is that the concept of this season was ambitious and bold. The possibilities were endless. There were so many directions the series could go into; the show hit a reset button. 
It was highly-anticipated, and maybe the bar was set too high along the way. I don't know. What I do know is that there are too many missed opportunities this season. There are too many ways the season hasn't reached its full potential, and that is disappointing. 
Related: iZombie Season 4 Episode 9 Review: Mac-Liv-Moore
This hour was very meta in that it spent a great deal of time making fun of itself. It's the type of humor iZombie is known for, but when nothing of substance happens for the majority of the hour and the case of the week petered out too, it wasn't funny meta. It was, no, you're right, this is absurd meta. 
Oh no, it's that crap episode of zombie high where it's clear the show ran out of money, so everything cool happens offscreen, and the characters just talk about it afterward.

Ravi
Enrico Colantoni returned as brash Lou Benedetto. He also took a spin in the director chair for this hour. Veronica Mars alum is always a treat, but it wasn't enough to salvage this hour. Plus, he was killed early on. 
His brain was the one Liv consumed. It leads to a plethora of fun moments and lines. Ravi and Liv's Die Hard quip-off was fun, and Liv's Horatio Caine inspired one-liner with the sunglasses (and the other detective stubbing his toe to make the signature "Yow") hit the mark. 
Liv beating up a suspect in front of the dash cam was a nice touch. They brought back AJ, and recurring characters are fantastic ways to tie all the seasons together. 
The case petered off along the way. The montage of Liv, Levon, Isobel, and Ravi watching Zombie High was pointless. It was a waste of time, which makes me think the show itself is aware of that because they used "wasted time" on a time card.
That took up a great deal of the hour, and for what? So Isobel could go out on a date with the actor from the show? 
Or was it to make those references to the annoying things shows do before they segued into a scene that represented the same annoying thing that shows do? 
It's also baffling that the series refuses to address Liv's personality changes with the brains. She embodied every facet of Lou while at the station, but the second she went home for the nightly Zombie High binge ritual she was back to the pale face and white hair. She was back to herself. 
Did that take place in one night or more than one night? Does she have an on and off switch? If so, why hasn't she been using it for the past two seasons? 
Related: iZombie Season 4 Episode 8 Review: Chivalry is Dead
The majority of the investigation didn't matter because it was taking place offscreen.
But you know what? God Bless, Clive Babineaux. He's this delightful ray of sunshine. He was responsible for some of the cutest, funniest moments of the hour. I stopped being frustrated when he was onscreen. 
The animated way he recalled all of his field adventures made me smile, as did all the references to movies and crazy cops. The only time Clive lost his spark was when he spoke about wanting kids and Dale's inability to have them. 
He likes Michelle, she's human, and she sends him cute pet videos. She's a great fit for him. I don't deny that, but I wish there were more to Clive and Dale's story. 
Clive and Dale deserve an evolved storyline that explored zombie/human relations in more detail. Instead, they're in this loop, and the crux of their issues never take off. It's stagnant and has been all season long. 
I love Dale, but I've also been thinking about how every future I imagine for myself had kids in it. I want to be a dad, Liv. With a human like Michelle that can happen. They're not letting zombies adopt so, with Dale that means no kids. Never.

Clive
For a moment, it felt like Dale was going to die by the end of the hour. I couldn't shake this feeling, and I wondered why I was thinking that. Then it hit me; she was actually being utilized in a professional capacity for a change, and because they dusted her off and used her for something other than causing Clive pain, it screamed "Swan Song." 
Isn't that a terrible thought to have? 
I loved her conversation with Blaine. I wish there was more to it. She ate Baracus' brain and chose to investigate his death herself. Wouldn't it have been refreshing if we followed her and that investigation? 
Related: Get Walter Presents via Prime Video Channels for Original, Exclusive, Hit Series from Around the World!
Blaine was unfazed. He somehow ended up succumbing to Angus' cult. It may have something to do with the fact that Angus considers Blaine the second coming of zombie Jesus or something.
Whatever the case may be, a couple of apologies in front of the congregation, and Angus allowing his followers to feast on the brain of the woman who abused Blaine growing up won our resident gangster over. 
It looks like Inspector McFrenchie may have drunk the kool-aid too. Also, Russ. 
If Chase knows that Russ is up to no good, why is the aptly named Roach still alive? It's not like Chase gives a damn about diplomacy at this rate. What is he waiting for? This is ludicrous. 
Russ is in cahoots with AJ now, and Chase is back on a Renegade hunt. 
What are the priorities at Fillmore Graves? Is there a think-tank somewhere on how to resolve all of their issues? Is anything else being done to rectify this brain shortage problem?
You can tell me who this new Renegade is or I can shoot you through your heart and my friend and I will eat your brain and wait for a vision of what we want to know.

Chase
Other than everyone making fun of Major for being Chase's bitch, including Chase, the five minutes of Fillmore Graves time was spent on Curtis. Chase didn't buy the Brother Love story Curtis was telling him, but I was too busy sighing because despite Major mentioning Angus twice now, Chase still doesn't know shite about the church. 
If the soldiers are withholding information from Chase, that's one thing, but he's so single-minded he doesn't do anything with the plethora of information he already has. They're hamstringing this character beyond plausibility. It's maddening!
Related: The 100 Season 5 Episode 1 Review: Eden
The blow-up between Liv and Major was whatever the hell it was. Yes, Liv is self-righteous. We established that already, but Major at this rate is a brainwashed asshole.
His point about Liv endangering him notwithstanding, I snorted at the hypocrisy of Major Lilywhite telling anyone that they have a hero-complex and can't find meaning in their life like that wasn't him for three seasons in a row. 
You're her, aren't you? You're Renegade. Of course, you are. Seattle needed a hero and guess who volunteered. The girl who can't find meaning in her life any other way. This is going to get you killed, Liv. But hell you're going to get me killed too.

Major
Major is flat out insufferable right now. I will revisit my love and fondness for his character after he comes to his senses. Until then, he can sod the hell off. 
Isobel is a total doll. It was also a missed opportunity that they didn't spend more time on Ravi studying her. Nevertheless, their relationship (along with Clive) was the saving grace of this hour. 
Ravi would make an amazing dad. He was so good with her, and I loved how he took the promise he made to her mother seriously.
Related: iZombie Roundtable: Madame Mayor Peyton Charles!
God knows Liv and Levon and their sexcapades didn't seem like a suitable duo to look after a teen. Liv even set the dying virgin who wanted to have sex and romance up with an 18-year old actor. 
Uncle Ravi: 1000. Aunt Liv: 0. The Ravioli scene where Liv affectionately petted Ravi's hair: Priceless.
This hour was disappointing, but iZombie is one of the best shows on The CW and the best zombie show, period. It needs to be renewed pronto!
Until then, you can always watch iZombie online here via TV Fanatic. 
Over to you, iZombie Fanatics. Did you enjoy this hour? Do you feel like it was a waste of an episode? Hit the comments below.
Jasmine Blu is a senior staff writer for TV Fanatic. Follow her on Twitter.