Days of Our Lives Review: Tricks and Treats in Salem

Jack Ori at .
Days of Our Lives is famous for some of its holiday traditions.
The Horton Christmas episode is an iconic part of the serial, and in years gone by, DAYS celebrated Thanksgiving as well.
And since Ron Carlivati took the reins as head writer in 2017, DAYS has a new tradition: a Halloween dream sequence episode.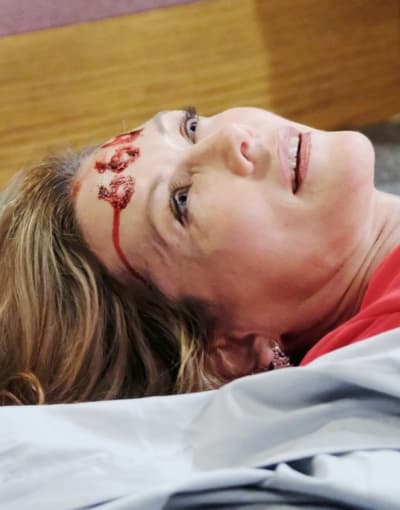 I hated the 2017 Halloween sequence, and the 2018 one wasn't much better. There were some funny lines, but overall it felt like a waste of time that could have been used to move storylines forward.

Related: Get Shudder via Prime Video Channels for Spine-Tingling & Provocative Films, TV Series, & Originals!
The dream sequence did pay homage to past characters and storylines, mostly campy ones that not all viewers enjoyed.
The emphasis was on Marlena having once been possessed by the devil. Judith Chapman returned for a cameo as Anjelica Deveraux, who was really Satan come to get Marlena for the second time.
I enjoyed seeing Chapman, who played Anjelica in the 1990s, but newer viewers might not have had any idea who she was since Anjelica was last played by Morgan Fairchild.
Also, the devil possession storyline was a silly story that I didn't enjoy the first time around.
And what the heck was with those silly accents that Julie and Doug sported throughout the hour?
Abigail: You just stir the tea cup three times like this and I'm hypnotized.
Hattie: Does that work?
Abigail: I don't know. I saw it in a movie once.
The best part of the dream was Hattie being Hattie. She was unable to pull off pretending to be Marlena for any length of time, and her taking advice from Abigail about how to hypnotize people or not knowing how to deliver a baby was hilarious.
Being a Law & Order: SVU fan, I cracked up at Hattie calling this "Law & Order: Salem's Victim Unit" -- mostly because the idea of Olivia Benson trying to deal with the lunacy in Salem was hysterical.
Other than that, there were too many non-subtle ads for other NBC shows, too much stuff that made no sense whatsoever, and too much silliness.
I don't enjoy over-the-top nonsense and would have rather seen some movement on some other storylines than an entire hour dedicated to a crazy dream sequence.
Plus, I was disturbed by the fact that the only time a woman being able to live without a man was presented as an option was in a dream sequence. Something about it felt like it was making fun of the idea of women having other interests besides who they could get to take them to bed.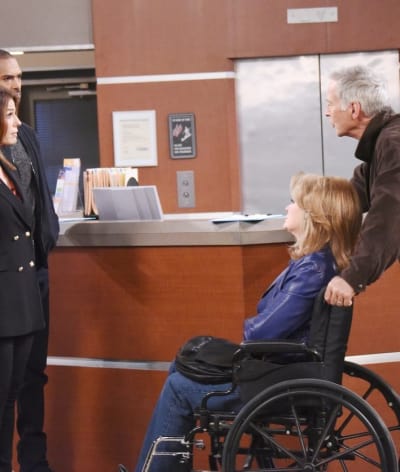 At least that crazy dream convinced Hattie to get a divorce from John instead of insisting on taking over Marlena's life. I enjoy Hattie in small doses, and I'd love to see her in a story that doesn't involve stealing Marlena's identity. But enough is enough with the current nonsense!
Related: Days of Our Lives: Why Social Messaging Matters
The biggest treat of the week of 10-29-18 was Sami and Lucas finally sharing a scene!
It made no sense that these two hadn't crossed paths, and their visit convinced me even more that Sami was in the wrong storyline.
Rather than running all over the world looking for EJ, she should have been helping Lucas with this baby mess.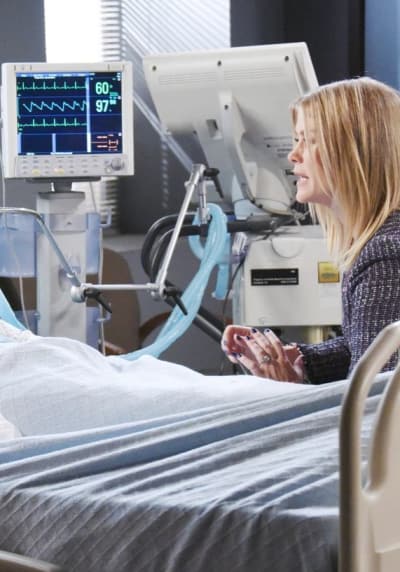 It didn't make a lot of sense for Lucas to hope the mystery patient is EJ, considering that EJ raped Sami by threatening Lucas' life, but I guess he feels that whatever makes Sami happy makes him happy.
It was obvious Sami and Lucas still have feelings for each other.
The chemistry was still there after all these years, and Lucas immediately went back into schemer mode to try to help Sami get the DNA sample she wanted.
They were both so protective of each other, too.
Sami threatened to hurt Chloe if she broke Lucas' heart and Lucas went off on Belle for the way she's treated Sami recently, and I wish that could have led to the two of them realizing they are still in love.
With both Alison Sweeney and Bryan Dattilo having limited time left in their runs, it would make perfect sense for the patient to turn out not to be EJ. Then Lucas could nurse his soon-to-be-broken-heart by comforting Sami about her own heartbreak, and the two of them could head out of town together.
Unfortunately, the writing team seems set on an EJ/Sami reunion, so that's unlikely to happen, even though Sami's profession of love to the mystery patient fell flat in comparison to the way she behaved towards Lucas. 
And what was with the mutual hatred between Sami and Chloe? The only reason I could think of for either of them to be nasty to the other one was jealousy over Lucas. 
Chloe's determination to get to the truth about Baby Bonnie is certain to lead to heartbreak for Lucas, and soon.
Lucas made a point of stating how happy he was to have a daughter, which means the rug is about to be pulled out from under him, while Chloe was determined to get to the truth no matter what.
That is another story I'll be glad to see go. It's better than the Abigail mess, but it's irritating on several fronts.
First of all, this is the third story involving someone lying about a baby's paternity in a six month period.
Besides how deeply offensive it is to continually have people have sex they couldn't consent to and then saddle them with lies about the resulting baby, it's very unoriginal.
Mimi's agreeing to give her baby to Bonnie is as bewildering as it is distasteful, and Belle has become completely unlikeable.
Chloe confronted Belle about the possibility of the baby being Mimi's, and Belle lied her butt off.
Her comment that she was providing her client with a zealous defense made absolutely no sense since this isn't a criminal trial. Plus, lawyers are not allowed to argue things in court that they know to be untrue.
That's fraud, and she should be disbarred for it. And why, exactly, was she too ethical to rip up Marlena's Advance Directive but able to lie to protect Mimi without even blinking an eye?
Related: Get Great Selection of New & Classic Movies with the Lifetime Movie Club via Prime Video Channels!
Belle's insistence that mothers almost always get custody was nonsensical.
Never mind that that's not as true in the real world as the writers would have us believe. Didn't Theresa almost lose custody of Tate because Victor planted drugs in the apartment she and JJ shared?
Surely Bonnie's constant drunkenness would be as equally concerning to a judge as a small baggie of cocaine that the parent claimed never to have seen before.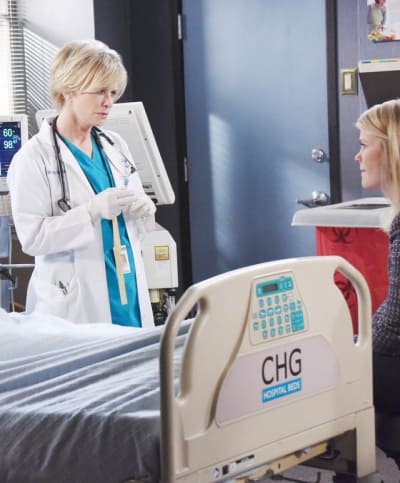 Belle wasn't nearly as hypocritical as Kayla, though. 
It hurts to say that. Kayla has been one of my favorite characters since the 1980s. But like most of the characters, she's been turned into a hypocrite who turns ethical concerns on and off to serve the plot.
Kayla had a lot of nerve refusing to do the DNA test Chloe requested because Mimi hadn't given permission to have her DNA tested.
She was probably right, but this is the same woman who handed over Abigail's private medical records to her rapist. 
And if that wasn't bad enough, she followed that up by participating in hiding Marlena and switching her with Hattie to avoid having to execute an Advance Directive that would result in Marlena's death.
And even if she had what seemed like good reasons for those serious ethical violations, she also had just run a DNA test on EJ based on a piece of hair that Sami had got without Susan's permission. So if Chloe's test was out, Sami's should have been too!
But instead, Kayla made a fuss about Chloe's test to provide an obstacle for Chloe to overcome while not blinking an eye at doing a DNA test on a comatose person based on a sample that was gained through manipulation.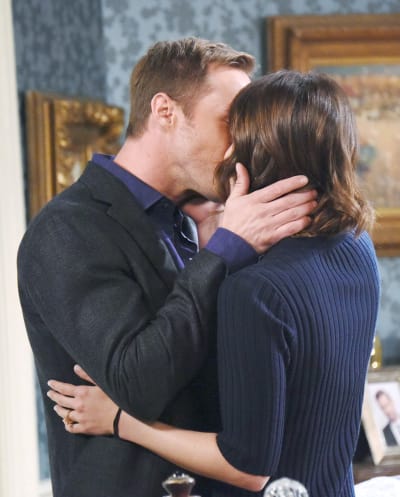 Both the best and worst part of this whole mess is Sarah and Rex's relationship.
At least this is a fairly normal storyline. Rex having a one-night stand with Mimi that his fiancee doesn't know about, Mimi keeping it to herself that that fling resulted in a baby, and all of them ending up in the same place is typical soap fare.
There is no over-the-top craziness here, other than Mimi having the brilliant idea to help pass the baby off as her mother's.
This might be a compelling storyline if only viewers had been given a chance to invest in Rex and Sarah.
Rex is Roman's son, and Sarah is Maggie's daughter, making them legacy characters, but that's not enough to make them rootable or even interesting.
Roman: I remember when Alice Horton used to live next door to us. You used to ring the doorbell and ask if you could play with the twins. You'd promise not to fight with them.
Sarah: I'm sure I never kept that promise. Sami used to rip the heads off of my dolls and Eric would fix them.
We have been given very few clues as to who these people are other than the children of long-running characters, who they are to each other, or why we should care about their engagement.
Rex showed back up out of nowhere after a decades-long absence with the news that he had met Sarah off-screen, gone through a rough patch with her, and then proposed to her.
Their families didn't even know they were dating!
Now their engagement is threatened by an off-screen one-night-stand with Rex's ex, and since they've been in town, Rex has shared more screen time and meaningful scenes with Mimi than with Sarah.
All of which suggests that Rex and Sarah's soon-to-implode relationship is nothing more than a plot point.
Surely the children of legacy characters deserve more.
This story is mildly interesting, but imagine how powerful it would be if viewers were truly invested in this pairing.
If Sarah and Rex had come to town before their impending breakup and we'd got to know them as well as seen their relationship develop on-screen, it would give viewers a real reason to care what happens.
Some viewers might root for Rex and Sarah to stay together, while others might root for a Rex/Mimi reunion.
Either way, Chloe showing up at the party with that envelope would have been riveting, must-watch TV instead of merely a decent cliffhanger.
And if the reason Rex and Sarah were having problems in the first place was that he wanted kids and she didn't, that would have added another layer to this whole mess.
Instead, they seem like filler at best and characters placed on canvas for the sole purpose of wrapping up this Mimi baby story at worst.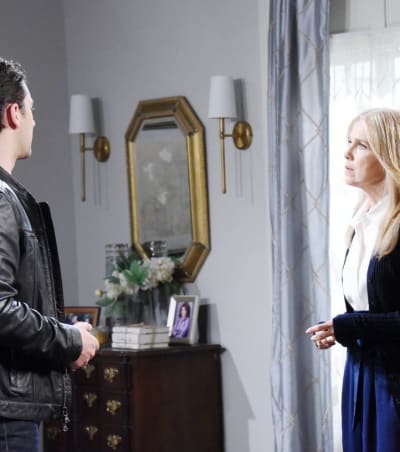 I'll take a billion bland conversations between Rex and Sarah over another second of this awful Abigail story, though.
It's gone from bad to worse with Abby marrying her rapist to stop Chad from committing her to a mental institution and Chad and Jen fretting about what they should do.
There is nothing entertaining about this, and while it's nice that Abby is aware that her Gabby alter does not exist, she just gave delusional Stefan false hope that his imaginary girlfriend is on her way home to him.
And has anyone -- Gabi included -- realized that if Chad somehow does succeed in having Abby committed, the psychiatrist doing her intake will likely realize she doesn't belong there? It's not like Gabi can continue to drug and gaslight Abby once she's locked up.
Of course, psychiatrists are not even involved in getting Abby committed and have somehow become extraneous to a storyline involving severe mental illness.
Please make the torment stop.
What did you think, DAYS fanatics?
Was the Halloween special a stupid trick or a wonderful treat?
What was your take on the rest of the Salem goings-on during the week of 10-29-18?
Vote in the poll below about how much you enjoy campy storylines and then hit the comments with your thoughts!

How Do You Feel About Campy Stories on DAYS?
And don't forget to check back on Sunday for our Days of Our Lives Round Table discussion.
Jack Ori is a senior staff writer for TV Fanatic. His debut young adult novel, Reinventing Hannah, is available on Amazon. Follow him on Twitter.