Law & Order: SVU Season 20 Episode 10 Review: Alta Kockers

Jack Ori at .
Law & Order: SVU has seen its share of bizarre cases, but this one took the cake!
Law & Order: SVU Season 20 Episode 10 featured two well-known guest stars who both suffered sexual abuse as children.
Although parts of "Alta Kockers" were moving, this was one of the sillier stories SVU has had, and that's a shame
Childhood sexual abuse leaves a lifetime of scars, and there are plenty of survivors coming forward now who weren't able to talk about it in the 1970s.
So SVU could have created a powerful story for its 2018 fall finale.
Instead, it focused on two old recluses who for some reason sniped at each other all the time. The brothers' adversarial relationship distracted from the story, especially since it wasn't clear when and how they had had a falling out.
Related: Get True Crime Files by ID via Prime Video Channels for Over 1,000 Real-life Mystery & Suspense Shows!  
I was also disturbed by the circumstances under which the cops met Joe and Ben.
Carisi: Any signs of rape?
Benson: No.
Carisi: So what are we doing here?
Benson: She isn't a she, at least not physically. We may be looking at a hate crime.
Benson correctly pegged the murder of the prostitute filling in for the author of Bobbi's book as a hate crime. Her murderer killed her because he believed her to be male, or at least male-assigned at birth. 
Most of the time, SVU is sensitive to these kinds of issues and wouldn't gloss over the murder of a gender-nonconforming individual. But in this case, it was a plot point to get us to meet the old men.
The dead girl's murderer was quickly caught and his case dispensed of off-screen, while Benson mentioned that the hate crime charge would probably get dropped and the killer would plead to manslaughter.
Related: 21 Times Olivia Benson Went the Extra Mile
I know these kinds of deals often happen in the real world, and if that had been the result after Benson tried to convince Stone this was a hate crime, that would have been an emotional story in its own right.
But it bothered me for this to be a mere plot point, especially since it aired about a week after Transgender Day of Remembrance, which is a day dedicated to the memories of people murdered for similar reasons to why Tammy got killed.
SVU can do better than that and has in the past. It was disappointing.
I enjoyed both Wallace Shawn and Judd Hirsch's performances, though.
On one level, their banter seemed to be comic, and I wasn't sure why these two old men were being portrayed as being clueless and stuck in the thought patterns of an earlier era.
But on another, it seemed like this was a story of two old men who were stuck in the distant past -- and once the reason for that became clear, it was tragic.
Brother #1: What'd you do this time?
Carisi: What'd you do with Bobby O'Rourke?
Brother #2: Bobby O'Rourke? He died in 1975.
Brother #1: Don't listen to my brother. He's a putz. Whatever happened, he did it.
Carisi: You're both going to have to come down to the station.
Brother #2: I won't ride with him! I won't! Ask him who he voted for. He voted for GERALD FORD!!!!
My favorite piece of their argument was when Ben demanded whether the detectives knew who Joe voted for. It was such a relief to hear people arguing about something other than the current political landscape.
Anyway, my biggest problem with this was that it was hard to believe that Joe was once a protective older brother. 
He and Ben had so much animosity towards each other that it didn't quite make sense.
Joe: He confess yet?
Rollins: You mean your brother?
Joe: Who else? He's weak, you know.
Rollins: You needed to protect him?
Joe: Damn straight. And sometimes...
Rollins: Sometimes?
Joe: Sometimes it's hard being the bigger brother.
Did their falling out revolve around their mother's death? Or was it because they both were keeping their abuse secret from the other one?
Related: How Law & Order: SVU Has Evolved Over The Years
I loved both the confessions in the jail cells as well as Ben's final confession of what had happened to him after Joe died.
THAT was the powerful, dramatic stuff that I expect from SVU!
The cut scenes between the brothers and the way the conversations flowed into each other added to the tragic nature of these scenes.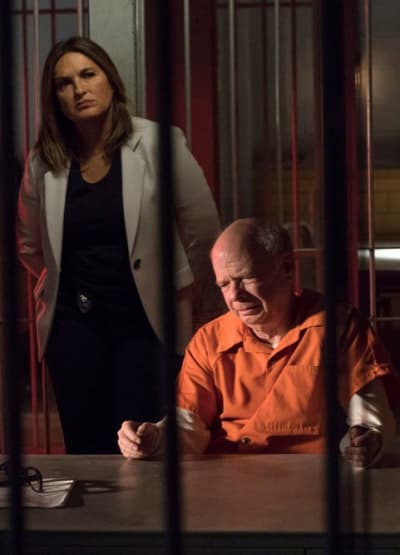 The saddest thing was that Joe went to his grave believing he wasn't a good enough older brother because he'd gotten molested himself. I wish the brothers had had the opportunity to talk while he was still alive.
At the same time, I felt like there was just too much stuff going on.
It was one thing after another: The discovery of the mother's body; the murder trial; Joe's sudden heart attack.
It was overwhelming and felt like tragedy piled upon tragedy for no good reason.
I figured it's New York, people are allowed to be weird.

Woman
Plot problems aside, I was also disappointed that this was the fall finale for 2018.
I might have enjoyed this story more if it wasn't going to be the last one until January 2019. Usually, fall finales offer some a cliffhanger to keep fans talking during the break and make them eager to tune in when the show returns.
"Alta Kockers" had no such thing. Rollins stayed pregnant with no health complications, not a peep was heard from Noah, and nobody's job was in jeopardy after making a boneheaded move in an attempt to close the case.
The last scene was sad, but it gave viewers nothing to speculate about over the hiatus, and that's not acceptable for a fall finale.
What did you think, SVU Fanatics? Am I too hard on SVU's lack of cliffhangers? Did this story make sense to you? Did you enjoy Young Sheldon's Wallace Shawn and the legendary Judd Hirsch sniping at each other?
Weigh in below, and don't forget you can watch Law & Order: SVU online if you need your SVU fix!
Jack Ori is a senior staff writer for TV Fanatic. His debut young adult novel, Reinventing Hannah, is available on Amazon. Follow him on Twitter.