Pretty Little Liars Season Two Premiere Review: Romance & Mystery
by Matt Richenthal at .
"It's Alive."
The title of this episode was likely a reference to Ian's body, but it could very well have been talking about the ongoing drama, mystery and romance of Pretty Little Liars - because this episode made it clear: all are alive and well on season two!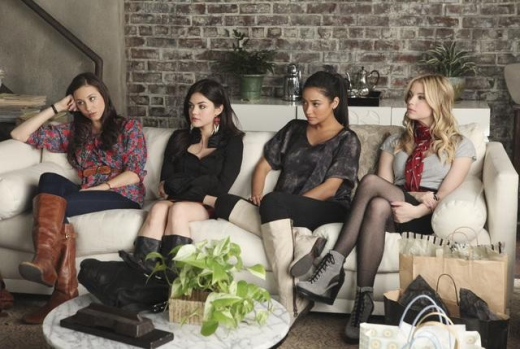 Let's start with the love that remained in the air. Both Ezra and Caleb dropped the L word on Aria and Hanna, respectively. What was your reaction to each admission?

I don't doubt both men meant it, but I'm over the icky relationship between teacher and student. There were plenty of reasons all along while these two shouldn't be together, but the arrival of Jackie really should seal their demise. Best to end it now before one of them really gets in trouble.

I'm down with the rekindling of the Haleb flame, however. Haven't we all been tasked with gathering intel on a frenemy of our blind pal, only to eventually take that individual's virginity inside a tent and develop actual feelings for her? I can sympathize with Caleb. I see a future here.

Moving on to the mystery, we were introduced to a therapist, a new "thing" and a bevy of questions. Foremost among them:

Is Ian still alive? No way... right? There was a hooded stranger in that bell tower on the season one finale and I've gotta assume he/she simply moved Ian's body and created the tale that he left town. How would this account for the episode-concluding text of Ian and Melissa's proper baby name?

I have no clue. But there's plenty of information "A" seems to somehow know, all of which will be a challenge for writers to explain when the stalker's identity is finally revealed.

What role will Anne Sullivan play? A key one, creator Marlene King has said. I was certain the girls would tell her about "A" and then we'd learn that Anne has some connection to the mysterious character. But the show took a different turn instead.

Unless that scene with her racing to her car while being seemingly followed was just a red herring. Two more questions: Would four friends ever be permitted to attend grief counseling sessions together? I doubt it. Is there a reason PLL named the therapist after Helen Keller's famous mentor?

Noel is back... and dating Mona? I didn't see that one coming.

What is the Jason thing? I don't know. But it will come up again this season, and Aria will get involved with the man behind the "thing" to which Jenna referred.

How good of a carpenter in Toby? The guy can slice off a section of wall and instantly make it appear as if nothing ever happened? Wow.

Will Emily really move to Texas? Of course not. But the more appropriate question is: how will she avoid it? Seems like a keen opportunity for "A" to swoop in, help out and then demand something in return, sort of like she did with Hanna last season when she helped out with the bank money problem.

Overall, a solid start to season two, wouldn't you say? Granted, the episode somehow didn't show us any of the clothes Hanna purchased during her shopping spree (come on!), but it delivered the sort of intrigue that will force us to tune in on Tuesday nights all summer and ask: What's next?!?

Matt Richenthal is the Editor in Chief of TV Fanatic. Follow him on Twitter and on Google+.

Tags: Pretty Little Liars, Reviews
From Around the Web