Community Episode Guide
Community is back for Season 4! On the premiere, the sitcom pays tribute to The Hunger Games.
In the Community season finale, Pierce and Shirley takes sides in a dispute where Jeff sides with one and his former colleague the other.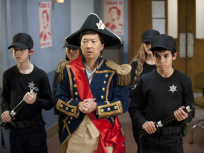 On Community with Chang's birthday plans in the works, the gang tries to loosen his grip on Greendale.
On Community, the study group follows Pierce to Hawthorne Enterprises as he fights for his inheritance.
On Community, Abed has to participate in mandatory therapy when his conspiracy theories go too far.
On Community, after a classmate's death Britta tries to counsel others as Chang makes tries to gain more control over security.
When their science project is destroyed, study group conducts a mock trail but finds that the truth is complicated Community's Law & Order-based episode.
Things turn serious for Annie and Abed in the Dreamatorium on Community.
Britta avoids an old flame with the help of Troy, Annie, and Abed.
It remains on between Troy and Abed on this episode of Community. Jeff tries to negotiate a truce.